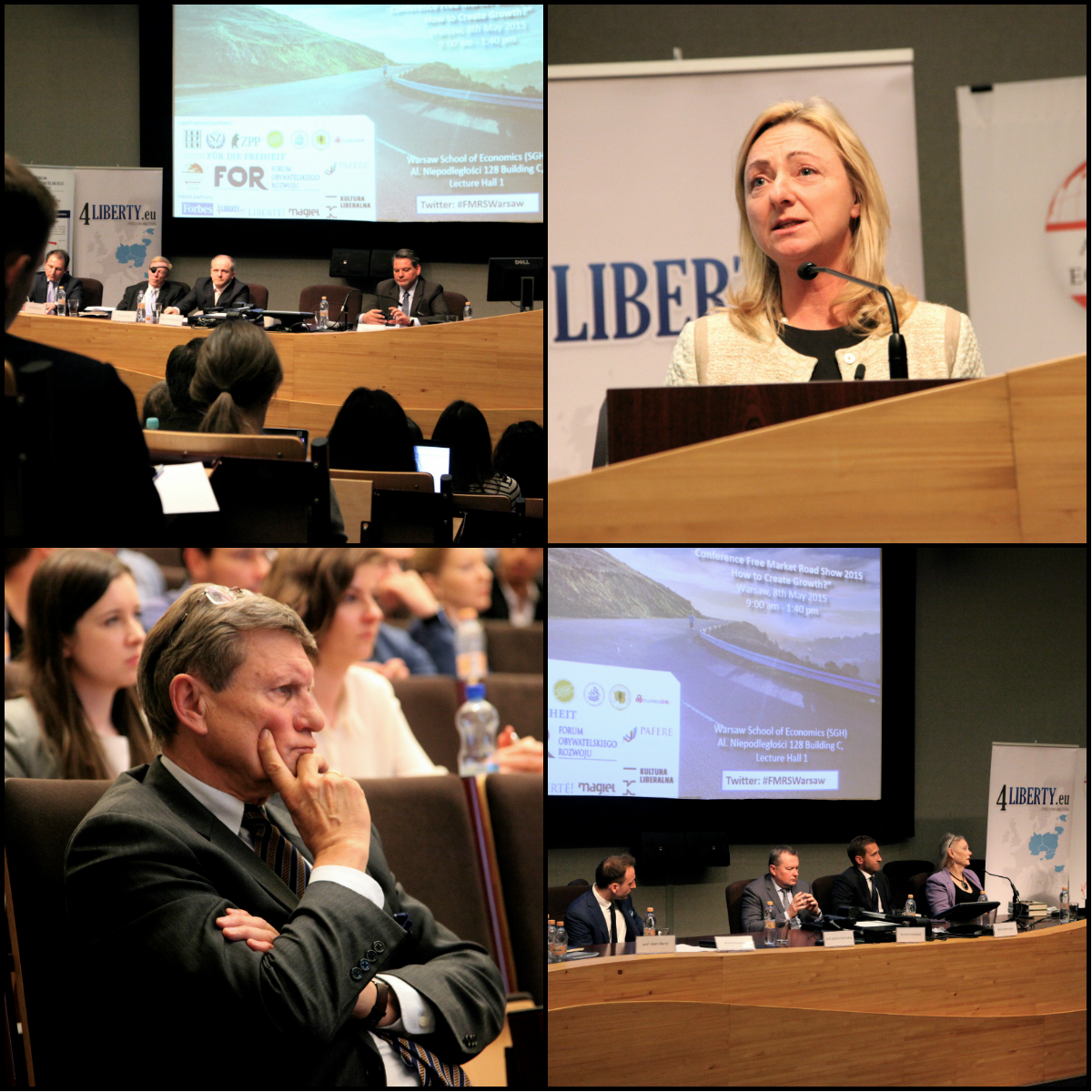 Photo courtesy of Civil Development Forum (FOR)

On Friday, May 8, 2015, the Civil Development Forum (FOR) together with many international partners such as the Austrian Economics Center, Liberty Fund, 4liberty.eu, Friedrich Naumann Foundation for Freedom and European Students for Liberty with the assistance of Polish organizations and media partners, held the Warsaw edition of the Free Market Road Show 2015.
Among the panellists there were international and Polish economists, businessmen and public policy experts. The conference gathered in the auditorium of the Warsaw School of Economics a number of participants, including students, diplomats, business representatives, academics and journalists. Opening remarks were delivered by Prof. Tomasz Szapiro, Rector of the Warsaw School of Economics, Agata Stremecka, President of FOR, and Marek Tatala from FOR's Executive Board.
The first panel "Ukraine – How to Grow Under Fire? Polish, EU and Global Perspective" focused on problems important not only for Ukraine but also for Poland due to its assistance to its eastern neighbour. Prof. Leszek Balcerowicz, the Board Chairman of the Civil Development Forum (FOR), stressed the necessity for free market reforms in Ukraine and noted that the IMF agreement with Ukraine is an important step to reform the country. "The IMF agreement is logical: stabilizing fiscal situation by reducing expenses, even if it is not fully implemented" – said Prof. Balcerowicz and added that Ukraine "should be more open to foreign investors". "If you think your situation is hopeless, then your situation will be hopeless" – commented Prof. Balcerowicz on the view that Ukraine cannot be reformed. Mr. Rafal Antczak, Board Member of Deloitte Business Consulting in Poland, noted that we should be careful while giving money to countries that are in trouble – the risk of corruption and lack of reforms were probably the main causes of an underperformance of the previous international funding programmes for Ukraine. "Programmes for Greece or Ukraine failed because they were focused on fine-tuning rather than on greater reforms" – said Mr. Antczak. Dr. Richard Rahn, Senior Fellow at the CATO Institute, remarked that "Ukraine is in the same situation as Poland a quarter of century ago" and the Polish example proves that it is possible to move away from the crisis. Dr. Pawel Kowal, Assistant Professor in Institute of Political Studies and a former member of the European Parliament, stressed that the international aid is necessary because "Ukraine has no resources to overcome the conflict by itself" and if the military conflict ends and if the economy – particularly agriculture – gets reformed, "we have to be prepared that Ukraine will be a strong country in Central Europe". The panel was moderated by a Forbes journalist, Mr. Grzegorz Cydejko.
The topic of the second panel was "To Grow Or Not to Grow? From Secular Stagnation to Robust Recovery". Prof. Enrico Colombatto from the University of Turin remarked in his keynote speech that the growing role of bureaucracy and public funding is a common phenomenon in the whole Europe. "We do so much to discourage entrepreneurial spirit. Entrepreneurs pack and go to China or to the US" – commented prof. Colombatto. "You don't create wealth by taking money away from people and by giving it to bureaucrats. There is no incentive for government spending to be efficient" – he noted about high European taxes and the phenomenon of big public investments. He added that the large role of the state has its negative moral consequences. Prof. Colombatto criticized the "notion that the government is perfect, and if it is not perfect, it can be made perfect. Then you believe you don't have responsibility for what you do". Dr. Jure Stojan, Senior Fellow of the Visio Institute, shared his views on two different popular approaches to economic reforms: "The optimism is a refusal of needed reforms, pessimism is about not seeing any point in reforms. These are two sides of the same coin". In his opinion, free market experts and activists have an important task to "explain benefits of reforms". Dr. Barbara Kolm, Director of the Austrian Economic Center, noted that "Austrian School of economics is recommending the approach that we have to find new solutions instead of continuing what was in the past". She stressed that reforms should focus on tackling overregulation: when one new regulation is added, then ten other regulations should be removed. Mr. Aleksander Laszek, Chief Economics at the Civil Development Forum (FOR), drew a comparison between two groups of countries: PIGS (Portugal, Italy, Greece and Spain) and BELL (Bulgaria, Estonia, Latvia, Lithuania) – while PIGS got international funding and did not reform their economies a lot, the situation in those countries became even worse. As a result of free market reforms carried out in BELL, "the GDP contracted at first but now is growing". "Now we can see which economic response works" – concluded Mr. Laszek. Mr. Dan Mitchell, Senior Fellow at the CATO Institute, shared his view that the experience of, for example, Estonia can be a good lesson for Poland. He criticized some solutions existing in Poland as well as in the other European countries, for example progressive tax system, as "penalizing the rich" who create a lot of jobs. This panel was moderated by Mr. Lukasz Pawlowski, Managing Editor from Kultura Liberalna magazine (Liberal Culture).
The third panel was called: "Entrepreneurship and Its Enemies. How to Set Our Creative Energy Free?". Prof. Deirdre McCloskey, from the University of Illinois and Gothenburg University, stated that despite the common view, the redistribution of income does not contribute to more equality. "What makes equality is economic growth" – she said. She stressed that the statist ideology is popular in many countries. The role of the free market experts is to change this ideology. Prof. Adam Martin, from the Free Market Institute, stressed the role of small enterprises in the technological and economic change: "Smaller firms are more important in creating innovations. Big changes come from smaller firms". He criticized the way of teaching economics at universities. In his opinion, students do not get to know so much about entrepreneurship. Mr. Michal Niemczycki, Vice President of New Media Ventures, discussed the difference between public and private financing for small innovative firms: "If you go for money from the government, you have only one chance. But when a private investor sees that the project has the potential, then it continues the financing and saves the project". Mr. Marcin Nowacki, Vice President of the Union of Entrepreneurs and Employers (ZPP), commented on Professor McCloskey's view on the state: "The state is not an enemy, because the state is about us". Moreover, Mr. Marcin Nowacki emphasized that "in Poland there is a lack of strong institutions guaranteeing the rules of law". It is why fiscal authorities often oppress entrepreneurs. Mr. Ryszard Wojtkowski, Co-Founder and Managing Partner at Resource Partners, criticized the centrally planned state programs based on different ideas, for example to stimulate innovations. "Programs are not effective. Politicians are unable to focus on good solutions. Forget about these programs, focus on something real!" – said Mr. Wojtkowski. The last panel was moderated by Mr. Pawel Budrewicz, President of the Polish-American Foundation for Economic Research and Education – PAFERE.
We are proud that the Free Market Road Show becomes a tradition at the Warsaw School of Economics. It was already the third edition held in Warsaw. We hope to see you next year!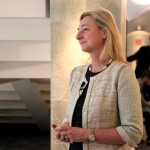 Read the interview with MRs. Barbara Kolm, the Director of the Austrian Economics Center, conducted during the conference:
Free Market Road Show: What's This All About? An Interview with Barbara Kolm
Local organizers and partners:
– Civil Development Forum (FOR)
– Students' Foreign Affairs Club (SKN SZ, SGH)
– Students' Law and Economic Club (SKN EAP, SGH)
– Friedrich Neumann Foundation for Freedom
– Warsaw School of Economics (SGH)
– Union of Entrepreneurs and Employers (ZPP)
– Polish-American Foundation for Economic Research and Education (PAFERE)
– European Students for Liberty – Polska (ESFL)
For the list of all FMRS organizational partners visit the official website.
Media partners:
– Forbes
– Liberte!