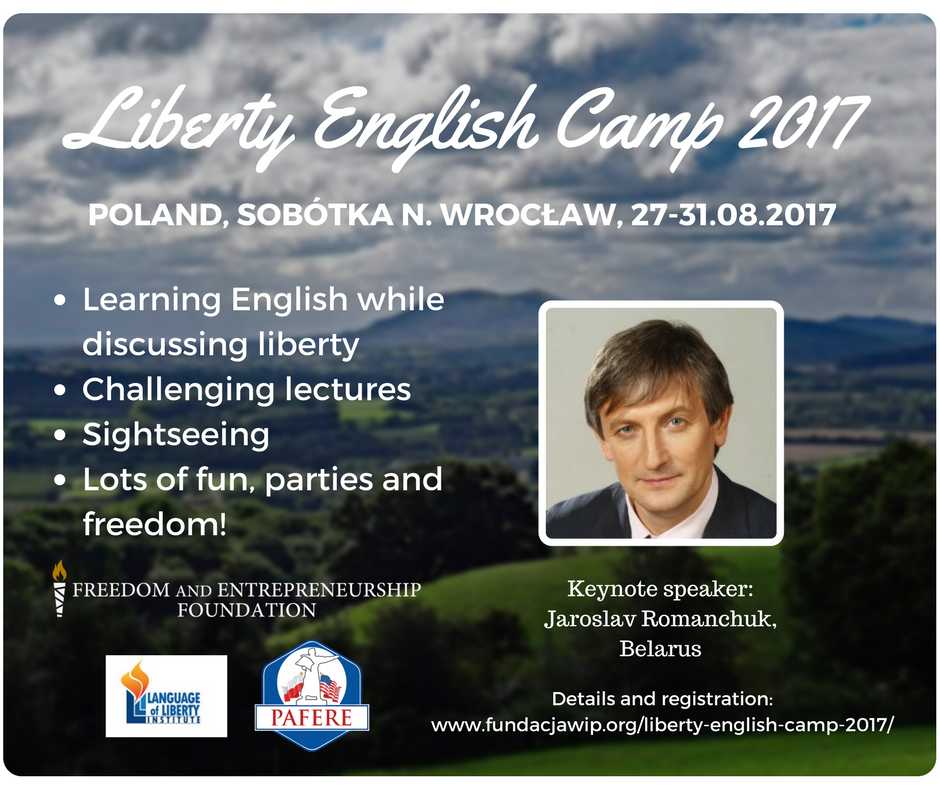 If you want to explore liberty, practice your English and party with like-minded people from all over the world, this is something for you.
Freedom and Entrepreneurship Foundation (Fundacja Wolności i Przedsiębiorczości) is hosting another Liberty English Camp, this time in Poland, in the town of Sobótka near Wroclaw. It's an informal event, during which liberty lovers will engage in debates, listen to lectures of international experts and – most importantly – have a lot of fun!
It is once in a lifetime opportunity to party not only with your fellow participants but also with our experienced and famous guests – this year, our keynote speaker will be Jaroslav Romanchuk, an oppositionist from Belarus, the most famous Belarussian libertarian.

When? August  27-31, 2017
Where? Poland, Sobótka near Wroclaw (Upper-Silesia region)
How much? EUR 140
What's included? Accommodation in a hotel, breakfasts and dinners, lectures, special events
Details and registration: http://fundacjawip.org/liberty-english-camp-2017/

Liberty English Camps are organized every year in different parts of the world, attracting people interested in spreading or exploring the idea of liberty. On our seminars, we discuss issues such as freedom of trade and doing business, personal liberty, minimal government, entrepreneurship and responsibility, and after that, integrating during informal events and parties!