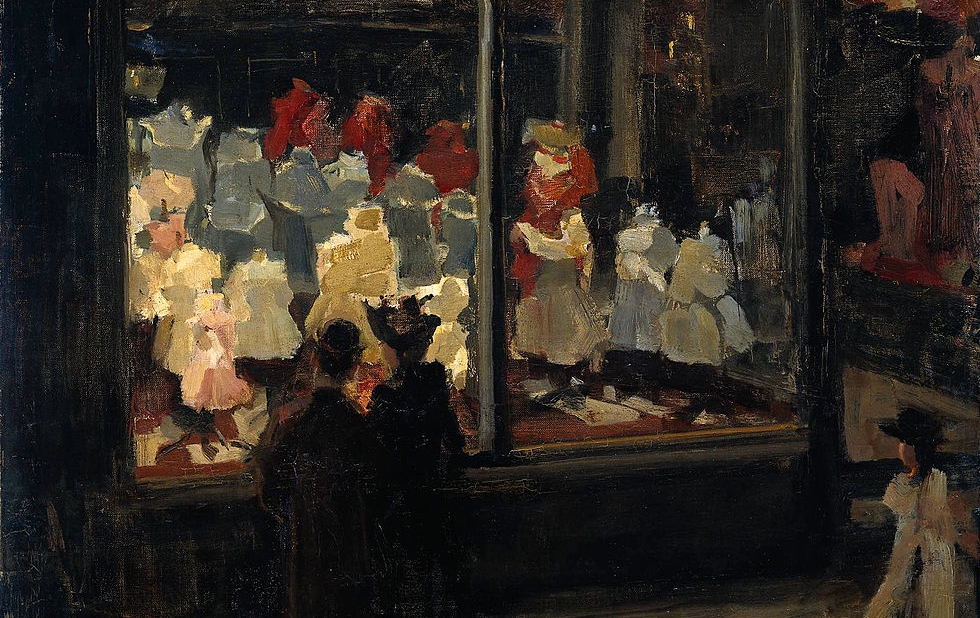 Isaac Israëls: Shop Window (1894-98) // Public domain
In my publications, I have illustrated that Georgia does not need the Russian market. This was my attempt to destroy pro-Russian propaganda about the super-importance of the Russian market for Georgian producers.
I was sure that if the quality of our goods and services in Georgia is high, there is demand and customers, the application to Russian market is mostly a parasitical effort of some people to sell some of Georgian low-quality goods in Russia and trap Georgia back in dependence on Russia.
There are several spheres in which Georgia now depends on Russian imports. First of all, in the energy sector. While the figures can vary, Russian imports became essential during the recent years. The natural gas Georgia receives mostly from Azerbaijan but part of the supply is based on the transit payment of the Russia-Armenia pipeline.
A worse situation for Georgia is when it comes to electricity – policy mistakes brought the country to the banning of construction of new power stations and, as a result, undersupply and increase of imports from Russia. We also observed the same unnecessary increase of imports of car fuel from Russia – despite several alternatives.
However, dependence on Russian goods is not limited to energy, as there are several consumer goods that are imported from this country (foodstuffs, home appliances, among other goods). If the energy sector is Russia's most important exporting sphere and it holds very high positions in the world supply, it is very strange to see Georgia increasing imports of other goods from Russia that is no leader in this area neither in Europe or Asia.
For instance, Russia is no leader of production sunflower oil or dairy products but Georgian supermarkets are full of such products.
What is very uncertain, though, are Russia's exports to Georgia (not only in terms of production of its own brands, but of many international ones from the developed nations). Despite the Deep and Comprehensive Free Trade Agreement (DCFTA) of 2014 with the EU, Georgia now imports more European brand-name goods from Russia than from the EU itself. There are cheaper and better quality alternatives in the EU but Georgian importers bring the goods from Russia.
There are goods of several international brands available in Georgia – most of them from Russia. To understand the problem, below is a short overview of some of the companies that operate in the Georgian market through its Russian offices:
USA
Procter and Gamble
Colgate
Mars (Orbit, Mars, Snickers  ++)
KFC
Wrigley Company
Heinz
Oral B
Energizer
Fairy
Duracell
Johnson and Johnson
Viasat
Discovery
National Geography
Mitsubishi Chemicals Bimax
France
Dannon
Carte Noire
L'Oreal/Elseve
President
South Korea
Samsung
LG
Italy
Sandora
Parmalat
Santal
Lavazza
The Netherlands
Philips
Reckitt (Vanish)
Japan
Sony
Toshiba
Bridgestone
Toyo
Toyota
UK
Sensodyne
Kit Kat
Lipton
Clear
Greenfield
Finland
Valio
Nokia
Nokian
Hungary
Bonduelle
New Zealand
Anchor
Switzerland
Nestle
Germany
Frosch
Bayer
Schwarzkopf and Henkel
Henkel
Jacobs
Gliss Kur
Beiersdorf Nivea
Bosch
BERLIN-CHEMIE AG
Estonia
Latvia
Riga Gold
Kaja
Austria
Henkel
The goods of these companies are regarded as lower quality than their analogs in the EU. If the same products are imported from European countries, they can be 2-3 times more expensive. The prices in Europe can sometimes be higher for some goods but for most of the products of the brands counted above Georgia imports from Russia prices are still higher than in the EU.
Georgia, with its lower taxes, should have even lower prices for any goods imported from the EU.  It is very strange to see imported goods from Russia like Mars, Orbit, Heinz, Dannon, Parmalat, Carte Noire, Nestle, Valio, Samsung, Sony, etc. There is no need of importing such goods from Russia – Georgia has no diplomatic relations with the Russian Federation, which occupies 20% of its territory.
There are two major questions here: why did these international brands connect Georgia to its Russian producers or distributors? And why Georgian importers avoid European or other markets and orient themselves toward the Russian production?
In its 2021 survey, the NESG found several misunderstandings and issues as to why would Georgian producers or importers prefer Russia to the EU. The reasons are mostly emotional and not based on factual realities (like cheaper prices in Russia or language-related problems). More importantly, Georgia has not taken enough steps to make its economy affiliated to the European/Western markets, while negotiations with Russia on trade development were intensive.
It seems that Russia obliged Georgia to make itself more oriented toward Russian goods in exchange for re-opening of Russian markets to Georgian goods. Even during the extreme sanctions put on Russian producers because of the evil aggression in Ukraine in February 2022, many shops still sell many goods from Russia including of the abovementioned international brands. Only a few of them started importing their goods from the EU, and these, as expected, are not more expensive than the Russian alternatives.
There can be many reasons for such a development but the political one seems the most important. The fact is that more goods from the Western countries were available 10 years ago and the prices were much lower. The push for substituting them with Russian alternatives is quite visible.
On the other hand, we can blame the Georgian government for its faulty policy but Georgian customers might be better off if the international brands themselves tied Georgia to other sources rather than Russian ones. And even more so because the majority of Georgians cannot read or understand Russian.
---
Continue exploring: