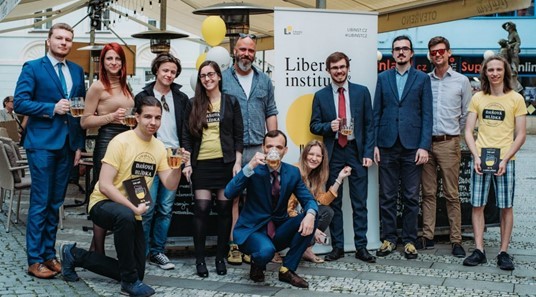 Liberalni Institute
This year's Tax Freedom Day fell on June 25, and this year the state will redistribute 48 percent of what we produce.
According to the teachings of Jára Cimrman, this year's Tax Freedom Day fell on a memorable day when we woke up to the reality of Moravian villages destroyed by a tornado. With the usual announcement a month in advance (May 25), there were even three historic events: an old-new health minister rose from the ashes, a leading newspaper published a fake scandal about President Klaus, and one of the best well-known MPs was forced to resign.
It has meant a more limited media presence for this year's Tax Freedom Day but we have nothing to complain about. Moreover, we are grateful for the opportunity to showcase the magnitude of government redistribution.
June 25 is the latest date since 2000, the year we began calculating the Tax Freedom Day. However, that is only because last year was a leap year so we stopped working for the state on June 24 but the number of days of working for the state is the same in 2020 and 2021: 175.
The same situation occurred in the very first years of 2000 and 2001, when the number of days of work for the state was identically 157, but the dates were June 6 and 7.
Last year we announced that we would have to revise for the first time ever, but in the end it was not necessary. The economic downturn was smaller than expected, and so, too, was the redistribution eventually.
The press conference we wanted to hold on the terrace of LTCoffee& LB Wine, but due to the weather we had to move it inside:
In the afternoon we moved to Jungmann Square to the Otevřeno restaurant, where we served taxed beer to passers-by.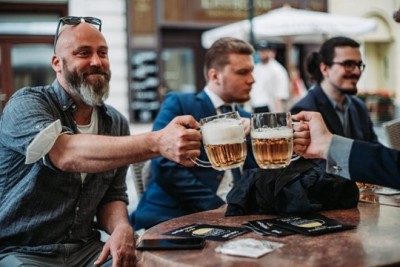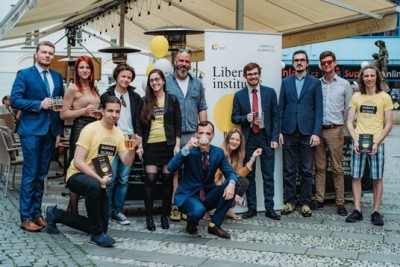 A short report from the happening: https://youtu.be/aEP3nDnQQUM
Short video in German from last year's Tax Freedom Day: https://youtu.be/JkSjQm5WWuY
This year's flyer: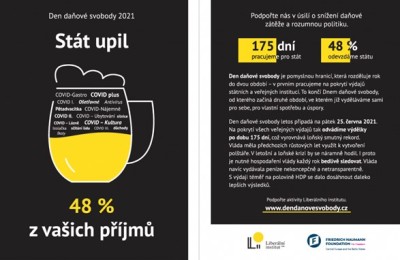 And next year, hopefully, earlier!
---
Continue exploring:
Making It Work: Harmonizing Globalization and National Interest in Governance