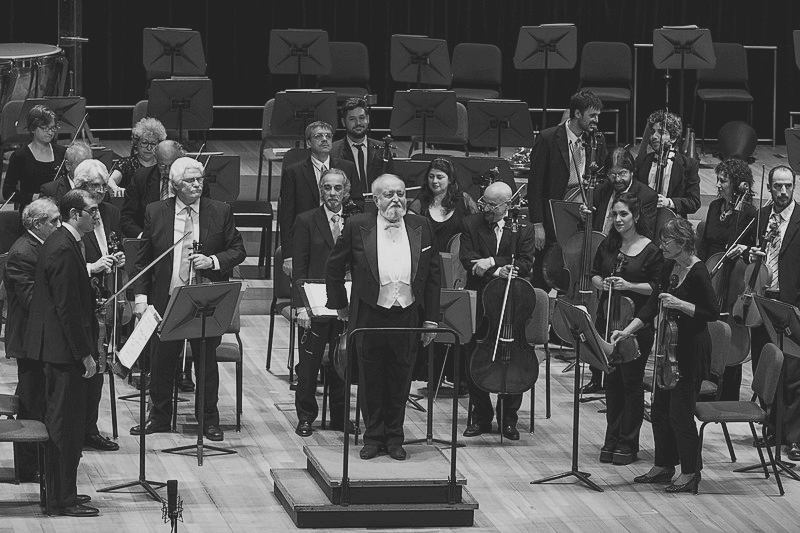 Buenos Aires, 2 de septiembre de 2016 - Krzysztof Penderecki dirigió a la Orquesta Sinfónica Nacional, en la Sala Sinfónica del CCK. .Fotos: Romina Santarelli via
Ministerio de Cultura de la Nación
// CC 2.0
Krzysztof Penderecki died in Cracow on March 29, at the age of 86 years after a "long and serious illness." The statement issued by the Ludwig van Beethoven Association called Penderecki a "great Pole, an outstanding creator, and a humanist" who was one of the world's best-appreciated Polish composers. The association was founded by Penderecki's wife, Elżbieta Penderecka, and the communique was signed by its head, Andrzej Giza.
Born in 1933, Penderecki began studying the violin after World War II, in 1946. In the 1950s, he moved on to Jagiellonian University in Cracow, then to the Academy of Music, where he completed his violin studies and began studying composition, first under the lead of Artur Malawski and later Stanislaw Wiechowicz. After graduating, Penderecki began teaching at the Academy in 1958.
Penderecki was the avant garde composer who is most known for his work featured in the Hollywood films "The Exorcist" and "The Shining." Various film directors used Penderecki´s music to capture their mood. His music was used in Martin Scorsese's "Shutter Island", Peter Weir's "Fearless", David Lynch's "Wild at Heart" and "Inland Empire".
One of his most famous pieces is the composition "Threnody to the Victims of Hiroshima" composed in 1960, a wailing, discordant lamentation dedicated to the victims of the World War II's atomic bombing.
Another one was his "St. Luke Passion" from the mid-1960s. Though using experimental language, it was liturgical in more than just the formal sense, held together through traditional structures, and showed Penderecki as a devout artist.
He went on to compose many religious works, including a Magnificat, Deus Irae, Te Deum, and the Polish Requiem, a traditional and exquisitely beautiful work.
Over his long career, Penderecki was nominated for eight Grammy Awards and won four of them, most recently in 2016, when he won the Grammy for the best choral performance for "Penderecki Conducts Penderecki, Volume 1." He was also awarded the Grammy Trustees Award in 1968 along with jazz greats Duke Ellington and Billy Strayhorn.
One of his best-known fans is a member of the alternative rock band Radiohead Jonny Greenwood, who collaborated with the composer in 2012.
"His pieces make such wonderful sounds," said Greenwood. "I think a lot of people might think his work is stridently dissonant or painful on the ears. But because of the complexity of what's happening – particularly in pieces such as Threnody and Polymorphia, and how the sounds are bouncing around the concert hall, it becomes a very beautiful experience when you're there.

It's not like listening to feedback, and it's not dissonant. It's something else. It's a celebration of so many people making music together and it's like – wow, you're watching that happen."
In addition to his significant and distinctive legacy on the Earth, Penderecki's name will also endure in space: in 1991, an asteroid in the main Asteroid Belt was christened 21059 Penderecki.
---
The article was originally published by Friedrich Naumann Foundation for Freedom at: https://fnf-europe.org/2020/04/10/from-poland-with-love-march-3/
---
Continue exploring:
Anti-Freedom Politics of Law and Justice
"Thou Shall Not Be Indifferent": What Holocaust Survivors Can Tell Us about Poland's LGBT-Free Zones