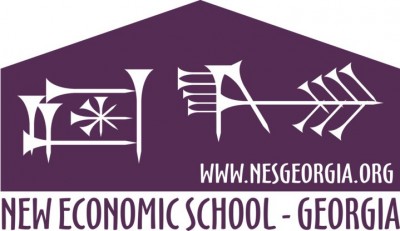 New Economic School – Georgia
has the pleasure to invite you to two events:
International Summer University
Dates: August 12-18, 2013
Place: Ureki, Georgia, Hotel "Prima", The Black Sea Resort.
Language: English
Organizer:
– New Economic School – Georgia
Partners:
– Freedom Works (USA)
Lecturers:
– Dr. Randal Holcombe, Professor of Economics, Florida State University, USA;
– Dr. Pierre Garello, Professor of Economics, Paul Cezanne University, Aix en Provence, director of IES-Europe, France;
– Paata Sheshelidze, President, New Economic School – Georgia;
– Gia Jandieri, Vice-president, New Economic School – Georgia;
Requirements for participants:
Participants of the Summer School can be from:
Armenia, Azerbaijan, Albania, Belarus, Estonia, Israel, Iran, India, Italy, Kyrgyzstan, Kazakhstan, Lithuania, Latvia, USA, Ukraine, Turkey, Georgia, Arab countries, Balkans, etc;
Requirements:
– Candidates must sent CV and motivation letter to email: university@nesgeorgia.org ;
– Travel grants for foreign participants are limited. Applicants should note about their need of travel grant;
– The travel grant doesn't include the participation fee;
– There is no visa requirement for the citizens of listed above countries;
Financial Support:
NESG covers:
1. Accommodation expenditures for all participants;
2. Three times meals for all participants;
3. Travel expenditures of selected participants from following countries – Ukraine, Belarus, Kyrgyzstan, Kazakhstan, Israel, Turkey, Iran;
All Participants pay fee of USD 150;
NESG is responsible for purchasing of flight tickets for the selected participants;
NESG is responsible for accommodation reservation;
NESG is not responsible for:
– Health insurance and services;
– Tickets for not-selected participants;
– Other additional expenses;
Special offer for donors:
– An organization or person who is willing to support summer University could nominate candidates for participation or create scholarship for applicants.
– Amount for one scholarship: 380 USD + international travel expenses.
Deadline:
a) for International applications: July 1st, 2014,
b) for foreign participants applying for travel grant, application deadline is June 9 , 2014
c) for Georgian participants: July 23, 2014
– Selected participants from foreign countries will be contacted before July 5.
– Selected Participants from Georgia will be announced at: July 28
– Every selected participant will receive reading materials by email and then a complimentary book: Public Choice – A Premier,
Phone: + 995 322 399 375; Cell phone:+ 995 593 280 433
Email: university@nesgeorgia.org
8th International summer camp "Lessons of Liberty"
Dates: 21-27 August, 2014
Place: Hotel "Prima", Ureki, Black Sea Resort in Georgia.
Language: English
Organizer:
• New Economic School – Georgia
Partners:
•South Caucasus Office of Friedrich Naumann Foundation for Freedom, Germany
•International Society of Individual Liberty, USA
Supporters:
• LTD Aversi-Pharma
• IDS Borjomi
• LTD Geoplant
Lecturers:
• Ken Schoolland, President of ISIL;
• Paata Sheshelidze, President of New Economic School – Georgia;
• Gia Jandieri, Vice-president of New Economic School – Georgia;
• George Chkhikvadze, Senor Fellow at New Economic School – Georgia;
• Giorgi Chikovani, Senior Fellow at New Economic School – Georgia;
Requirements for participants: Candidates must sent CV and motivation letter to email: camp@nesgeorgia.org
Early applicants will have the advantage in selection process
Deadline for International applicants: July 27, 2014.
For Georgian Applicants August 1. 2014.
Selected participants will be informed by August 4, 2014
Participation fee: 150 USD which it includes full accommodation, meals, seminar materials and transportation from and to Tbilisi
For additional information please contact:
Cell phone: +995 593 28 04 33
Email: camp@nesgeorgia.org