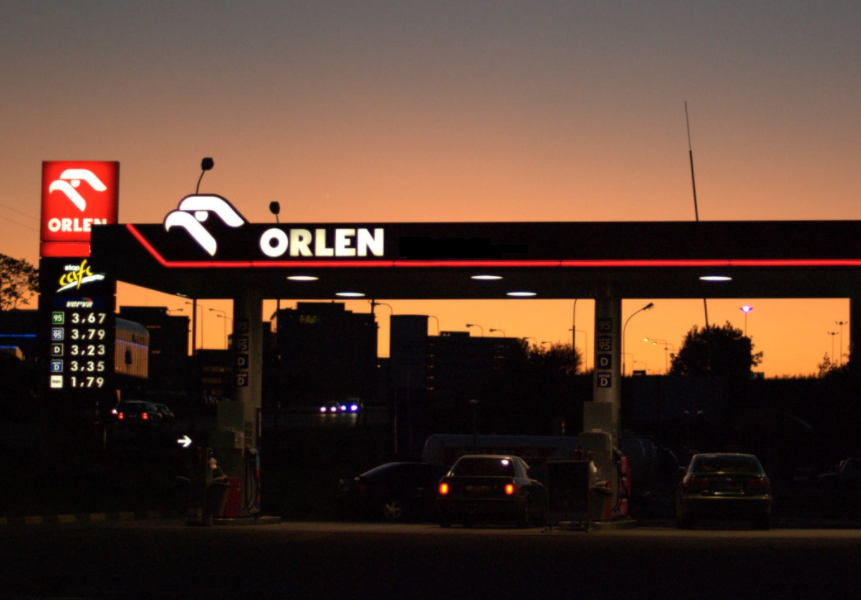 Jouzas Salna via flickr.com // CC
State-controlled Polish refiner PKN Orlen bought newspaper publisher Polska Press from its German investor.
Polska Press, previously owned by German Verlagsgruppe Passau, owns 20 out of 24 regional dailies, as well as 120 local weeklies, 500 local news sites reaching 17,4 million readers per month, and six large printing houses. It employs 760 journalists.
In many local and regional markets Polska Press holds a dominant position. It operates in 15 out of the 16 regions in Poland and is a market leader in terms of readership and sales in most of them.
Polish competition watchdog UOKiK has approved the plan, disregarding the Ombudsman Adam Bodnar's appeals to "protect the citizens' right to reliable information" and "shield the media market from political pressure".
Oddly enough, shortly before its decision about Polska Press the competition office had blocked the acquisition of Eurozet, the owner of one of the biggest radio station Radio Zet, by Agora (the publisher of Gazeta Wyborcza, the biggest liberal newspaper). UOKiK claimed that the acquisition would limit competition in radio markets by creating a duopoly.
In 2020, Orlen took over Ruch – the second-largest press distributor in Poland, delivering newspapers to over 15.000 kiosks across the country (in fact, Ruch in one of the most recognizable brands in Poland, and a symbol of press distribution). Orlen also created its own media house, Sigma Bis, aggregating advertising budgets from large state-owned firms.
The company announced on its web site: "PKN Orlen is expanding its presence in the media market. The acquisition of one of the largest publishing groups in Poland and harnessing the potential and capabilities of the media agency Sigma Bis and Ruch will enable the Group to create a flexible, personalized and comprehensive offer delivering greater customer satisfaction. The transaction is part of PKN Orlen's strategic plan to strengthen its retail sales, including its non-fuel sales".
In line with its strategy until 2030, Orlen aims to grow its retail sales by advancing modern communication channels, expanding the network of parcel collection points, digital transformation of its retail formats and building an e-commerce platform around the Ruch network.
Orlen declared it had bought Polska Press for "purely business reasons". "We are looking for diversification," Orlen CEO Daniel Obajtek explained.
But regardless of what the company representatives say the opposition is protesting against the acquisition calling it a political move aimed at strengthening PiS's position in media (also by development of microtargeting tools) before the next regional elections.
It is worth mentioning that the political position of Daniel Obajtek is growing. After he was praised by Jaroslaw Kaczynski media started speculating that he might replace the Prime Minister Mateusz Morawiecki by the end of the year.
But he responded: "I am in business, we are building a big business, this business must have some continuity with such serious decisions (…) This is far-reaching thinking".
His "business career" fully depends on PiS. In 2006-2015, he was a mayor of Pcim, a very small town that is a synonym of backwardness in Polish jokes.
PiS politicians are not really hiding that this is another step of the "re-Polonization" of media dominated by foreign capital. Reporters without Borders (RSF) warned that "Polska Press is just the start" and PiS will follow Viktor Orban's path of taking full control over the media landscape, concentrating them in one hand.
In the same way that the Hungarian prime minister uses friendly oligarchs, Kaczynski and Morawiecki use state-owned companies (SOCs). It is worth remaining that since 2015 Poland has fallen dramatically in the press-freedom rankings, from 18th in 2015 to 62nd last year.
To prove that the so-called "deconcentration" of media has top priority on PiS's agenda, we can point at the party's newest idea: solidarity tax. The government will soon start working on a bill to ensure additional income for the National Health Fund and the fund supporting culture. Per the expected legislation, the new tax will concern all broadcasters and publishers, including big tech corporations.
The tax will be calculated based on these parties' ad revenues. All radio and TV stations will have to pay. Also all cinemas, outdoor advertisers and the press, as well as companies providing internet advertisement services in Poland, including tech giants and the largest web portals.
It will hit the media market severely mauled by the COVID-19 crisis. The only broadcasters and publishers who won't be harmed are those belonging to the state or SOCs as they are heavily subsidized.
---
The article was originally published in the Newsletter "From Poland with Love": https://www.freiheit.org/central-europe-and-baltic-states/poland-love-january