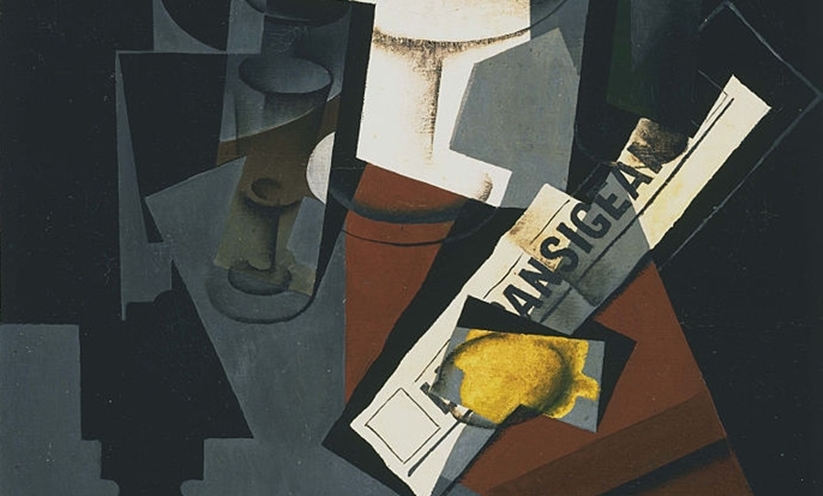 Juan Gris: Still Life with Newspaper (1916) // Public domain
The War in Ukraine
This is a monthly digest of the most important facts and events – from the Polish perspective – on the Russia's invasion on Ukraine:
According to the newest data, ca. 3.5 million Ukrainian citizens have crossed the border with Poland since the beginning of the Russian invasion. Between 1.2 and 1.5 million of them have stayed in the country. Over one million Ukrainian refugees received PESEL, Polish social security number, 95% of them are women and children.
Refugees from Ukraine have caused large increases in the populations of Polish cities. The most significant changes have been observed in: Rzeszów +53%; Gdansk +34%; Katowice +33%; Wroclaw +29%; Kraków: +23%. Population of Warsaw has grown by 15%.
Already over 100,000 Ukrainian refugees have found employment in Poland. 75% of them are women.
200,000 Ukrainian children had enrolled at schools, preschools, and other public education institutions.
President Andrzej Duda became the first foreign leader to give a speech in person to the Ukrainian parliament since the Russian invasion started. "Worrying voices have appeared, saying that Ukraine should give in to Putin's demands", Duda said. "Only Ukraine has the right to decide about its future. Nothing about you without you!", he added. The Polish president stressed that the international community must demand that Russia completely withdraw from Ukrainian territory.
The voluntary general military service, introduced by the Homeland Defense Act passed in March, was launched in May. New service will be an alternative to the two routes already existing in Poland's military forces, namely the professional military service and the Territorial Defense Forces (WOT). The defense ministry announced the terms and conditions for the year-long service. Chosen volunteers will have to undergo basic training lasting 28 days, and then 11 months of specialist training, either staying in barracks or commuting. New soldiers-volunteers will receive a monthly payment of PLN 4,560 (ca. EUR 985), plus board and lodging. They may leave at any point.
Polish defense ministry has announced Warsaw is launching the second phase of its mid-range air defense program by requesting the US government to sell it six Patriot batteries with related gear.
Mateusz Morawiecki criticized the EU for softening its stance on ruble payments. "I am disappointed to see that in the European Union there is consent to pay for gas in rubles", Morawiecki said. "Poland will stick to the rules and will not yield to Putin's blackmail", he added. 20 European companies have set up special accounts at Gazprombank to enable them to pay for gas under rules imposed by Moscow.
Protesters in Warsaw have thrown red paint on Russia's ambassador, when he tried to celebrate the Victory Day (May 9) at a cemetery dedicated to Red Army soldiers who died during World War II. Sergey Andreev had to confront hundreds of anti-war protesters from Ukraine and Poland, who chanted "fascist" and "murderer". A woman from Ukraine splashed red paint on her white costume that was supposed to symbolize Russia's war crimes; Andreev was also covered in red. "With all our heart we are with Mariupol!", the woman said. Images from Warsaw were used by Kremlin's propaganda to prove aggressive attitude against the Russian people in Central and Eastern Europe. Shortly after the accident, a building of Polish embassy in Moscow was vandalized with red paint.
An international conference of donors, aimed at helping Ukraine, was hosted in Warsaw by Poland and Sweden, in cooperation with the presidents of the European Commission and the European Council. According to the Polish authorities, ca. EUR 7 billion had been raised.
President of Ukraine Volodymyr Zelenskyy said that a decision was made on joint customs control with Poland. "This will significantly speed up the passage of procedures at the border", Zelenskyy concluded. "We are removing most of the corruption risks, and this is also the beginning of our integration into the common customs space of the European Union", he added.
"Thank You, Friends" was the motto of the March of Gratitude in Warsaw. The March was organized and attended by Ukrainians, to express their gratitude for Polish support to their country and people. It was preceded by a manifestation in front of the Sejm. After the March, a concert with Ukrainian and Polish artists took place in the Royal Square.
The Spring 2022 European Economic Forecast reads: "Poland's economic growth is expected to be impacted by Russia's war of aggression against Ukraine. Higher uncertainty, trade disruptions, strong inflationary pressures and monetary policy tightening are set to curb GDP growth, which is expected to decelerate to 3.7% in 2022 and 3,0% in 2023".
Politics
Disciplinary Chamber Removed
Sejm has approved removing the Disciplinary Chamber of the Supreme Court, a body used by the PiS government to sanction outspoken independent judges, and which has drawn condemnation from the European institution. Last year the European Court of Justice (ECJ) found the Disciplinary Chamber to be in violation of the EU's rule of law principles, urged Poland to remove it and fined Poland EUR 1 million a day as long as the body continues.
Even hard-right party of the justice minister Zbigniew Ziobro voted in favor of the draft law, regardless months-longs criticism of Morawiecki for his will to compromise with the European Commission. Eventually, Ziobro cut a deal with Jarosław Kaczyński and President Andrzej Duda, author of the draft bill, as he knew that his veto may result with breaking up the coalition and early election (and his party won less than 1% of support in the recent poll).
The only reason for the government in Warsaw to support this significant reform of the judiciary was negotiations with the European Commission over the national recovery and resilience plan. Now, according to prime minister Morawiecki, Ursula von der Leyen is expected to sign the agreement in Warsaw on June 2. The Polish government announced that it had agreed with the Commission the "milestones" needed to unlock the funds and that the bill passed by the Sejm fulfils them.
The opposition warns that the change is cosmetic because the Disciplinary Chamber will be replaced with a 'professional responsibility chamber' whose members will be chosen by the president. For that reason, they voted against it. According to the opposition, the legislation does not meet requirements of the ECJ and should not end the dispute over the independence of the judiciary in Poland.
This opinion has been shared by many experts and judges, but it looks like the will of the European Commission to finish the dispute with Poland and grant Warsaw money from the recovery and resilience fund, especially in the context of the refugee crisis, prevails in Brussels.
The draft still has to be approved by the Senate and signed by the president.
Yes for Poland
Donald Tusk from the Civic Coalition, Włodzimierz Czarzasty from the Left, Władysław Kosiniak-Kamysz from PSL and Szymon Holownia from Poland 2050 have jointly signed a declaration starting with the following words: "Our common goal is a democratic and law-abiding Poland, based on European values, respecting the dignity of every human being, caring for the natural environment and being an important link in the international community".
The documents aim to create cooperation of all democratic opposition parties to grant more funding and autonomy to local governments. It recognizes the principles of democracy, the rule of law and European integration as its most important values.
It also calls for transfer some of the state's financial powers to municipalities, abolish term limits for mayors, increase the education subsidy and establish a Local Poland Development Fund to provide financial support for small entities.
The declaration was prepared by the "Tak dla Polski" (Yes for Poland) movement, created by the most influential mayors and other regional and local politicians. "Tak dla Polski" is led by Warsaw's mayor Rafał Trzaskowski. The event is seen as his big success, and a step forward towards building a broad alliance of democratic parties before the 2023 general elections that is favored by his party (Civic Platform).
Trzaskowski stressed that the local government is one of the key achievements of the Polish democratic transformation and that all democratic parties must do everything possible to protect it from PiS. "PiS is trying to destroy all independent institutions", Warsaw's mayor said.
"They want schools that are political, centralized hospitals, to take away prerogatives and money not from us, local officials, but from Poles", he added.
Europe's Worst Governor Reelected
234 members of parliament from the United Right (PiS and allies) and Kukiz'15 decided that Adam Glapinski will continue as governor of the National Bank of Poland (NBP). 223 opposition MPs were against accusing him of shameless inaction against rising prices, e.g., keeping the bank's key interest rate at the low level of 0.1% for too long. Group leader of the Civic Coalition in Sejm, Borys Budka, blamed Glapinski for poverty of Polish families.
Glapinski has been a friend of Jaroslaw Kaczyński for many decades now. He was a finance minister in the Olszewski government in 1992 (Olszewski and his cabinet are one of the founding myths of PiS), and an economic adviser to President Lech Kaczyński, who in 2010 appointed him to the Monetary Policy Council (a body within the NBP). Even if Glapinski's work in the NBP is controversial among some the United Right, his personal connections with the PiS leader granted him reelection.
Global Finance magazine ranked Glapinski as one of the worst central bank governors in Europe (together with his counterparts from Belarus and Ukraine). One of the reasons behind this judgment is his too passivity towards the inflation.
Society
Ordo Iuris Targets Ukrainian Victims
Ordo Iuris, the ultra-conservative organization that has been behind most of anti-women rights and anti-LGBTQI rights initiatives in Poland in recent years, have found a new target of their actions, namely victims of war rapes who fled from Ukraine.
Ordo Iuris has sent letters to Polish hospitals, asking for detailed information regarding pregnancy termination procedures performed after February, especially concerning cases related to rape. They want to know how many terminations have been performed on citizens of Poland and how many on foreigners. Additionally, they want to know if abortions in that period were performed on the basis of an earlier prosecutor's opinion, currently required by Polish law.
In an interview with news portal wp.pl, Katarzyna Gesiak, the head of the Ordo Iuris Center for Medical Law and Bioethics, admitted that her organizations suspects that pro-choice organizations are using rape as an excuse and that Ukrainian women get special treatment under Polish very restrictive abortion law.
"I am convinced that although some Ukrainian women have fallen victim to sexual violence, which is obviously a tragedy and requires our compassion, I am also certain that there are many such women who, having escaped Ukraine, want to have an abortion in Poland. I believe that this is simply human nature that some people will always want to take advantage of a given situation", she said.
First Female Priests
Nine women were ordained as priests in Poland. No, not in the Catholic Church but in the Lutheran Church; officially called in Poland the Evangelical-Augsburg Church. They were all deacons and the ceremony lead by bishop Jerzy Samiec took place in Holy Trinity Church in Warsaw.
The reform that allowed women to be ordained into priesthood was taken during the last October and came into force in 2022.
The Evangelical-Augsburg Church the largest Protestant body in Poland with about 61,000 members and 133 parishes. Most of the members live in Silesia (over. 50,000) and Warmia-Masuria (ca. 4,000).
Terrible Rankings
Poland has fallen to its lowest ever position in the World Press Freedom Index. Now it occupies 66th position, out of 180. The result marks a fall of two places from last year's ranking and is the seventh year running that Poland's position has declined from its highest ever position of 18th in 2015.
Once again, Poland is having the lowest rankings in the EU in the Rainbow Europe (3rd year in a row). The only European countries to rank lower are Azerbaijan, Turkey, Armenia, and Russia.
Read the full report on Poland here
.
The Smallest Pride
In May 2022, first Milicz Pride March was organized. What is very special about that is that Milicz counts only 11,000 inhabitants and it has been the smallest Polish town ever to host an event like that. Milicz is located in Lower Silesia, ca. 60 km from Wroclaw. 200-300 people attended the march, including progressive politicians. On the same day, a similar march took place in Gryfino, a town of 20,000 people on the border with Germany.
Milicz dethroned Slubice, a town of 17,000 people, also on the border with Germany, that hosted in 2020 its Pride March with Frankfurt a/Oder.
New Holiday
The National Day of the Silesian Uprisings was proposed by President Andrzej Duda and approved almost unanimously by parliament, with 436 votes in favor and only four against. The National Day of the Silesian Uprisings will commemorate fights after World War One that saw part of Upper Silesia break away from Germany and join the newly independent Poland.
The holiday will be marked on June 20.
Culture
Palm d'Or for a Donkey
Polish director Jerzy Skolimowski together with two Belgian filmmakers have received ex aequo a jury prize at the 75th Cannes Film Festival. Skolimowski won the prize for 'EO'. It is the story of a donkey that is taken on a peculiar journey from a Polish circus to an Italian slaughterhouse. The journey is a starting point for a larger story about people and contemporary Europe.
Skolimowski's masterpiece is an allegory created in a Polish-Italian co-production. The director is also responsible, along with Ewa Piaskowska, for the script. The cinematography for 'EO' were done by Michał Dymek, Michał Englert and Paweł Edelman, and Agnieszka Glińska was responsible for the editing.
Composer Paweł Mykietyn won the jury's award for best film music for 'EO'.
The second Polish success at this year's Cannes Film Festival is the Polish-British co-production 'The Silent Twins' directed by Agnieszka Smoczynska. It is the first English-language film by the director. It is based on the tale of twins Gibbons, who refused to communicate with the outside world. The sisters communicated only with each other in their own invented language. Their story was told by investigative journalist Marjorie Wallace, and her book became the basis for the film's script by Andrea Seigel.
The film is a Polish-British co-production. The editing, as in the case of 'EO', was made by Agnieszka Glińska, and the music was composed by Zuzanna Wrońska and Marcin Macuk. The cinematography was done by Jakub Kijowski. It was well received by the audience and awarded with 6-minute-long standing ovation.
Polish Rider
Over two centuries after Rembrandt's 'Polish Rider' left the Royal Lazienki Residence in Warsaw, it returned to be displayed there on a temporary exhibition.
The painting is believed to have been completed by the Dutch master ca. 1655. In 1791, it was offered to last king of Poland, Stanisław August, by the Grand Hetman of Lithuania Michał Kazimierz Oginski in exchange for some very valuable orange trees from the royal garden.
It is one of only two equestrian portraits to have been painted by Rembrandt. The subject on the painting have been disputed for long time. Oginski identified the rider as "a Cossack on horseback," but Stanisław August believed it was a representative of the irregular military. Later American experts claimed it was a Hungarian man…
Since 1910, the painting is a part of the Frick Collection (New York City).
Read more and see the painting here.
Euro-Shame
For a long time, the Eurovision Song Contest have not provided such excitement in Poland. And there were quite a few reasons. First of all, Polish Eurovision fans were very pleased with the choice of the song and of the artist. Poland was represented this year by a 22-year-old Krystian Ochman. Ochman was born in the USA and ended up winning the 11th edition of The Voice Poland. He is a grandson of a world-class opera singer Wiesław Ochman.
The second reason why Polish public opinion got so engaged in commenting the festival was the fact that Poland gave in total 24 points to Ukraine, 12 from the professional jury and 12 from the public, and Poland received only 12. All of them from the public (it was actually the only douze points that Poland got this year). The Ukrainian jury gave Poland zero points. The topic became viral… and political.
Many, especially right wing, internet users, called it a disgrace and ridiculously concluded that Ukrainian jury should have given Poland points for… the support Poland is offering to Ukrainian refugees. The issue was also commented in Ukraine. Minister of culture Oleksandr Tkachenko tweeted that zero points for Poland (and Lithuania) from Ukrainian jury is "a real shame".
"And although the competition is not political, it is not politics – it is friendship, it is common values, it is comprehensive support in all areas. And I hope that all this will last for many, many years further", he added.
Finally, Polish jury was involved in a behind-the-scenes drama. Eurovision organizers announced:
"In the analysis of jury voting by the European Broadcasting Union's (EBU) pan-European voting partner after the Second Dress Rehearsal of the Second Semi-Final of the 2022 Eurovision Song Contest, certain irregular voting patterns were identified in the results of six countries".

"In order to comply with the Contest's Voting Instructions, the EBU worked with its voting partner to calculate a substitute aggregated result for each country concerned for both the Second-Semi Final and the Grand Final (calculated based on the results of other countries with similar voting records)", they continued.
These six countries are commented to be: Azerbaijan, Georgia, Montenegro, Poland, Romania, and San Marino. TVP denies these accusations, but it looks like the Polish state-owned broadcaster managed by former PiS MP is so success-hungry that it involved itself in buying votes in a song contest…
Economy
Alcohol: Buy Less, Pay More
According to the newest data presented by NielsenIQ, Polish people buy less alcohol but spend more money on it. It is connected with the new tax on alcoholic and sugary drinks introduced in 2021, and higher costs of production and transportation. The decrease of the volume purchased between March 2021 and March 2022 was by 4.1% and increase of cost was by 1.4%. Poles spent on alcohol in that period PLN 40.4 billion (ca.EUR 8.7 billion).
Poles drunk less vodka and beer, but more wine, rum, and gin. Beer remains the most popular alcoholic drink, with almost half the total spending for all alcoholic drinks in Poland (ca. PLN 18 billion). The average Pole drank 97 liters of beer.
One of the main purposes of the tax on alcoholic and sugary drinks was to limit quantity of alcohol sold in very small bottles (so called monkeys). They seem particularly dangerous from the perspective of developing of addiction as they are omnipresent, cheap and can be hidden in small bags and purses.
It looks like the new surplus charge worked, as sales of 100 ml bottles with vodka dropped by 23%, and those of 200 ml dropped by 30%.
UBI Experiment
The Polish voivodship (region) of Warmia and Masuria is launching of a social experiment to measure the impact of universal basic income (UBI) on people's lives. Between 5,000 and 31,000 people living in some of the underdeveloped areas in north-east Poland, with high unemployment rate and low salaries, will receive PLN 1,300 (ca. EUR 280) every month for two years. The money will be given regardless of marital status, education or residence to reduce social inequalities and stimulate the economy.
The team behind this pilot program is composed of researchers from the Adam Mickiewicz University in Poznan and members of the Association of Warmia-Masuria Borderland Municipalities and the Association of Polish Cities. Poland will become another European country, next to Finland and Germany, to experiment with UBI.
According to data from 2020, one in two Poles supported the introduction of universal basic income. However, as many as 49% were against it.
Record Retail Sales
According to Statistics Poland (GUS), retail sales increased by 33,4% year-on-year in Poland in April. It is the highest growth rate ever recorded by GUS. The main two reasons for this are high inflation (the figure is calculated at current prices) and massive migration of refugees from Ukraine. 3.5 million of Ukrainians who crossed the border with Poland boosted not only sales of food but also of clothes and shoes, electronics, and furniture.
Poland & Germany
Critics
Prime minister Mateusz Morawiecki criticized chancellor Olaf Scholz for his refusal to travel to Kyiv.
"There is nothing better than visiting the capital of the fighting nation to realize the seriousness of the situation, to get a sense of the importance of all that is happening there", Morawiecki stressed.
But the loudest criticism of German government came from the head of the Polish state.
President Andrzej Duda has accused the German authorities of breaking its word on an agreement to supply Poland with new tanks as compensation for Polish deliveries of 240 tanks to Ukraine.
"They have not fulfilled this promise. And frankly, we are very disappointed about this", he said during the World Economic Forum in Davos. "We have provided Ukraine with a large number of tanks, because we believe it is our responsibility as a neighbor", he added.
In April, chancellor Scholz introduced a swap mechanism under which countries in the eastern flank of NATO would supply the Ukrainian army with Soviet-era tanks in exchange for newer western tanks from Germany.
According to German authorities, this scheme is good for Ukraine as its soldiers and mechanics know how to use Soviet tanks and eastern NATO members would receive more modern equipment. Poland hopes to receive tanks Leopards 2A6.
Spokesperson of the Germany's defense ministry said that Berlin was engaged in a constructive exchange with Warsaw and German defense minister Christine Lambrecht is ready to start bilateral talks.
Rau in Berlin
Polish minister of foreign affairs visited Berlin. Before the visit he said that he would discuss the "fiasco of German eastern policy". In the German capital minister Rau stated that Germany should play a leading role in building security and defending peace. He also stressed that any attempts to provide Russia with a face-saving exit from its war in Ukraine would be a rejection of European values.
Finally, the Polish minister expressed hope that Germany would now support Ukraine's application for EU candidate status.
"There is no alternative to that because otherwise it would lead to an erosion of Germany's trustworthiness", he concluded.
Meanwhile, the German foreign minister Annalena Baerbock made it evident that the Donetsk region belongs to Ukraine.
"Ukraine is a sovereign state within its borders, and this is true for now, this is true since 2014 and this is true for the future," she said.
Environment
Griffon Vulture near Warsaw
The griffon vulture was found near the Kampinoski National Park, very close to Warsaw, and taken to a nearby veterinary center to recover from exhaustion. The species has thought to be extinct in Poland for more than a century. Las nesting ground was recorded in 1913 in the Pieniny mountains, on the border with Slovakia.
The State Forests of Poland has announced that the bird will be released back into the wild the moment it has regained its strength.
Griffon vultures are one of the largest birds of prey, with wingspans of up to 2.6m and weighing as much as 11 kg. They normally live is a drier climate, e.g., the Southern Europe, Central Asia, or the Middle East.
International Relations
Norwegian Wealth? This is Sick!
Prime minister Mateusz Morawiecki shocked national and European public opinion with his comment about Norway during the Nationwide Congress of Youth Dialogue. He said that Norway should share the 'gigantic profits it's recently made as a result of higher oil and gas prices, especially with Ukraine.
"But should we be paying Norway gigantic money for gas — four or five times more than we paid a year ago? This is sick", Polish PM commented.

"They should share these excess profits. It's not normal, it's unjust. This is an indirect preying on the war started by Putin", he added.

Morawiecki also gave a peculiar advice to young Poles: "Write to your young friends in Norway…They should share it, not necessarily with Poland [but] for Ukraine, for those most affected by this war. Isn't that normal?"
Poland expects to start receiving natural gas from Norway via the Baltic Pipe, which is planned to be fully commissioned at the start of 2023.
What is especially interesting in the context of Morawiecki's comments is that Poland's state-controlled gas giant PGNiG, saw its earnings before interest, tax, amortization, and depreciation, more than double in the Q1 from a year earlier to PLN 9.6 billion (ca. EUR 2.2 billion). The rise in the profit was predominantly (50%) generated by PGNiG's Norwegian unit, benefiting from the surge in oil and gas prices.
Norwegian foreign minister Eivind Vad Petersson rejected Morawiecki's accusations. "The excessive earnings from selling oil and gas are put mostly in the Government Pension Fund (also known as the Oil Fund) for the next generations", he said. "Norway has significantly contributed to supporting Ukraine, and will contribute even more", he added.
Polls & Trends
Party Support
IBRiS for Radio Zet, June 2, 2022
PiS                               35.1%
Civic Coalition             25.3%
Left                              8.9%
Poland 2050                8.4%
PSL                               6.3%
Confederation            4.1%
---
The article was originally published at: https://www.freiheit.org/central-europe-and-baltic-states/poland-love-may-3
---
Continue exploring:
Poland Is Hostage of Kaczynski's, Ziobro's Obsession
Save the Date! Freedom Games 2022: Green Independence