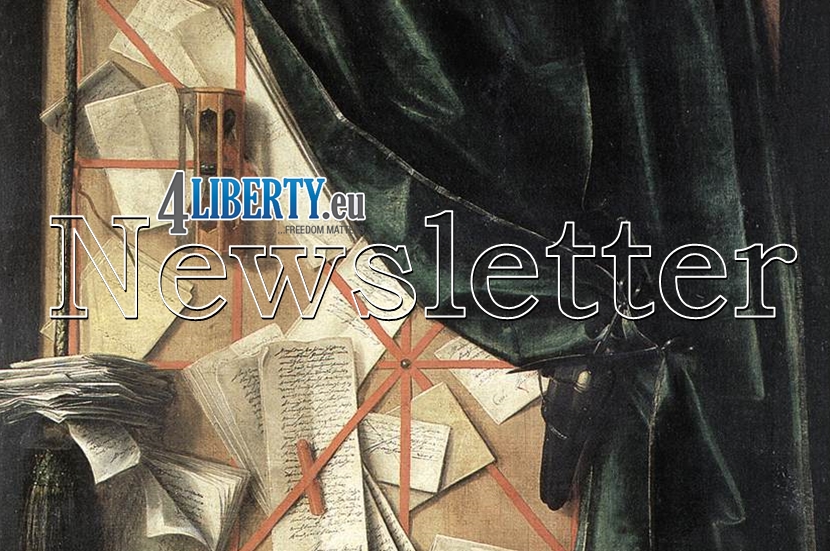 Cornelis Norbertus Gysbrechts "Trompe-l'oeil: Letter Rack with an Hourglass, a Razor and Scissors" // Public domain
The April issue of the 4liberty.eu Newsletter provides an overview of the articles published on the 4liberty.eu website, serving as a starting point for further exploration.
Adela Kleckova (FNF):
Czechia has become the victim of Russian state terrorism. The Czech response to expel 18 Russian diplomats was just the beginning of the biggest conflict between Moscow and Prague in the modern history of both countries, which escalated into an unprecedented expelling of up to 70 Russian embassy staff from the Czech Republic.
LFMI:
Learning Economics as Part of Daily Life

LMFI is continuing its mission to educate youth by offering integrated interdisciplinary education material. Therefore, a new learning platform CITIZEN IN 31 HOURS was launched in 2019. It consists of 31 lessons exploring real-life problems in economic, civic, and ethical disciplines for students in 9-12 grades.

Radovan Durana (INESS):

Over the last fifteen years, income inequality has increased by 14% in both Denmark and Sweden. I assume you have not read or seen this information anywhere. Much more popular are articles on income inequality in bad countries, such as the United States or the United Kingdom.

Radoslaw Sikorski (Liberte!):

Developing a relationship with China – a state that has been increasingly ambitious and aggressive – is one of the greatest challenges facing Europe. The shape of these relations will have an impact not only on the foreign policy and economy of the European Union, but also on the process of European integration itself.

Tomasz Kasprowicz (Liberte!):

The pandemic continues, but the first data-based analyses are starting to emerge – and some conclusions may now be drawn. The most important indicator in assessing the response to the pandemic is the excess mortality – i.e. how many more people died in comparison to the average rate in previous years.

Gia Jandieri (NESG):
What Is Happening in Georgian Politics

The COVID-19 pandemic has further complicated and strained the Georgian politics. The opposition thought it could easily defeat the ruling party in the face of a pandemic crisis. On the other hand, due to the successes achieved in the early spring, the government hoped to retain power easily.

Magdolna Molnar (Republikon Institute):

The Republikon Institute, with the support of the Friedrich Naumann Foundation for Freedom, organized an online conference on the situation of liberal thinkers and liberal voters in the Central and Eastern European region.