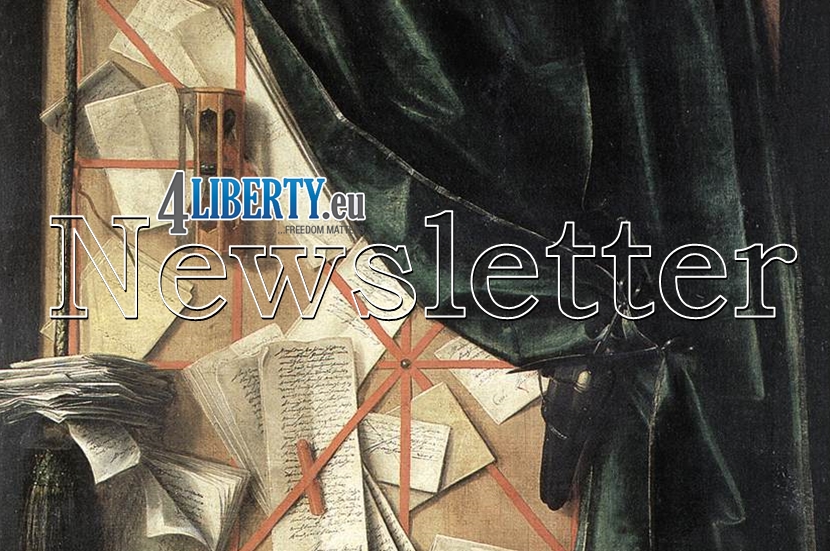 Cornelis Norbertus Gysbrechts "Trompe-l'oeil: Letter Rack with an Hourglass, a Razor and Scissors" // Public domain
The October issue of the 4liberty.eu Newsletter provides an overview of the articles published on the 4liberty.eu website, serving as a starting point for further exploration.
We are pleased to present the fifteenth issue of 4liberty.eu Review, titled "Mythical Self-Sufficiency in Reality". This time, our primary focus is on autarky, as it continues to be viewed by numerous CEE governments as an appealing idea to follow.
Kristof Park Morris (Republikon Institute):

2015, Paris. For a moment it seemed as if we have finally reached the last step in our quest to combat climate change. And why wouldn't we feel that way?

Mate Hajba (Free Market Institute):

Hungary Prepares for Elections

With the approaching 2022 general elections, Hungary will be given yet another chance to show its true colors and decide how much its citizens are committed to its European and American allies. After high hopes of defeating the governing party, Fidesz, in 2018, were not met with success, there is renewed optimism in the chances for next year and now there is a new leader, Péter Márki-Zay, to back these sentiments with substance.

FNF & Political Capital:

Both euro-optimists and euro-critics agree that the European Union is facing critical challenges these days, it is not strong enough and the bloc must implement significant changes to fulfil its original aims and secure peace and progress for its citizens.

Liberte!:

Poland has imposed a state of emergency along its border with Belarus, holding back small groups of men, women and children who are refugees from Afghanistan, Syria, and other countries. They are without shelter, clean water, food, and access to medical help.

Detmar Doering (FNF):

Anyone who thinks that the German parliamentary elections were particularly exciting and uncertain in their results has not yet dealt with the hot campaign phase in the Czech Republic. There, the new Chamber of Deputies will be elected on Friday and Saturday this week. The polls predict two things above all: that anything is possible, and that forming a government will probably be extremely complicated.