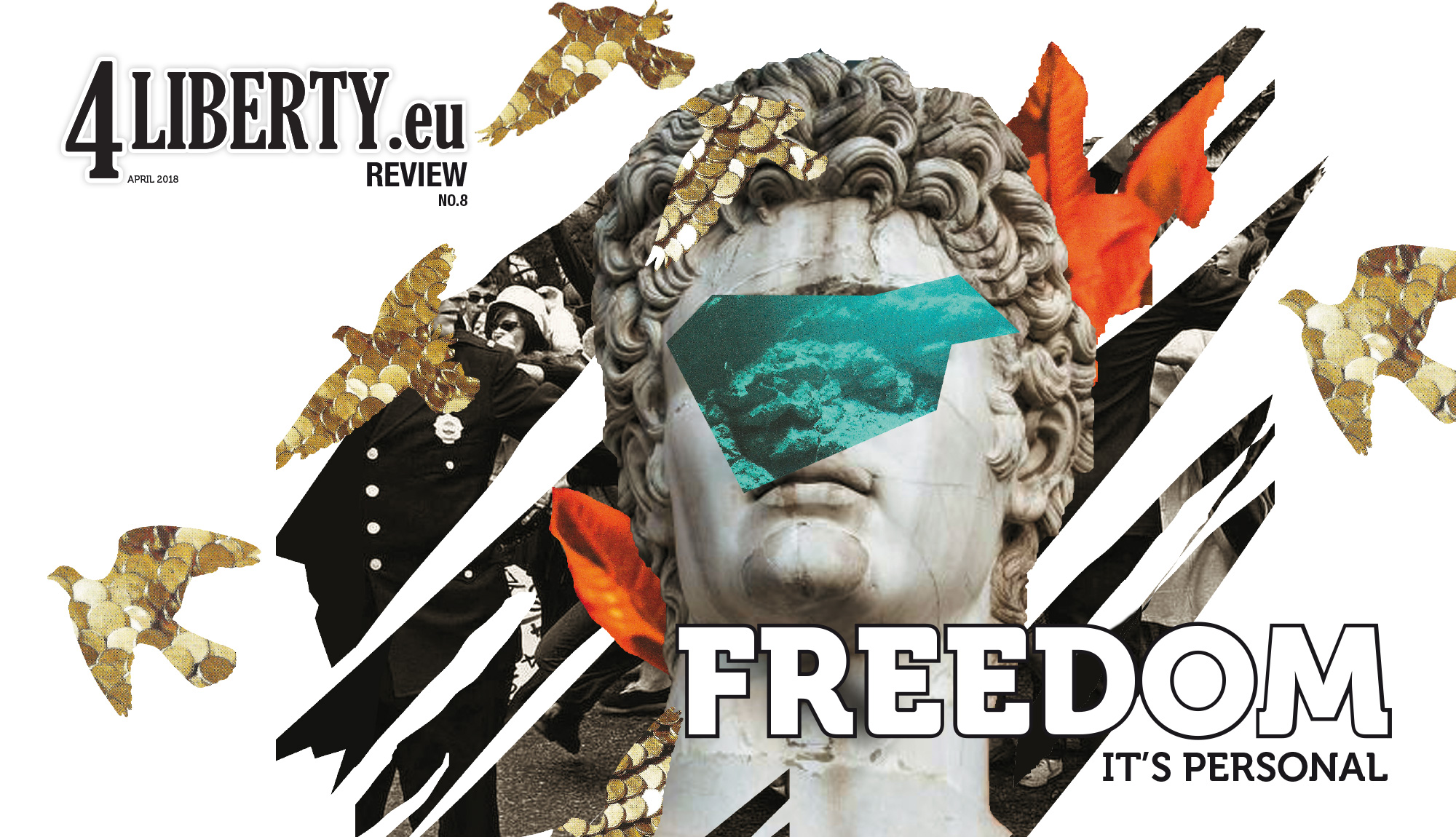 The eighth issue of 4liberty.eu Review focuses on personal freedoms and discusses the topic from various perspectives, including: freedom of the press, paternalism, social media, religious freedom, among others. The point of view is, as always, Central and Eastern European. We have managed to gather a number of various, highly captivating contributions, which we trust would assist the Reader in navigating the truly challenging reality of personal freedoms in the region at present.
Below, you might download the full issue, as well as read the magazine online via Issuu. We also encourage you to download and share individual articles.
Download individual articles:
EDITORIAL_Freedom, It's Personal_Olga Łabendowicz
TANJA PORČNIK _STANDING STRONG AND FIRM FOR PERSONAL FREEDOMS FOREWORD
PIOTR BENIUSZYS_ POLITICS UNDER THE REIGN OF SOCIAL MEDIA
MARCIN FRENKEL _FREEDOM OF THE PRESS UNDER ATTACK IN POLAND SELF-CENSORSHIP 
ESZTER NOVA _CENSORSHIP IS THE LEAST OF THE PROBLEMS THE POLITICAL AND ECONOMIC
IVAN BREGOV _PERSONAL FREEDOMS UNDER ONGOING TRANSITION FROM TOTALITARIANISM
MAREK TATAŁA _FREEDOM-LOVING PEOPLE SHOULD DEFEND THE RULE OF LAW IN POLAND
JÁNOS KÁRPÁTI _"STOP SOROS" A FAKE GOVERNMENTAL LEGISLATION PROPOSAL IN THE
ADMIR ČAVALIĆ _THE CURIOUS CASE OF (DE)CENTRALIZATION IN BOSNIA AND HERZEGOVINA
BILL WIRTZ _WATCH OUT PATERNALISM IS TAKING OVER EUROPE!
ALEKSANDAR NINKOV _NUDGING NEW TREND IN PATERNALISTIC POLICIES – CASES OF SERBIA
DARIA HEJWOSZ-GROMKOWSKA_FREEDOM, STATE, AND RELIGIOUS EDUCATION IN SEARCH