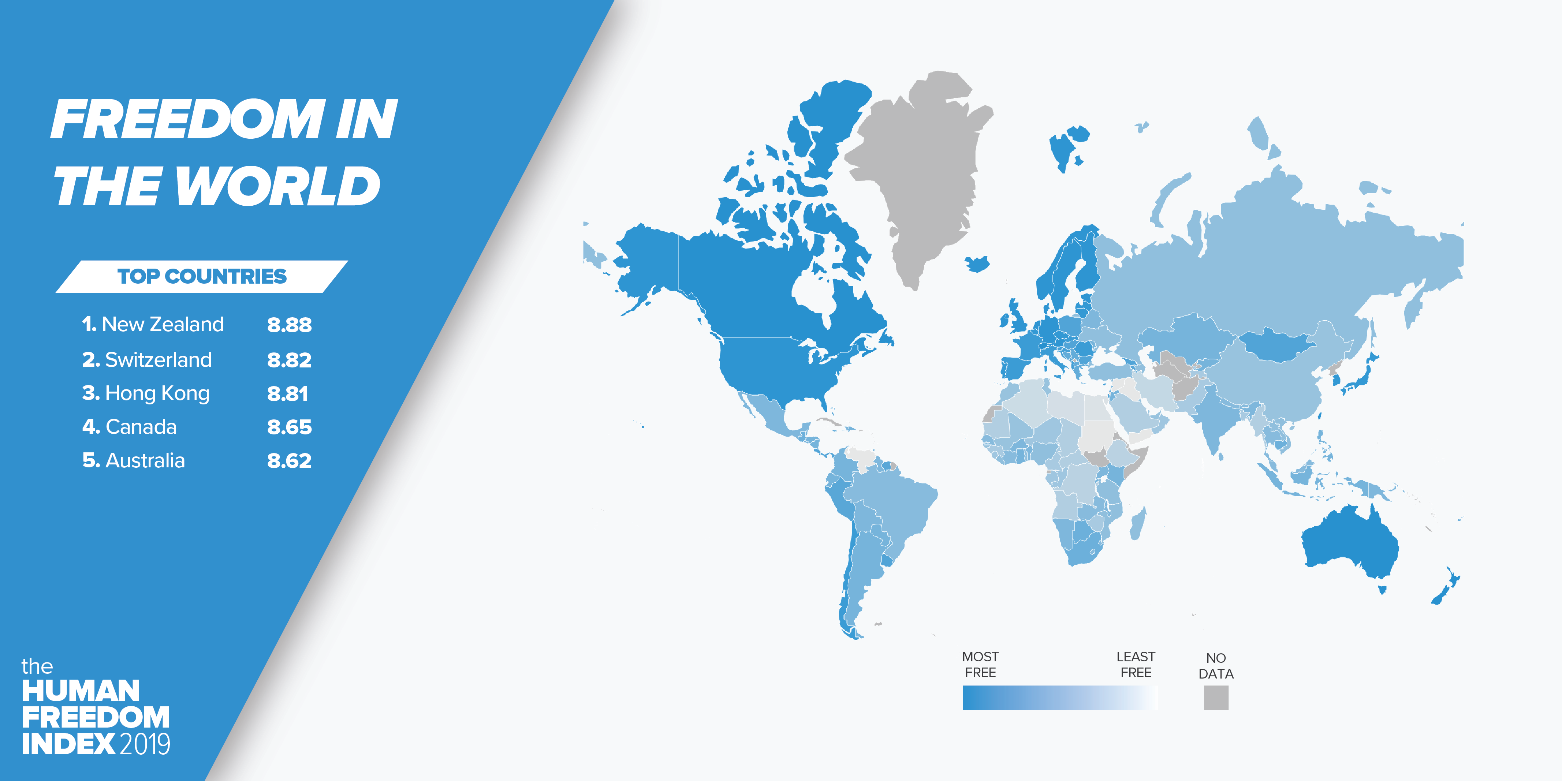 Human Freedom Index
With the rise of nationalism and hybrid forms of authoritarianism, the rights and freedoms of citizens are under assault in many corners of the globe. Unsurprisingly, among the countries with the most substantial deterioration in freedom in the last year are Angola, Venezuela, and Tajikistan.
The good news is that freedom has taken root in a diverse set of societies and it's spreading in many of them.
We recently released the fifth annual Human Freedom Index, the most comprehensive measure of freedom ever created for a large number of countries across the globe. The index covers 162 countries and uses 76 distinct indicators of personal and economic freedom.
With the index, my co-author Ian Vásquez and I aim to capture the degree to which people are free to enjoy fundamental rights such as freedom of speech, religion, association and assembly, and also measure freedom of movement, women's freedoms, crime and violence and legal discrimination against same-sex relationships.
The report is co-published by the Fraser Institute, the Cato Institute in the United States, and the Liberales institut in Germany.
In this year's index, we again rank New Zealand and Switzerland as the two freest countries in the world while we again rank Venezuela and Syria last. Canada ranks 4th on the index followed by Australia, Denmark and Luxembourg.
Canada has consistently ranked among the top 10 jurisdictions since 2008, which is the earliest year we were able to gather sufficient data to create a composite scoring system to measure human freedom.
Selected countries rank as follows: Finland and Germany (tied in 8th place), Sweden (11), United Kingdom (14), Estonia and the United States (15), Taiwan (19), Japan (25), South Korea (27), Chile (28), France (33), Poland (40), South Africa (64), Argentina (77), Kenya (79), Mexico (92), India (94), Brazil (109), Russia (114), Turkey (122), Saudi Arabia (149), Iran (154), and Egypt (157).
The freest country in the Eastern Europe is Estonia (ranked 15th globally), followed by the Czech Republic (21), Lithuania (22), and Romania (30).
The least free country in the region is Ukraine (118), preceded by Russia (114), Belarus (92), Moldova (71), and Serbia (58).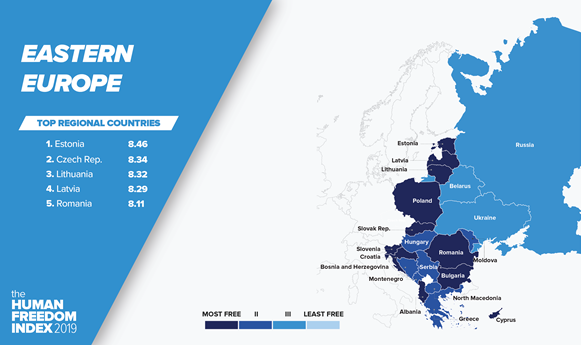 This year's index confirms that global freedom remains in retreat. At a country level, human freedom tumbles in more countries than not, with some 88 countries experiencing a decline in their freedom ratings compared to 70 countries increasing it freedom since last year.
During this same period, we recorded the most significant declines in human freedom in Angola, Seychelles, Venezuela, Brunei Darussalam, and Israel.
On the positive side, countries that saw improvement in their level of human freedom most were Belarus, Timor-Leste, Chad, Gabon, and Suriname.
So again, freedom has not only taken root in a diverse set of societies, but it's also spreading in numerous countries around the globe.
Regional levels of freedom vary widely. The highest average ratings were North America (Canada and the U.S.), Western Europe and East Asia. On the other hand, the lowest ratings were in South Asia, sub-Saharan Africa, the Middle East and North Africa.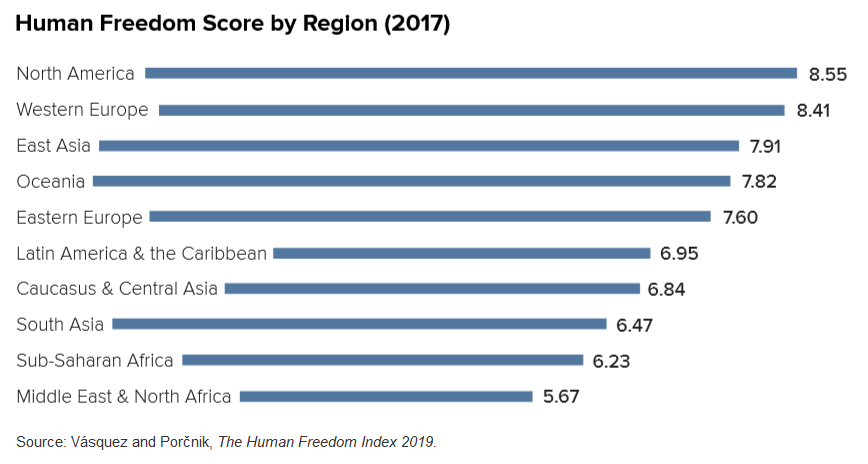 ---
The article was originally published at: https://www.fraserinstitute.org/blogs/human-freedom-waning-in-many-countries