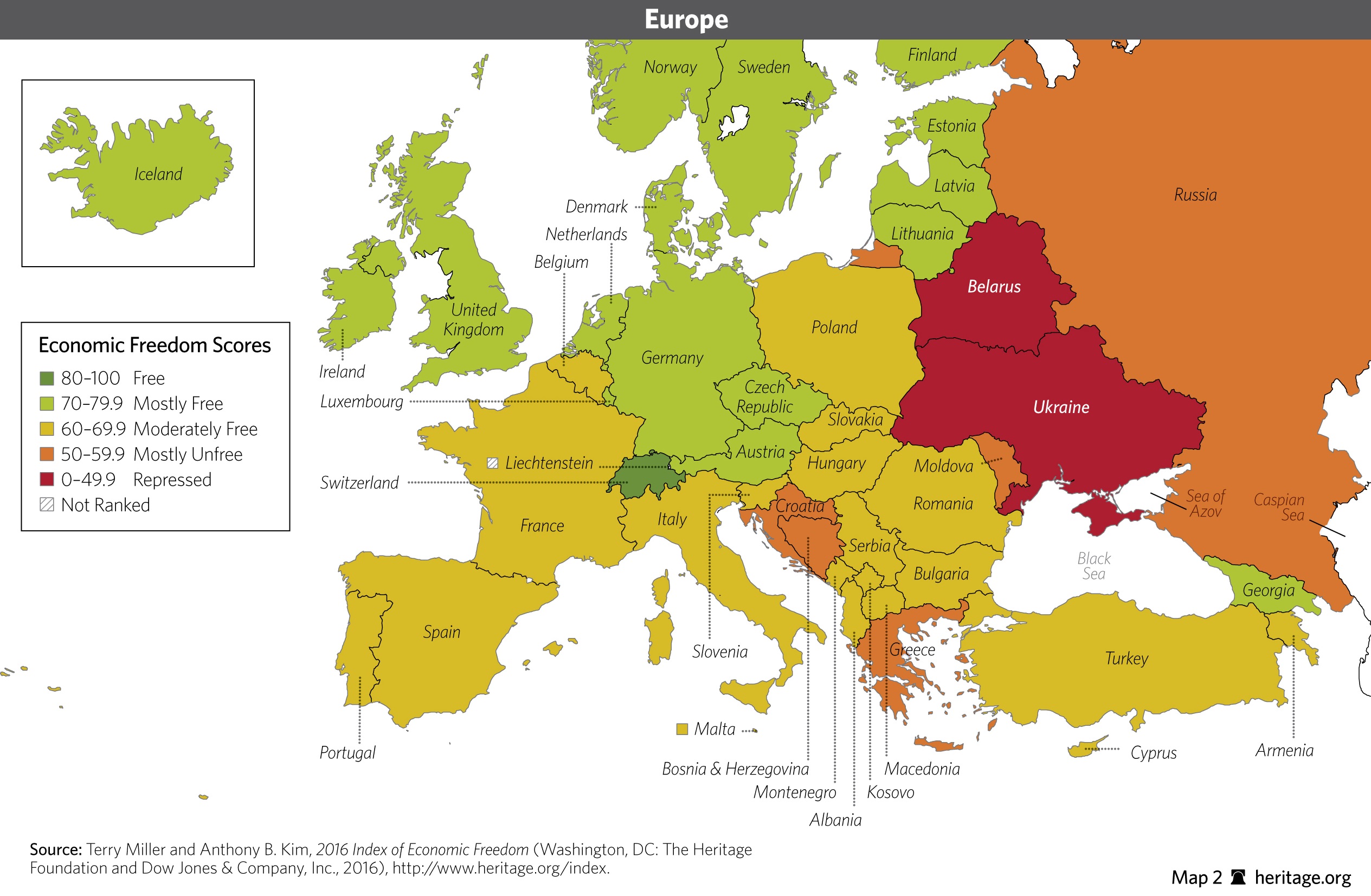 Lithuania's level of economic freedom has been steadily improving. The country has jumped up by two positions and ranked 13th in the world in the 2015 edition of the Index of Economic Freedom. The index is compiled by the Heritage Foundation, one of the most influential economic research centers in the US, in partnership with The Wall Street Journal. International experts praise Lithuania's improving business conditions, but are critical of Lithuania's high government spending and over-regulated labor market. The Lithuanian Free Market Institute notes that both these areas are not only dragging down Lithuania in the international context, but also reduce the country's reliability and attractiveness to investors.
Membership in the European Union has helped Lithuania to improve its rankings given that international experts value stability, respect of the rule of law, and open foreign trade. The index authors note that Lithuania simplified the process of opening a business venture, and joining the euro zone was another important factor behind Lithuania's improved ranking.
Admittedly, Lithuania performed well in certain areas only because of the Index's methodology, LFMI's vice-president Vytautas Žukauskas says. For example, Lithuania received a very high score in the area of taxation, although in reality labor-related taxation in Lithuania is higher than that in most of Europe.
"International experts take into account only the personal income tax. The tax rate is 15%, but it does not reflect full taxation of labor force, social insurance payments including. In Lithuania the tax burden on labor is higher than the European average, but its true extent is hidden. Our survey shows that even Lithuanians themselves have no idea how much taxes they end up paying," says Vytautas Žukauskas.
LFMI's vice-president notes that almost no progress has been made in cutting government spending. High spending lands us in the 106th place. The government is promising a balanced budget every year, but ends up increasing the deficit each time. The country has already been reprimanded in this respect by the European Commission and the National Audit Office of Lithuania.
"This problem is evident to everyone, except to Lithuanian politicians. Even though this year's budget deficit is the highest compared with the last five years and amounts to EUR 640 million, the Lithuanian government is sticking to willy-nilly spending. Public expenditure is being increased in all areas without observing any priorities. This is an irresponsible policy. We have the Greek example to warn us about problems that Lithuania can eventually run into," Žukauskas says.
Lithuania received a low score for freedom from corruption and was placed 40th globally. Although international experts note the progress the country has made, Lithuania has not been able to move up in the poorly-rated area of labor relations, ending up as low as 96th.
"Lithuania's obsolete Labor Code holds Lithuania back in all international ratings. It is discouraging investors and ruining the country's reputation. Everyone understands this but no one takes action or actions are too slow. The widely debated new social model has been put on hold, and it is unlikely to be approved this year. And this is particularly detrimental to employees, those who should benefit from the reformed Labor Code the most. Overly strict labour regulation means less employment, lower wages, and widespread 'voluntary' job quits that leave employees ineligible for certain financial compensations," LFMI's vice president notes.
In the 16th edition of the Index of Economic Freedom Latvia ranks 36th, Poland 39th and Estonia 9th among the 186 countries the index covers. The authors stress that economic freedom correlates directly with prosperity: people live better lives in countries where the level of economic freedom is higher.