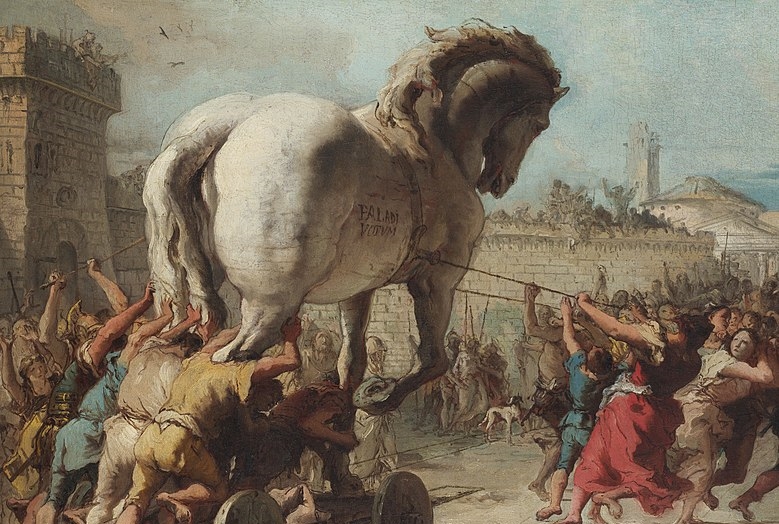 Giovanni Domenico Tiepolo: The Procession of the Trojan Horse in Troy / Public domain
Central European Institute of Asian Studies (CEIAS) presents a report mapping the academic interactions between Slovak academic institutions (public universities and research institutes of the Slovak Academy of Science) with Chinese entities.
The report focuses on three aspects of Chinese presence in the Slovak academia: operation of Confucius Institutes, cooperation with entities linked to the Chinese military, and ties with Chinese tech firms like Huawei, ZTE, and Dahua.
Recent evaluation by Slovak security apparatus pointed at the risk posed by Chinese entities trying to gain access to certain crucial sectors in Slovakia. While academia is not extensively mentioned, when looking at countries such as Czechia, the United Kingdom, or Australia, it is clearly visible that universities are a point of interest for Chinese entities.
While this report looks and examines ties between academia and Chinese entities, its goal is not to discourage from engaging with China. Such cooperation can be beneficial, if approached correctly.
However, due to the nature of the Chinese regime, specific risks exist in the cooperation with Chinese entities, which the Slovak academic institutions need to be wary of and reflect on them in their dealings with China.
Currently Slovak academic institutions – public universities and institutes of the Slovak Academy of Science – have 113 established ties and interactions with Chinese partners. 25 of them happen with Chinese academic institutions which are in various ways linked to the People's Liberation Army.
Cooperation with Chinese institutions suffers from a low level of transparency, with less than half of agreements published in the Central Registry of Contracts. Universities and the Slovak Academy of Science generally do not engage in a systemic risk assessment before and during cooperation with China.
Currently, three Confucius Institutes operate at Slovak universities: Comenius University, Slovak University of Technology, and Matej Bel University.
Besides universities and research institutes, Slovak academic institutions cooperate with several Chinese corporations. Three Chinese tech firms stand out here: Huawei, ZTE, and Dahua.
This report also looks at possible solutions, recommending public academic institutions to improve their transparency in order to allow for public oversight.
An example of this can be a better track record of publishing agreements and memoranda, as well as requiring the entities with which they cooperate to publish their ultimate beneficial owner.
Second issue is risk assessment. It is crucial for academic institutions to assess the potential risk of their agreements, possibly in cooperation with Slovak Ministry of Education and Slovak Ministry of Foreign Affairs.
One of the most important criteria when looking at risk assessment should definitely be complicity in human rights abuses, as cooperation with such institutions contradicts basic values enshrined in the Constitution of the Slovak Republic.
Lastly, there is the issue of improving China-focused education and research. Slovak academia should not have to rely on Chinese funding to study its activities. As China is becoming an increasingly important actor in global affairs, affecting Slovakia as well, the government should allocate resources (including EU funding) to build up a domestic China expertise and education programs.
---
Written by Matej Šimalčík and Adam Kalivoda
---
Continue exploring:
From Public to "Private" Universities: Model Change in Hungarian Higher Education
Meaning of University of Theater and Film Arts in Budapest's Resistance for Hungary