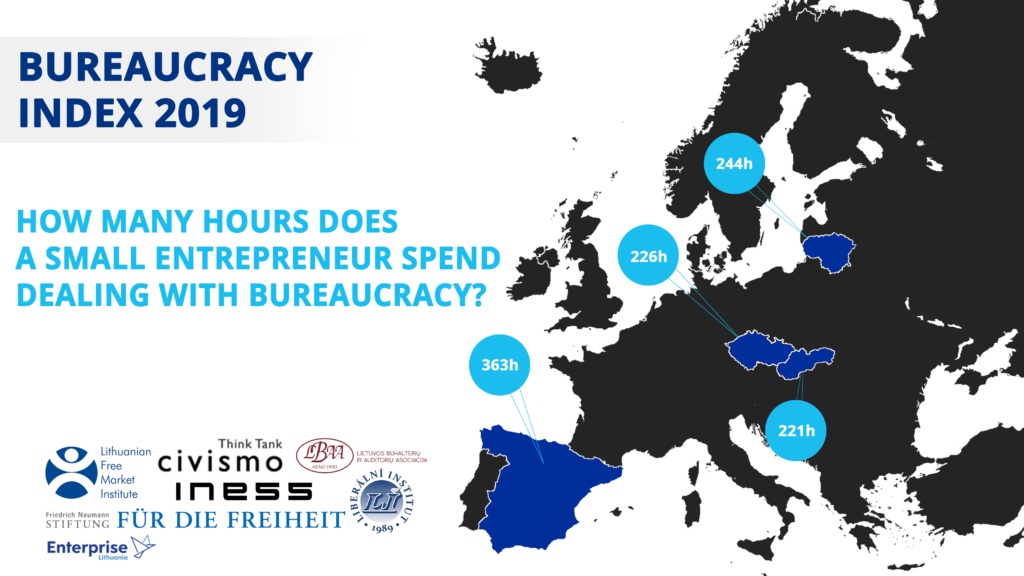 LFMI
Small enterprises in Lithuania spend on average 244 hours per year, or more than 30 working days, to comply with administrative formalities such as declarations, statistical reporting, and submission of other required documentation.
The administrative burden has decreased by one working day or 8 hours compared to last year, shows the 2019 Bureaucracy Index published by the Institute of Economic and Social Studies in cooperation with the Lithuanian Free Market Institute.
"The bureaucratic burden is difficult for all enterprises. The smaller the enterprise though, the harder it is to cope with it. The research shows that in Lithuania the administrative burden remains high in the area of tax administration. Even digital administrative solutions add to that burden.

The main difference between Lithuania and other countries covered by the Bureaucracy Index is that legislative amendments are extremely frequent in Lithuania, and they are costly in terms of both money and time," senior analysts Ieva Valeškaitė of the Lithuanian Free Market Institute says.
The study shows that waste and packaging management imposes by far the heaviest burden on small businesses in Lithuania. Compliance with waste and packaging regulations takes as many as 81 hours a year, which accounts for almost one third of total time allocated to bureaucratic formalities.
Companies must spend 44 hours, or almost six working, on occupational safety regulations and compulsory training associated with it. A total of 32 hours are allocated to calculate and administer payroll taxes and 43 hours, other taxes.
On average, companies need 21 hours for reporting and adaptation to changes in legislation. Another 18 hours a year are spent on various other formalities, and five hours are required to formalize working time related to hiring and firing of employees.
Of the countries analyzed in 2019, the administrative burden on businesses was the highest in Spain, totaling as many as 363 hours.
The Czech Republic reported 226 hours, and Slovakia – 221 hours.
The Bureaucracy Index has been published since 2017 by the Institute of Economic and Social Studies in Slovakia. This year's Lithuania's ranking was produced by the Lithuanian Free Market Institute, Enterprise Lithuania, and the Lithuanian Association of Accountants and Auditors.
The Bureaucracy Index estimates how many hours a small metal manufacturing company with four staff and around EUR 100,000 annual turnover spends to comply with compulsory administrative requirements and formalities.
---
See more information on Bureaucracy Index: http://bureaucracyindex.org/