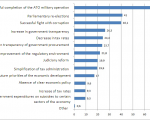 Ukraine is now in a completely new environment – military operations in the east and military invasion and aggression of the Russian Federation have left a significant mark on the processes taking place in the country, including the reform of the business environment. Among the first reforms that business expects will improve the business environment the prominent place holds a non-economical or regulatory activity. The first place is given to the successful completion of military operations in the ATO area – so say 76.9% of surveyed managers.
Parliamentary elections (41.0%) and corruption (40.1%) share the 2nd and 3rd places on the list of priority measures. The fourth place was given to the greater government transparency – this action of the government is expected by 26.3% of respondents. The fifth place hold expectations on reduction of the tax burden, this view is shared by 24.4% of respondents. 23.7% and 21.8% of respondents respectively expect an increase in transparency of government procurement and improvement of the regulatory environment. Approximately twenty percent support such activities as the judicial reform (19.9%) and simplification of the tax administration (19.6%).
Rating of primary economic / political steps that the business expects from the government, % of respondents*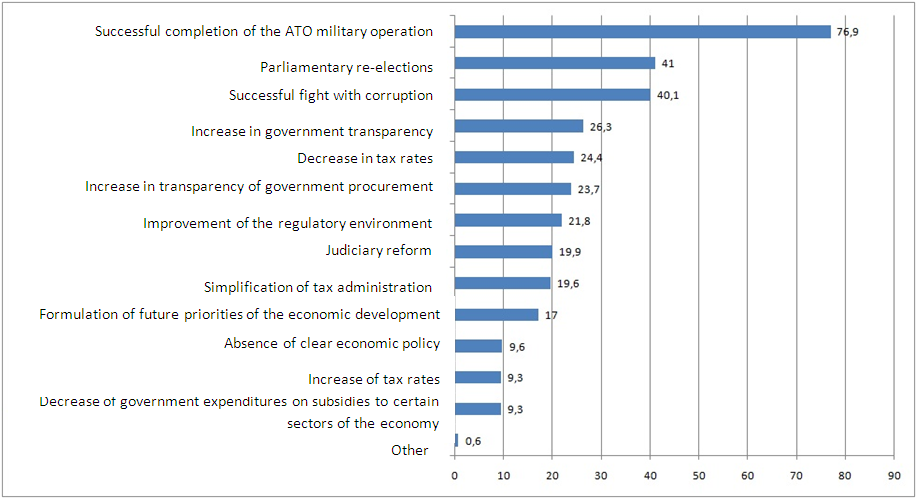 * The total percentage is greater than 100% because respondents could select up to 5 activities that they believe are important.
Source: own data.
Based on results of the quarterly survey conducted by the Institute for Economic Research and Policy Consulting under the "Business Tendency Survey". The survey covers managers in regions representing Centre, West, South and East of Ukraine and is held since 1996 based on the panel sample of 450 companies representing all sectors of manufacturing. The latest poll was conducted from July 25 to August 15, 2014.