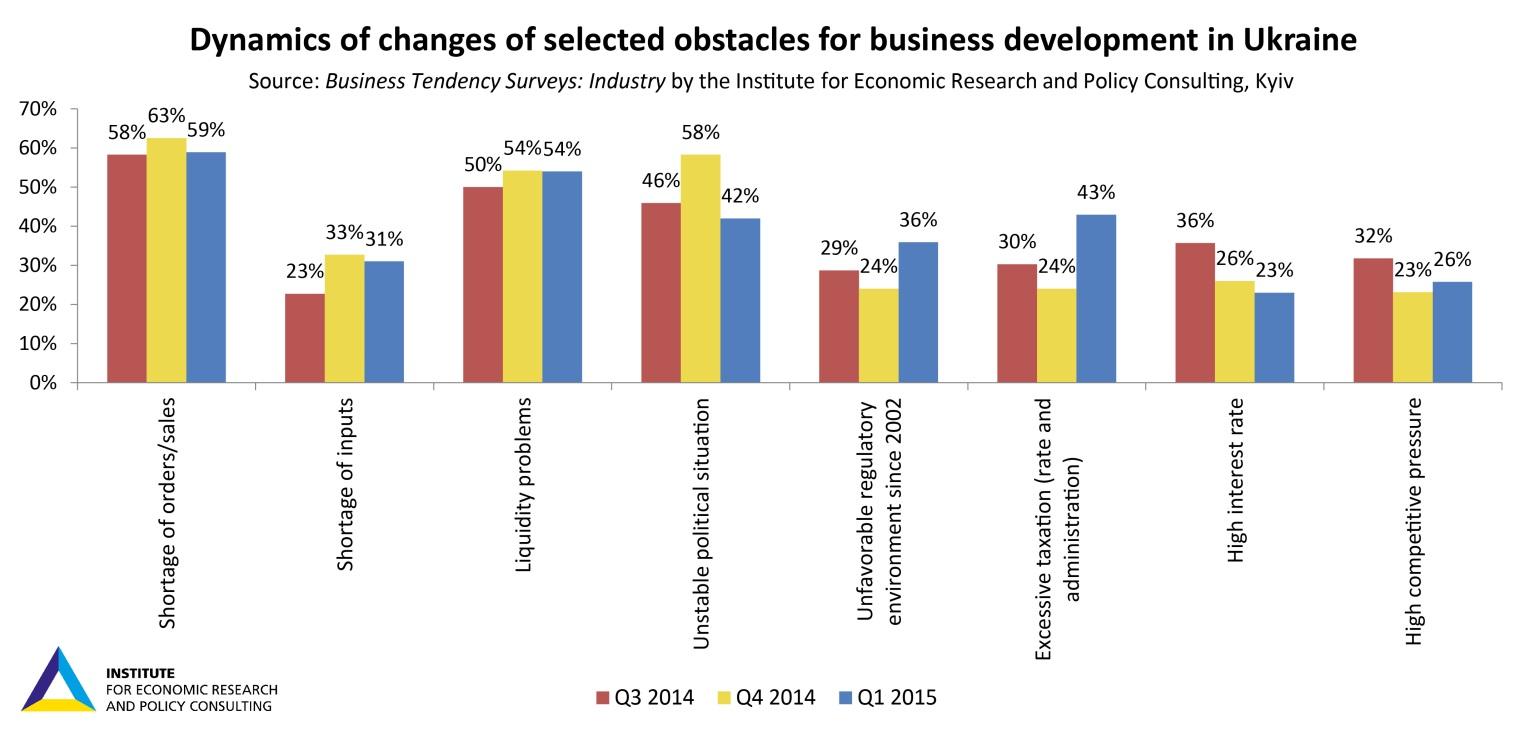 According to the Business Tendency Survey, a quarterly survey of industrial enterprises in Ukraine carried out by the Institute for Economic Research and Policy Consulting (Kyiv), the biggest obstacles to production growth in Ukraine in May 2015 were low demand, liquidity problems, excessive taxation, and unstable political situation.
Compared to February, when the previous survey took place, the situation with demand slightly improved: the share of the respondents that consider low demand an obstacle to their production growth decreased from 62.5% to 58.9%. The share of the firms facing liquidity problems remained practically unchanged – 54.2% of the respondents in February and 54% in May considered them a barrier. The weight of unstable political situation as a barrier to growth changed more drastically – in February 2015, 58.3% of the surveyed managers considered the unstable political situation in Ukraine an obstacle to production growth, and in May 2015, their share was 42%.
At the same time, the barriers related to the regulatory climate in Ukraine have become more burdensome for the enterprises. In particular, the share of the respondents that consider excessive taxation and tax administration to be a barrier to production growth increased from 24% in February to 42.9% in May 2015. Moreover, the share of those who consider the present regulatory climate an impediment to production growth increased from 24% to 35.9% correspondingly.
The significance of the barriers for doing business differs for different sizes of enterprises. Low demand, liquidity problems, unstable political situation, and excessive taxation are the most substantial barriers for the small business entities (up to 50 employees). The same factors pose a considerable challenge for medium size enterprises (51-250 employees) as well. However, unstable political situation and excessive taxation are even bigger obstacles for mid-sized firms, as reported by 38.8% and 49.2% of the respondents in this group correspondingly.
Big businesses (250+ employees) have ranked the problems in a different order. Top five barriers for business as outlined by the biggest enterprises are: liquidity problems, low demand, excessive taxation, shortage of raw materials, and unfavourable regulatory climate.
More details about the survey can be found at http://www.ier.com.ua/en/proekt_dilova_dumka/?
An article by Oksana Kuziakiv and Tetiana Oliinyk