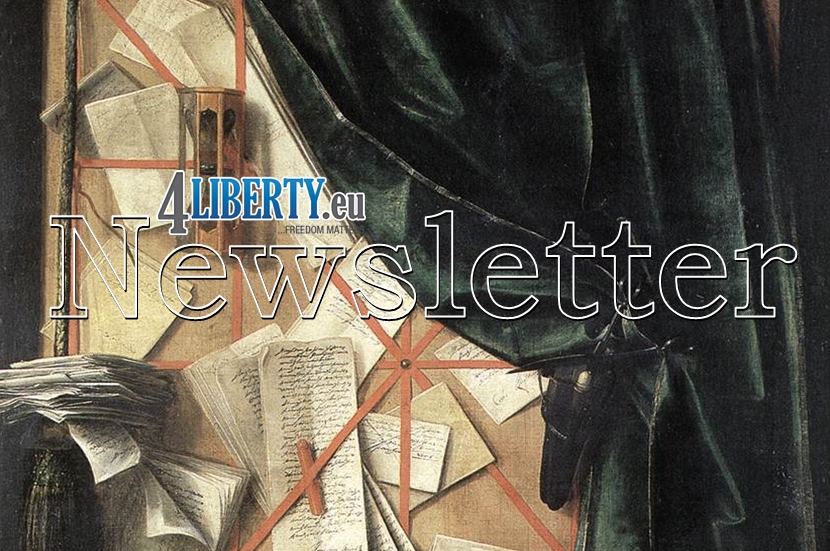 Cornelis Norbertus Gysbrechts: Trompe-l'oeil: Letter Rack with an Hourglass, a Razor and Scissors (ca. 1664) // Public domain
The June issue of the 4liberty.eu Newsletter provides an overview of the articles published on the 4liberty.eu website, serving as a starting point for further exploration.
We are pleased to announce that the 2022 edition of Freedom Games is to be held on October 14-16 in the EC1, Lodz, Poland and online. The leading theme of this year's forum is "Green Independence".
Mate Hajba (Free Market Foundation):

As far as power goes, Hungarian Prime Minister Viktor Orbán cannot complain. His party, Fidesz recently won its 4th consecutive elections, with a supermajority no less. He had ample time to exercise power since 2010, as since then all of his government enjoyed a two third majority support in the parliament.

Petar Ganev (IME):

Signals Sent by EU Convergence Reports

Every two years the European Central Bank and the European Commission publish its so-called convergence reports. They follow the development of the EU countries that have not yet adopted the Euro and evaluate the meeting of the convergence criteria, known also as the Maastricht criteria. The reports cover seven member states – Bulgaria, Czechia, Croatia, Hungary, Poland, Romania, and Sweden. Denmark is excluded due to its special derogation on the matter of joining the Eurozone.

Liberte!:

Monika Budzak (INESS):

History repeats itself. Unfortunately, 2022 is no exception. The pandemic and the ensuing war have raised fears about food sufficiency, which politicians around the world have turned into old-fashioned solutions. What people do not like to hear is that many measures not only do not address food security but may make it even worse.

Miłosz Hodun (Projekt: Polska & FNF):

What Happened Recently in Poland

Sejm has approved removing the Disciplinary Chamber of the Supreme Court, a body used by the PiS government to sanction outspoken independent judges, and which has drawn condemnation from the European institution. Last year the European Court of Justice (ECJ) found the Disciplinary Chamber to be in violation of the EU's rule of law principles, urged Poland to remove it and fined Poland EUR 1 million a day as long as the body continues.

ELF & Liberte!:

Business in Light of War in Ukraine, Davos, and Lobbying [PODCAST]

In this episode of the Liberal Europe Podcast, Leszek Jażdżewski (Fundacja Liberté!) welcomes Alberto Alemanno, Jean Monnet Professor in European Union Law & Policy at HEC Paris and one of the leading voices on the democratization of the European Union. They talk about business in light of the war in Ukraine, the World Economic Forum in Davos, Conference on the Future of Europe, and lobbying.