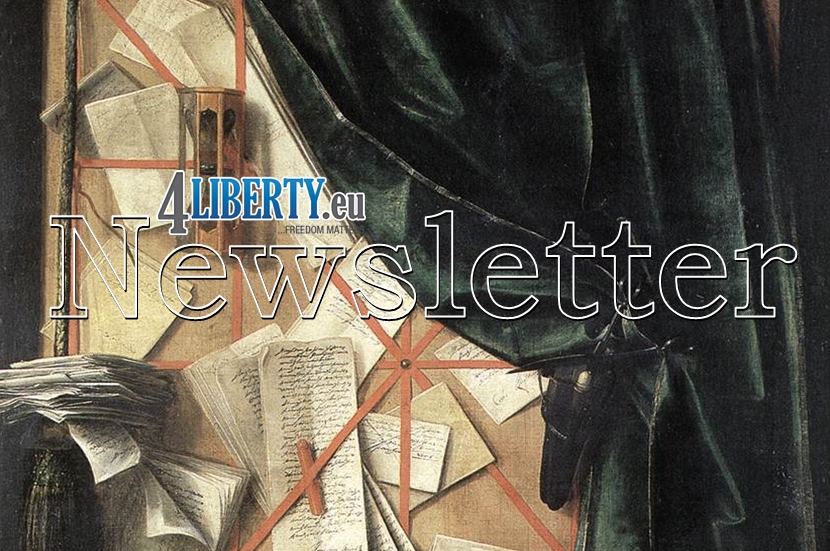 Cornelis Norbertus Gysbrechts: Trompe-l'oeil: Letter Rack with an Hourglass, a Razor and Scissors (ca. 1664) // Public domain
The October issue of the 4liberty.eu Newsletter provides an overview of the articles published on the 4liberty.eu website, serving as a starting point for further exploration.
We are pleased to present the seventeenth issue of 
4liberty.eu
 Review, titled "Green Development: An Opportunity for CEE?". This time, our primary focus is on the future of the region in light of the challenges related to much-needed energy transformation.
Mateusz Gwozdz (Projekt: Polska):

The National Recovery Plan, as the official website of the Polish government states, is a program introduced in order to reinforce the revival and development of Poland's economic resilience in response to the Covid-19 pandemic and the following economic crisis. It is supposed to consist of fifty-four major investments and forty eight reforms conducted by the Polish government, thanks to which the country could more easily withstand upcoming economic challenges, simultaneously regaining its former capacity.

Academy of Liberalism:

Estonia Needs More Tax Take, Debate Likely Not Until after Election

While the state does need to find new revenues, there will not be any substantive debate on taxation over the next four months, new Finance Minister Annely Akkermann (Reform) says. Akkermann said she expects political parties to include taxation proposals in their election manifestos.

Petar Ganev (IME):

Bulgaria has entered another period of political instability, which would inevitably hinder growth and increase government debt. Data from the past two decades clearly show that when there is political uncertainty, marked by a sequence of caretaker governments and an inability to form a stable majority, growth is usually weaker, halting the process of economic convergence, while at the same time debt grows.

Robert Chovanculiak (INESS):

School Reform: Arizona Introduces Education Vouchers

How services are funded affects their effectiveness and quality. Take meals. It makes a big difference whether the state directly funds the operation of restaurants or "merely" mandates the issuance of food stamps, or whether restaurants are funded by paying customers. Each of these models brings different incentives and feedback loops.

Liberte! & ELF:

How to Defend Liberalism [PODCAST]

In this episode of the Liberal Europe Podcast, Leszek Jażdżewski (Fundacja Liberté!) welcomes Timothy Garton Ash, Professor of European Studies in the University of Oxford, Isaiah Berlin Professorial Fellow at St Antony's College, Oxford, and a Senior Fellow at the Hoover Institution, Stanford University. They talk about contemporary liberalism and discuss what can each and every one of us do to promote it and make it stronger in the current geopolitical situation.