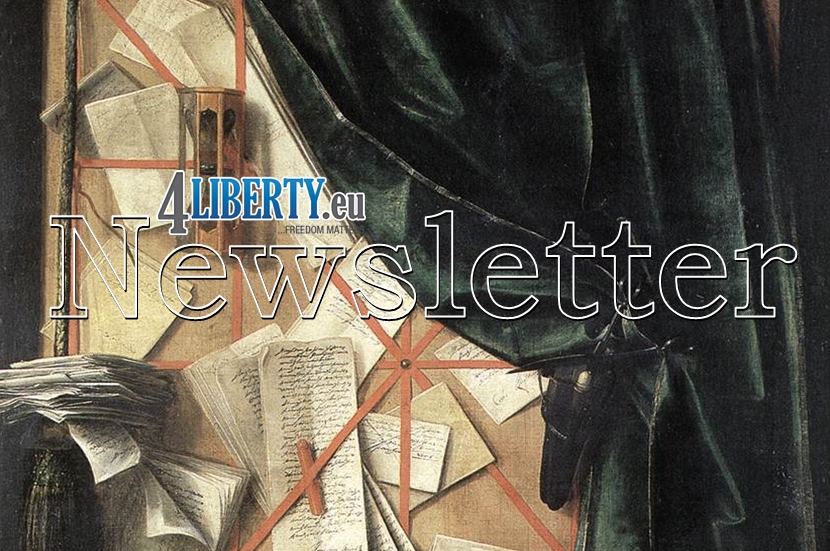 Cornelis Norbertus Gysbrechts: Trompe-l'oeil: Letter Rack with an Hourglass, a Razor and Scissors (ca. 1664) // Public domain
The October issue of the 4liberty.eu Newsletter provides an overview of the articles published on the 4liberty.eu website, serving as a starting point for further exploration.
Impacts of the Russian War in Ukraine on CEE: 4liberty.eu Review No. 19 Now Available Online

We are pleased to present the nineteenth issue of 4liberty.eu Review, titled "Learning from the Past and Present: Impacts of the Russian War in Ukraine on CEE". This time, our primary focus is on the response to the Russian aggression in the region, as well as various related phenomena and challenges.
Leszek Jazdzewski (Liberte!):
A massive social mobilization has led to the government's defeat, one that routinely violated the constitution and basic principles of decency.
Economic Freedom Foundation:
Filip Blaha (CETA):
Liberalism is a political philosophy based on the principles of peace. However, this fact has been very often generously interpreted by detaching liberalism from events beyond the borders of liberal states, no matter how anti-liberal, and thus threatening to freedom they might be.
Bruno Csermely (Republikon Institute):
The healthcare system has always been one of the most crucial points of a country's social security, especially in Hungary's case. In the last 15-20 years the Hungarian healthcare system went through a lot of changes and the general consensus is that despite the state insurance, the services aren't sufficient. However, according to satisfaction surveys, the public opinion is still positive, despite worsening to some extent.
Bendukidze Free Market Center:
Ukraine's Update: Exports and Energy on Our Mind
The full-scale invasion of Ukraine has severely limited its capacity to export goods. Since July, Russians have been relentlessly attacking Ukrainian ports, repeatedly sending missiles at the port infrastructure of Chornomorsk, Odesa, Reni, and Izmail. In spite of this, Ukrainian farmers have successfully exported 58 million tons of grain by sea, river, and land.
Lili Magyar (Republikon Institute):
Artificial Intelligence: Future Politicians
In the realm of modern technology, the term 'Artificial Intelligence' (AI) is becoming increasingly pervasive, reshaping industries and societies alike. AI, in its simplest form, refers to the development of computer systems that can perform tasks that would typically require human intelligence. It enables machines with the ability to learn from experience, adapt to new data, and make decisions with minimal human intervention.
ELF & Liberte!:
In this episode of the Liberal Europe Podcast, Leszek Jażdżewski (Fundacja Liberté!) welcomes Paul Hilder, CEO of Datapraxis, Co-Founder of Crowdpac, 38 Degrees, and openDemocracy. He has played leadership roles at Change.org, Avaaz, and Oxfam, and was a candidate for the general secretary of the Labor party in the UK. They talk about the forthcoming Polish parliamentary and senate elections, polls, the ongoing campaign, voter mobilization, and the path to victory for both sides.