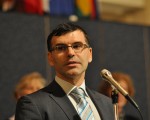 On March 9, 2012 Simeon Djankov, Bulgarian Minister of Finance and Deputy Prime Minister announced that Bulgaria will repay its foreign debt using three sources of income.
According to Sofia News Agency novinite.com these sources include "privatization of unnecessary State assets, short-term government securities, and mid-term 5 or 7-year Euro bonds in equal shares".
The proposal caused concerns expressed by Martin Dimitrov, member of the right-wing Blue Coalition.
More about government's proposal here.