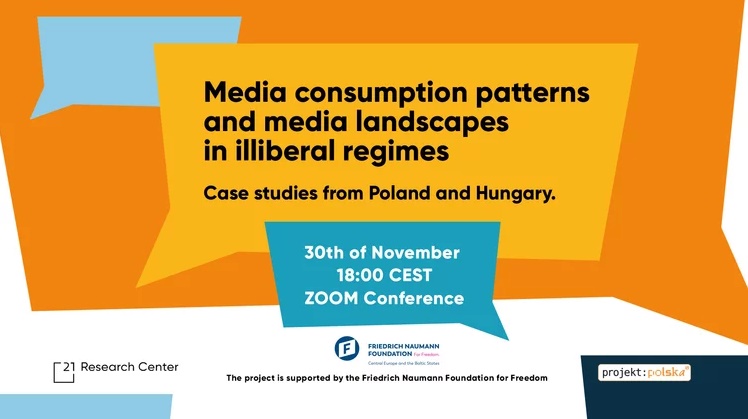 FB 21 Kutatóközpont
In the past years, illiberal political regimes emerged in Poland and Hungary. One of the victims to these regimes are media. Freedom and independence of media in those countries are now under pressure from various angles, such as legal regulations and outright political pressure.
There were more studies focusing on the national media and the whole society in Hungary and Poland. However, the joint research of Project: Polska (PL) and 21 Research Centre (HU) is focused on small, rural media outlets and rural society in general. It provides an up-to-date snapshot of the rural media landscape in Poland and Hungary and an insight into the experiences of the rural society in connection to the topic of freedom and independence of the media and the press. The methodology was qualitative, using focus groups and interviews to gather insights and to be able to see a more complex picture of the situation of the rural media.
On November 30, 2022, the 21 Research Centre and Projekt: Polska with the support of the Friedrich Naumann Foundation organize an online conference in order to present the research results. The conference will be held in English.
---
PROGRAMME
18:00-18:35 Block 1
18:00-18:15 Opening speeches
Daniela Matousova (FNF)
Miłosz Hodun (Projekt: Polska)
Gabriella Torzsa (Quiz introduction)
18:15-18:35 Research summary
Poland: Krzysztof Maczka (Projekt: Polska)
Hungary: Ábel Bojár (Head of Research at 21 Research Center)
18:35-18:40 Break
18:40-19:30 Block 2
18:40-19:20 Expert round table panel discussion on the Hungarian and Polish media landscape with various professionals + Q&A
Moderator: Gabriella Torzsa (qualitative analyst at 21 Reserach Center)
Dr. Magdalena M. Baran (philosopher, managing editor of the monthly magazine Liberté!)
Dr. Adam Choryński (sociologist, editor and publisher of local media outlets)
Dr. Gábor Polyák (ELTE – Department of Media and Communication)
Bence Pintér (Senior Journalist – úgytudjuk.hu, Győr)
19:20-19:25 Closing panel
Quiz results – evaluation and discussion
19:25-19:30 Closing speech
21 Research Center's closing speech – Dániel Róna