During the Polish think tanks' visit to Brussels, I was invited to the opening of the European Endowment for Democracy (EED). The Endowment is located in a small palace – a former embassy building handed over by Poland. This location is indicative of the financial structure of this organization, which is sponsored mostly by our country. That is why many Polish politicians, diplomats and the government representatives, including Foreign Minister Radoslaw Sikorski, turned up at the opening. Weaker enthusiasm for this initiative among other EU countries was reflected by the absence of any important representatives from the rest of the governments. I am rather doubtful about the prospective success of the EED after what I heard and saw in Brussels and at the EED's website.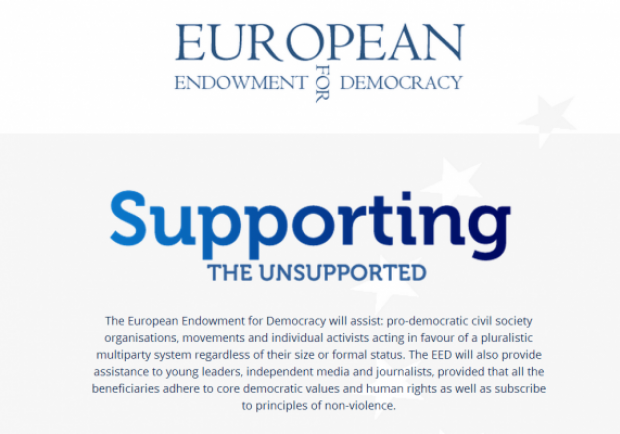 During the opening, Minister Radoslaw Sikorski said:
"This is a repayment of our debts that we owe to all our supporters in the 1970s and 80s. This is also a confirmation of the Polish expertise and know-how that can inspire democratic changes."
At the EED's website we can read that:
"The European Endowment for Democracy will assist: pro-democratic civil society organisations, movements and individual activists acting in favour of a pluralistic multiparty system, regardless of their size or formal status. The EED will also provide assistance to young leaders, independent media and journalists, provided that all the beneficiaries adhere to core democratic values and human rights, as well as subscribe to principles of non-violence."
In this flow of optimistic words and lofty declarations from the EED opening and the website, several important keywords were missing. These keywords are essential to creating a durable and prosperous democratic system and include: economic freedom, well defined and secured property rights, rules of law, free exchange of goods and services, unconstrained and open competition, limited state, and economic well-being.
The geographic mandate of the EED covers, for example, many countries participating in the so-called "Arab Spring", which started with the Jasmine Revolution in Tunisia. One of the major reasons why people in Tunisia, Egypt, and other countries decided to oppose the authoritarian rules was economic hardship and poverty. The removal of the ruling class and democratization were seen as an opportunity to break the economic system controlled by influential elites, clans, monopolies and cronies. But you cannot build economic well-being only on pro-democratic political changes. You also need economic freedom and all the other keywords listed above.
Leading a country towards democratic election may not necessarily mean achieving a successful and desirable outcome. Robin Sitoula argues that democracies are not stable if they cannot guarantee economic well-being. Looking from a Nepalese perspective, the founder of the Samriddhi think tank says:
"Unless economic growth is taken seriously, the chances of another major  political setback occurring in the near future are very high, and would lead the country further into deprivation. "
Temba A. Nolutshungu (Free Market Foundation, South Africa) in his essay "Political and Economic Freedoms Together Spawn Humanity's Miracles" (from the book "Morality of Capitalism") recalls the words of the French revolutionist Maximilien Robespierre who just before his death on the guillotine said: "I gave you freedom; now you want bread as well".  Nolutshungu emphasizes the difference between political freedom (which is understood by the EED as a pursuit of democracy) and society's satisfaction of their economic well-being, which cannot be achieved without economic freedom (as the EED seems to forget). Without "the bread" democratic changes will end up under the guillotine's blade, and one non-democratic regime may be replaced by similar authoritarian rule.
Poland is a successful country, both in terms of democratization and economic transformation from centrally planned economy. Thanks to this transformation and reforms, the cumulative GDP growth in Poland since 1989 has been the highest among the countries once belonging to the Soviet sphere of influence. Foreign Affairs Minister Radoslaw Sikorski stresses that Poland has the know-how, and can inspire others to democratize. I would like to remind Minister Sikorski that he should not forget that Poland also has an extensive know-how and experience in building a free market economy. If the EED promotes unstable democracies, deprived of free enterprise, competition and secured property rights, it will give the EU skeptics another argument that the taxpayers' money is wasted on unproductive activities.