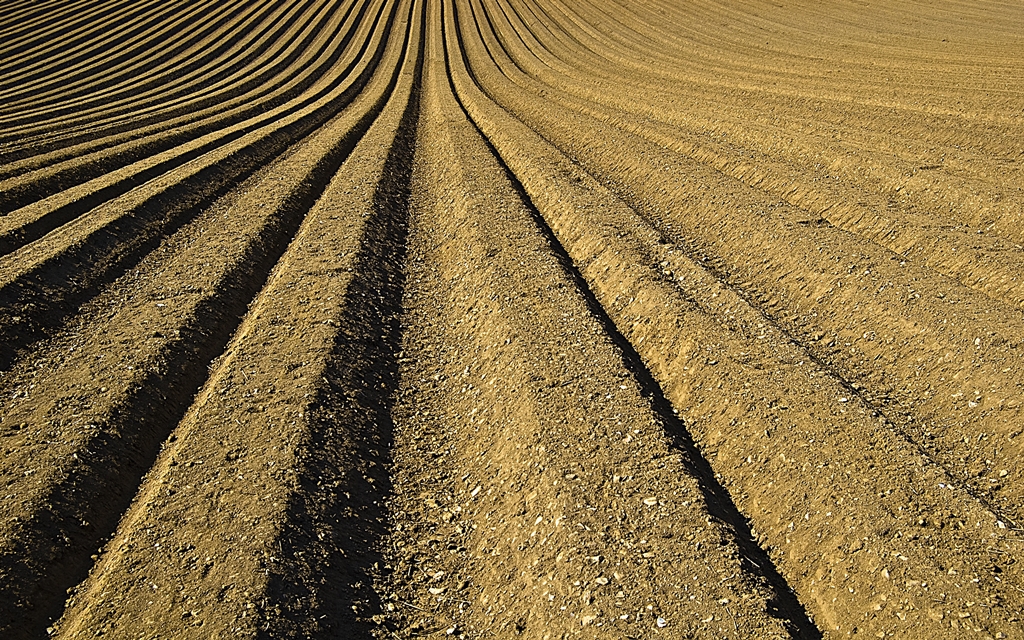 CC 0.0
Germany's greatest innovations are found not on the autobahn, but on the country's fields and farms: self-driving high-tech tractors, milking robots, and feeding machines are already standard equipment for many farmers. Smart Farming is the future of agriculture, with digital technologies enabling efficient and resource-saving farming.
Every Plant Counts
During the first of half of 2017, nearly EUR 1 billion risk capital was invested in enterprises and start-ups in the agricultural technology sector. Agricultural machinery manufacturer John Deere took over Blue River Technology, a company which develops artificial intelligence (AI) to enable targeted treatment of individual plants. The AI establishes the amount of herbicide a plant needs and sprays accordingly. The AI's plant-recognition ability opens up completely new perspectives in the agricultural sector. Whole surface treatments are no longer necessary and the use of weed killers is reduced.
The same applies to fertilisation: using leaf colouring, geodata and soil maps, Precision Farming can calculate a plant's individual fertiliser needs. This information is transferred to the tractor's on-board computer. The tractor itself has no driver; cameras, lasers and GPS keep it on the right track. The spreader can then control the fertiliser dose for each individual plant in real time.
Even sowing can be taken over by robots. The farmer plots the sowing using an app, then the spreader robots roll over the fields. They communicate via the cloud, document where and when a seed was planted and, based on that information, each plant receives individualised care.
In future, drones could also patrol the fields. The "Crop Watch" project at the University of Bonn is developing new data management systems to analyze plant growth, using cameras attached to drones and tractors to record plant populations in the fields. The image data is compared and analyzed, then combined with information on weather conditions or the state of the soil, to provide farmers with useful information. Based on the data collected, computer algorithms then assess how many plants cover the area, their state of health and the optimum time for harvesting. Drones can be of great help in animal welfare, too, enabling wild or young animals to be detected on the field before combine harvesters endanger them.
Stable 4.0
Nowadays, cattle farming is mostly automatic, with milking robots and feeding machines doing most of the work. Milking systems track the cows' behavior and automatically send updates to farmers' smartphones. This means that they receive around-the-clock information on their animals' health. Ear tags enable farm animals to be cared for 24/7. For example, motion sensors record how long a cow chews the cud, which allows farmers to recognise digestive problems early on. Movement profiles can also reveal a lot about the animals' wellbeing: if a cow moves more than usual, she could be on heat; if she is unusually lethargic, the vet should examine her.
Digitalization Brings Producers and Consumers Closer Together
Digitalization will bring consumers and farmers closer together. The extensive information available on plants and animals makes farming more transparent to consumers: for example, consumers can establish precisely where fruit of a particular seed batch was grown and treated. Possible scenarios include a direct webcam feed from the stables, or feedback from consumers to farmers. In the long run, smart farming will affect agricultural production: animals can be better cared for and fields can be treated in ways that are more friendly to plants and the environment as a whole.
Smart Farms Need Fast Internet
To ensure that smart farming goes beyond being a vision and is widely adopted, modern agriculture needs extensive and fast data transfer technology as well as cloud connectivity. However, Germany's rural areas lack broadband and network coverage. International benchmarking by the Bertelsmann Foundation and the Fraunhofer Institute for System and Innovation Research (ISI) showed that the extent of fibre coverage in Germany's rural areas amounts to just 1.4%. Compared with its OECD peers, Germany has among the fewest fibre connections, ranking 28th out of 32 countries. If farms are to function as high-tech businesses, fast and robust data connections are indispensable.