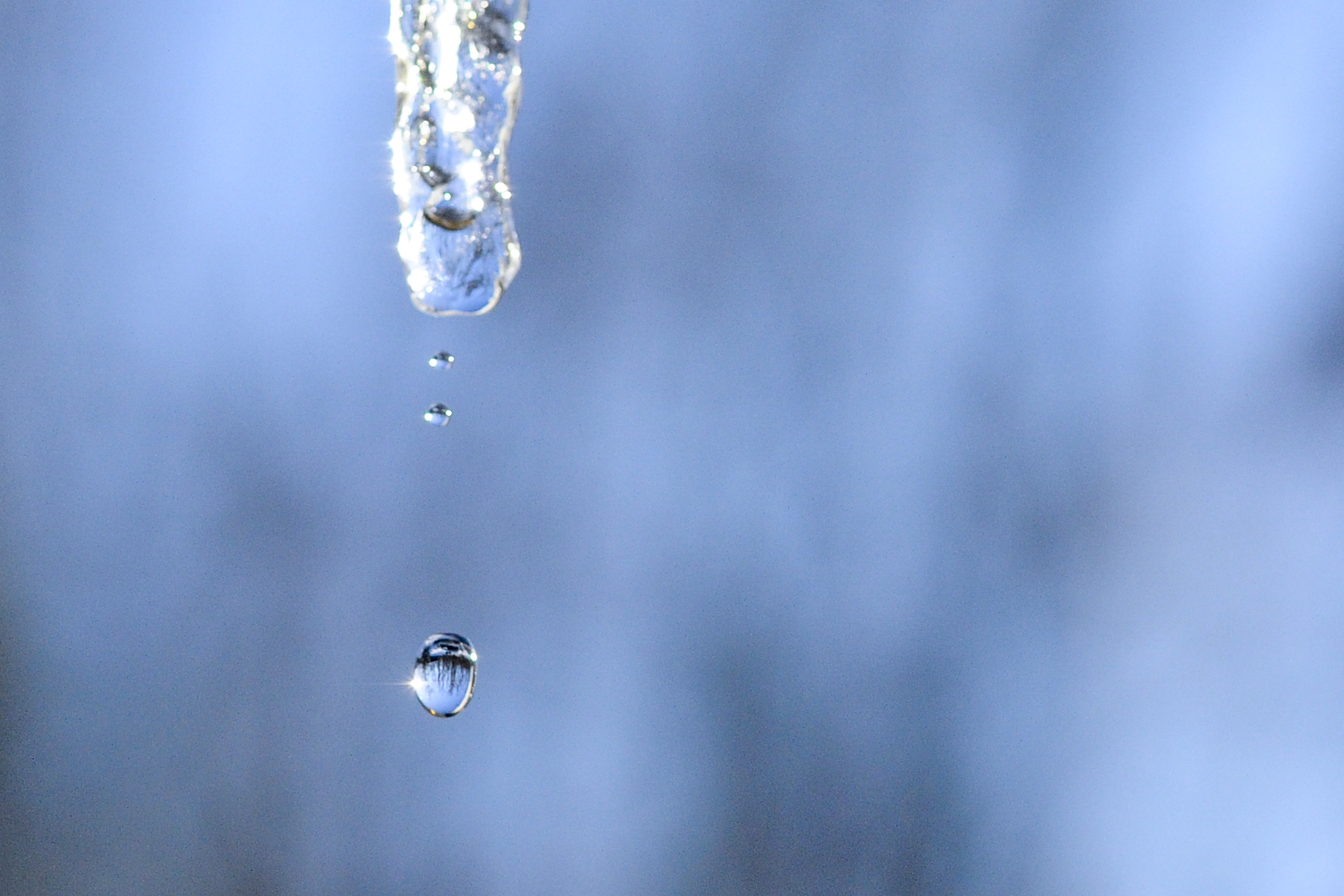 Creative Commons
There is a significant, 7% decrease in the ratio of voters who support the continuation of the present Fidesz government, while the ratio of those who support Jobbik (the radical right party) or a coalition of the leftist, liberal parties has increased – shows the public opinion study conducted by Republikon Institute in November 2016.
Republikon regularly asks Hungarian voters what government they would prefer after the next election: with this question we offer three choices – whether they would prefer a Fidesz, Jobbik, or a Leftist-Liberal government. This measurement showed that among the party voters the ratio of those who would prefer Fidesz after the next election has decreased from 54 to 47%. The idea of a leftist-liberal government coalition received 28%, while 20% of respondents declare support for Jobbik. Based on this, we can conclude that while Jobbik is the second most popular party in the country on the grounds of party ranking, the aggregate power of the leftist, liberal parties exceeds Jobbik's.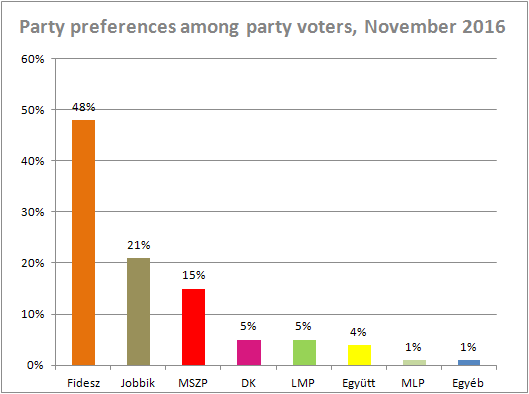 If we measure the preferences of party voters (voters who have an opinion on what party they would vote for) we can also observe the weakening of Fidesz and the strengthening of Jobbik. Compared to last month, the government party fell from its 51% to 48%, but Jobbik could increase its support rate from 19 to 21%. Regarding the leftist, liberal side, the most popular party, MSZP, could not increase the ratio of its supporters – quite the contrary: it has decreased by 1 percentage point (to 15%) compared to last month. The strengthening of this side rather profited the smaller parties, out of which Együtt is the most outstanding example – the support rate of this party grew with 3 percentage points compared to last month, hence it now stands on 4%.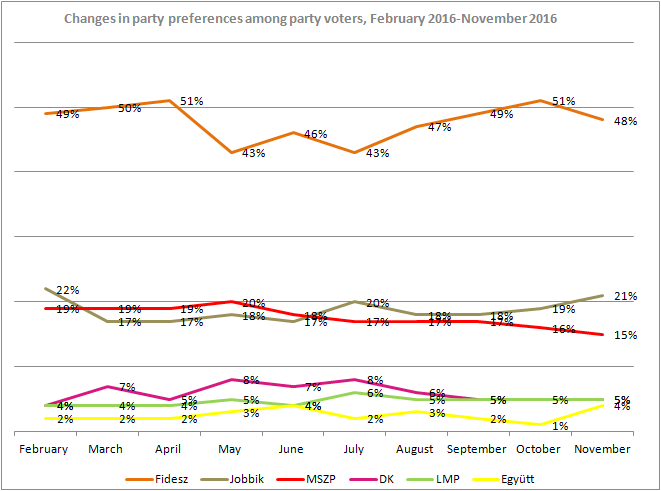 | | | | | | | | | | | |
| --- | --- | --- | --- | --- | --- | --- | --- | --- | --- | --- |
| | Fidesz-KDNP | MSZP | Jobbik | DK | LMP | Együtt | Liberals | PM | Other party | Don't know/NA |
| Total population | 29 | 9 | 13 | 3 | 3 | 2 | 1 | 0 | 1 | 39 |
| Party voters | 48 | 15 | 21 | 5 | 5 | 4 | 1 | 0 | 1 | |
| Definitely voting party voters | 47 | 15 | 22 | 5 | 5 | 4 | 1 | 0 | 1 | |
Methodology: Representative survey conducted via personal interviews between November 14-24, 2016. Sample size: 1024. Margin of error: +- 3,2 %