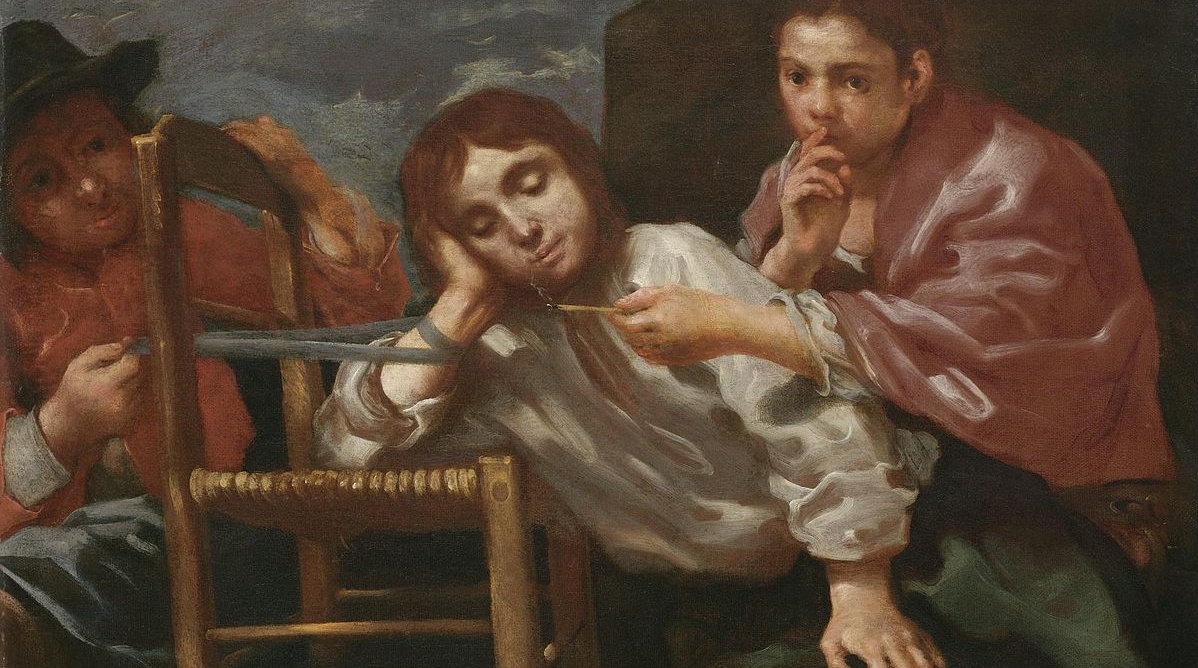 Bernhard Keil: Two children playing a practical joke on a sleeping boy // Public domain
The X platform (formerly Twitter) might not be the most popular platform in the CEE region, but posts regarding a European Parliament committee's visit to Hungary in May 2023 gained attention nevertheless. An analysis revealed that the posts about the visit were targeted by suspected inauthentic accounts in an attempt to discredit any perceived opponent of the Hungarian ruling party. This highlights the platform's lack of protections against inauthentic behavior, even before its renaming to X and its withdrawal from the EU Code of Practice on Disinformation.
A delegation from the European Parliament's Committee on Budgetary Control (CONT) visited Hungary for three days (15-17 May 2023) to gather information about efforts to protect the EU budget in Hungary and issues related to the ongoing rule of law procedure. Upon the delegation's arrival, a group of Fidesz Youth (Fidelitas) members awaited them with EU-branded suitcases filled with cash, referencing the Qatargate scandal. They used this display as "evidence" that the European Parliament should not have the right to investigate corruption.
The CONT committee recently discussed their report on the visit, which noted the prevalence of this and several other misleading narratives during those days. These ranged from allegations of Brussels blackmailing Hungary into taking a pro-war stance to personal attacks on the delegation members.
These attacks and misleading narratives were not limited to media outlets. A member of the EP delegation, Daniel Freund (Greens/EFA), is an outspoken critic of the Hungarian government, particularly in regard to its corruption and rule of law record. The MEP, who actively posted about the visit, garnered significant attention from both alleged Hungarian and foreign Twitter/X users. Their activities and profiles are somewhat suspicious, exhibiting characteristics commonly associated with "troll" accounts.
29 Posts a Day
As evidence, let us consider Daniel Freund's post from May 16, 2023, regarding a statement made by State Secretary for Parliamentary Affairs at the Cabinet Office Csaba Dömötör. Amidst the numerous responses to the post outlining the narratives of the Hungarian government (e.g., suggesting that the EP is embroiled in a corruption scandal itself or arrived in Budapest with a pre-prepared verdict), two commenters stand out.
These individuals posted multiple comments under the aforementioned post. Both of them joined the X platform in November 2021, and both purportedly have a birth year of 2003. Additionally, both have a pinned post advocating for a vote in favor of Fidesz with an unrelated music video that appears to have been recorded with a phone as an 'illustration'. Both individuals also claim to have a "nationalistic" sentiment.
Figure 1 Suspicious Twitter profiles 1 and 2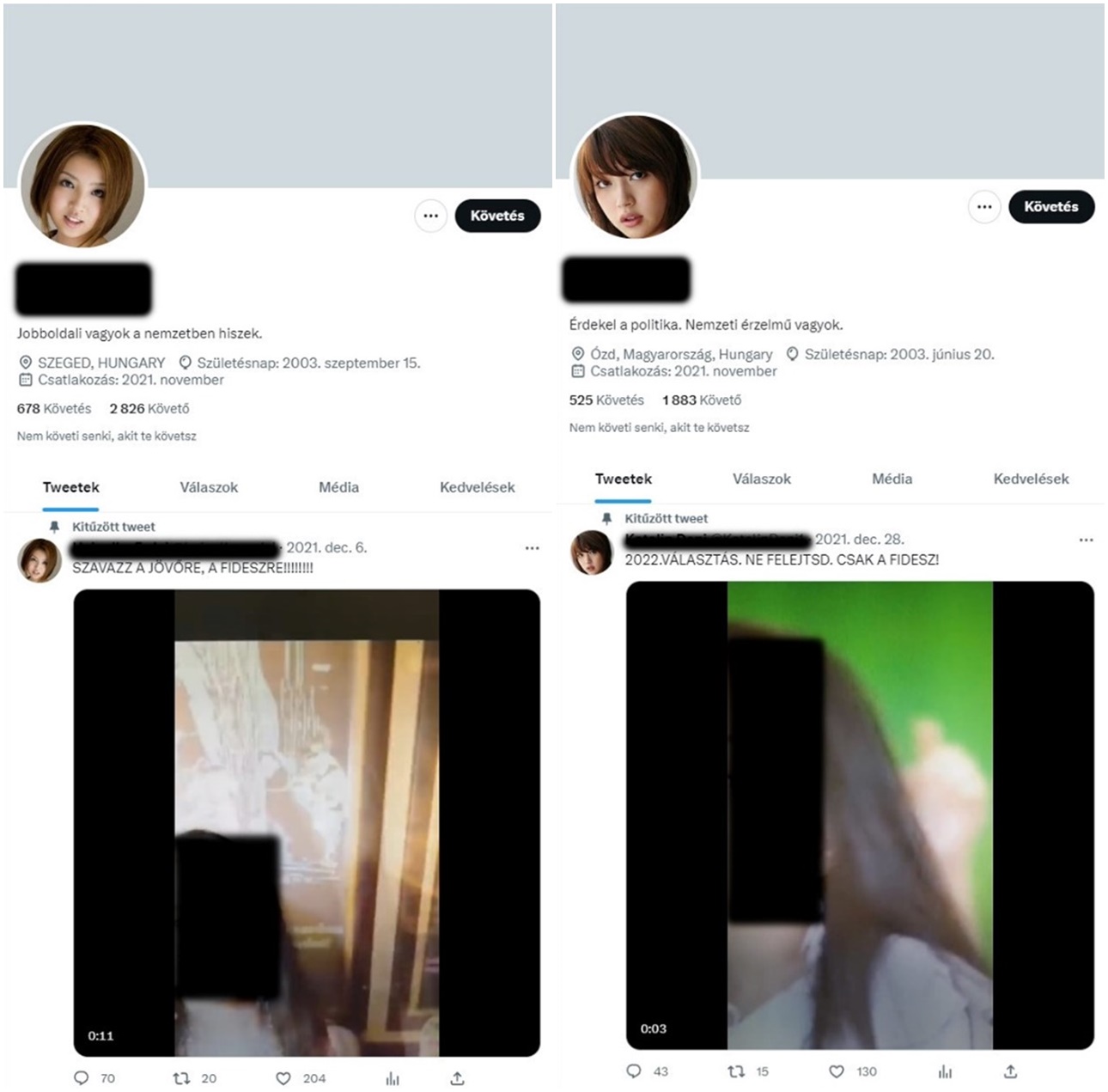 According to the X platform analysis site Twitonomy, one of them posted 16,176 contents over 548 days of being registered on the platform (from 15 November 2021 to 17 May 2023), which averages to about 29.5 posts a day. This translates to approximately 1.2 contents an hour, assuming they did not take a single hour's break throughout these days. The other profile, which registered on the same day according to the aforementioned platform, was relatively "lazier" with only 13,442 posts. This amounts to a mere 24.5 contents a day, or approximately 1 post an hour without any breaks.
The accounts' profile pictures are also suspicious. Notably, these two self-proclaimed nationalists both use pictures of women of Asian descent, a demographic that makes up a minuscule portion of the Hungarian population. Utilizing Yandex reverse image search, it appears highly probable that one of the pictures used corresponds to a Japanese adult model.
Regarding the content of their posts, they consistently target anyone who voices criticism against the Hungarian government. This includes student protesters, a Member of the European Parliament, and Ukrainian President Volodymyr Zelensky.
Notably, both of them posted claims that President Zelensky intended to sabotage the Druzhba Pipeline on 14 May, with only an 18-minute difference between their posts. As of 8 September 2023, both profiles remain active, boasting 16,411 and 13,740 posts, respectively. Their objectives persistently revolve around disseminating misleading narratives concerning the Hungarian opposition, the United States, or Ukraine.
In addition to these two extreme examples, there are other intriguing profiles that are interacting with Daniel Freund's posts regarding the visit. Many of them have either unidentifiable profile pictures or no pictures at all. Some of these profiles follow a mix of Trump-affiliated and Hungarian government-affiliated accounts. One account, purportedly from the UK, posted two comments under the MEP's post, one of which reiterated the narrative of the "pre-written" verdict. This narrative is likely to be primarily confined to the Hungarian media space, making it difficult to imagine that individuals from the UK would be familiar with it.
No Slowing Down for Trolls
The MEP's ongoing criticism of the Hungarian prime minister continues to draw the attention of these profiles. Under one of his more recent posts, a profile simply named Erzsi – a colloquial form of a common Hungarian name – told Daniel Freund to stop focusing on the Poles and Hungarians, asserting that "anyway, the CIA has admitted they interfered with the [2022 general] election."
In another comment, the same profile claimed that Daniel Freund had posted about Hungary four times that day on the X platform (though this appears to be a mistake, as the MEP only posted three times about Hungary on September 7).
Under another post that suggested Hungary would receive no EU funding, an account called Cryptoshark.be wrote, "if upholding Hungarian policies [of 'no gender, no migration, no war'] is the price to pay… we will be fine with it," accompanied by a Hungarian flag. Interestingly, the account claims to be registered in Liege, Belgium, and primarily posts about cryptocurrencies.
Other comments from suspicious accounts asserted that Germany should not discuss democracy due to its past, or that the grandfathers of German Chancellor Olaf Scholz, German Minister of Education Karl Lauterbach, German Minister of Finance Christian Lindner, and Polish PO leader Donald Tusk were all members of the SS.
This information was spread in multiple languages and has been proven false by Deutsche Welle. It is worth noting that Scholz and Lindner are fairly common German names, and the alleged Leuterbach grandfather was actually named Lauterbacher. Additionally, it is difficult to see what responsibility today's politicians should bear for the actions of their grandparents.
This case study underscores a significant problem: inauthentic behavior appears to go unchecked on the X platform. This issue may be particularly acute when it comes to accounts primarily sharing messages and images in smaller languages, such as Hungarian.
Secondly, there appears to be a form of collaboration between Hungarian pro-government accounts, foreign anti-EU accounts, and pro-Trump/US "conservative" accounts, at least on the X platform. They work together to amplify each other's messages, with the aim of creating the perception of a majority supporting their views. This strategy seems particularly successful under Daniel Freund's posts highlighted in this text, as most comments under them discredit him, the European Parliament, or the EU's procedures against Hungary.
Overall, social media platforms will need to be much more diligent in detecting and addressing inauthentic behavior, especially the X platform, which did not provide any data on this matter in its initial Code of Practice on Disinformation report submitted in January 2023 and even withdrew from the agreement in May 2023. Since then, the Digital Services Act (DSA) for large online platforms, including the X platform, has come into effect.
The DSA enforces the same rules that platforms previously agreed to voluntarily, including those related to the "inauthentic" use of their services. At the time of writing, inauthentic behavior remained a clear challenge for the X platform, and the effective monitoring and enforcement of the DSA will be needed to curb the issue in the EU.
---

---
Continue exploring:
Communism Is Creeping Back in Hungary