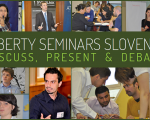 The Liberty Seminars are a life-time opportunity to DISCUSS, PRESENT & DEBATE human rights, markets, public policies and law in breathtaking scenery of the Julian Alps. Two week-long seminars—Liberty Camp and Liberty Academy—provide the attendees an opportunity to discuss current economic and political topics through the lens of classical liberal ideas.
The participants of the Liberty Seminars Slovenia are challenged every step of the program, as small group discussions, presentations, and group debates provide an excellent platform for sharpening the mind and skills. This is a one of a kind project bringing together a widely diverse group of attendees and lecturers, both in terms of their national and cultural backgrounds, as well as their professional and educational paths. As such, the first six editions of project brought together more than 300 participants from 44 countries.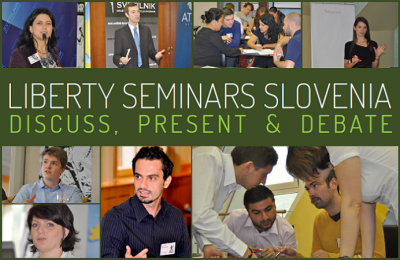 The 7th annual Liberty Seminars Slovenia will be held between September 22-27, 2014 at Lake Bohinj in Slovenia. The partners of the project will be the Institute for Economic Analysis (IEA) from the United Kingdom and the Cato Institute from the United States.
In 2014 the seminars will welcome 40 undergraduates, graduates and young professionals who share a passion for liberty. Among the lecturers will be world-renowned scholars, among them Dr. Stephen Davies (Institute of Economic Affairs, UK), Dr. Dan Mitchell, PhD (Cato Institute, USA), Dr. Tom G. Palmer (Cato Institute, USA) and Dr. Philip Booth (Institute of Economic Affairs, UK). The application form—as well as other information about the seminars—is available at www.liberty-seminars.org. The deadline for the applications is August 1, 2014.
The 2013 Liberty Seminars Slovenia participants remembering the experience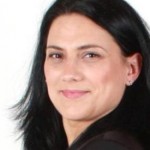 "The Liberty Semars was an excellent opportunity to learn new things, meet wonderful people from all over the world and spend one week in idyllic scenery! Memories of this seminar will always warm my heart and I will always remember the quality time spent on the lake shore. Excellent sessions, wonderful hosts and colleagues, incredible knowledge! I would do it again anytime!"
Adela Mirza, Romania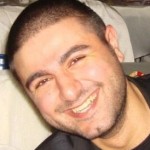 "The Liberty Seminars 2013 was one of the best decisions in my life. I have never attended seminars of this kind. Before arriving to the Liberty Camp, I was wondering whether I'd find myself overwhelmed with it, but to be honest the readings and lectures were perfect for a newcomer. At the seminar, I found myself engaged in various social and economic topics, and really involved it. The seminar was very well organised and managed, the location was excellent, and above all the people were amazing. Above all, I mostly value the wonderful friendships made, which I will cherish forever. No need to think twice about this seminar!"
Edgard Saleh, Lebanon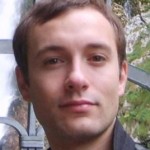 "The Liberty Seminars were a great opportunity to learn from outstanding speakers and to meet and listen to other participants from all around the world. It was a great pleasure to spend almost a week with friendly people who value individual liberty and are strong advocates of freedom. The event was organized in a very professional manner, doing a great job of providing both education and inspiration for young people. The Liberty Seminar is the place where everyone can gain experience, learn a lot, and what is the most important have a lot of fun! All of these in a beautiful part of Slovenia by Lake Bled."
Marek Tatala, Poland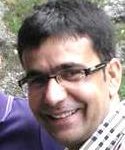 "The Liberty Seminars 2013 gave me much more than I was hoping for. I attended with the aim of understanding the concepts of liberty and individual freedom within the context of the economic realities of today's world. The seminar provided me with the opportunity of talking to a group of wonderful people from a couple of dozen countries, who informed me about the state of freedom and economy in their countries. The professors and specialists from the United Kingdom, the United States, Slovenia and Hungary opened up a whole new world of ideas before me for which I am immensely thankful to them, as I am to the organizers for inviting such learned people. I always loved and cherished the idea of freedom; this Seminar provided me a vision and a path to see and envision my ideal world. Now I can confidently tell my corrupt and inefficient government that I do not need to reform you guys: rather, you are not needed, and actually I do not need anybody to govern me. This is a liberating idea and I am thankful to Tanja and all the participants and teachers for this."
Dolat Khan, Pakistan
"The seminar was a wonderful experience. I'm grateful to meet such special and exceptional people – organisers, lecturers and participants – who made Liberty Seminars not only educationally valuable, but also full of joy, fun and warm memories. Before arriving at the seminar, I was taking the current situation in my country and in the world for granted. The Liberty Seminars changed all my views once and for all. They helped me to learn many new things about the ideas of liberty and a free society, deepen my knowledge of economics, identify crisis of ideas in various countries, and learn about alternative scenarios of development. The seminars were held at one of the most picturesque places I've ever been to, and together with other participants from different corners of the Earth who were passionate about liberty, they became really an unforgettable experience. I highly recommend attending this high-quality event with its intellectual ambience, and enjoying the breathtaking scenery."
Alena Sukhapara, Belarus