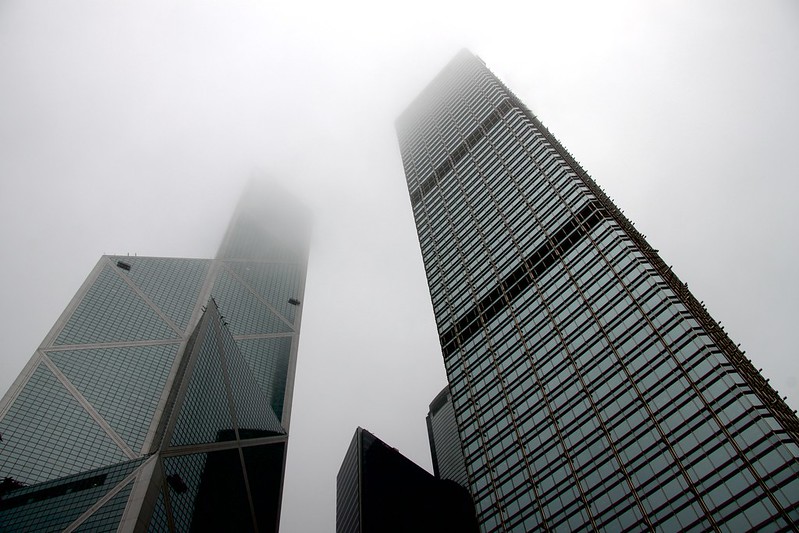 Even though Hong Kong operates under separate laws within the 'one country, two systems' model, the invisible hand of mainland China is becoming increasingly visible in the territory. In response, mass protests have been ongoing for four months in Hong Kong.
This political crisis in Hong Kong represents one of the major challenges to Communist Party authority since the Tiananmen Square protest three decades ago.
People around the world have been expressing support of Hongkongers in their fight for human rights and democratic political institutions. One of them, Daryl Morey, the Houston Rockets general manager, tweeted an image that stated: "Fight for Freedom. Stand with Hong Kong."
His tweet drew immediate and fierce condemnation in China (ironically, Twitter is banned in China) followed by substantial retaliation from several key partners, such as the Chinese Basketball Association, China's state-run television network CCTV, Chinese Internet giant Tencent Sports, and Alibaba, biggest online retailer in China.
In response to their wrath, Morey deleted the tweet and the league's commissioner, Adam Silver, defended freedom of expression of players, coaches, and team owners. LeBron James said Morey was "misinformed."
After the NBA's decades-long push to develop China into its largest overseas market, the financial consequences of a conflict with China will amount to billions of dollars. While some may not like it, the NBA has a prerogative to act in its own interest, whatever that might be, even if that interest is based solely on making money. After all, the United States upholds the economic freedom.
The same applies to the coaches and players in the NBA. Not just their pecuniary interest, they might not be prepared to put their careers on the line to speak out against human rights violations. They might also be selective about which causes they support publicly.
After all, it is their freedom to lead their lives as they wish, just like it is their right to publicly express their opinion, or not, if they wish.
International companies doing business in the Chinese 1.4 billion people market may decide to directly or indirectly express support for pro-freedom, pro-democracy protests in Hong Kong. If their support causes "hurt feelings of the Chinese people," the international companies have a choice to respond, or not, to their condemnation.
Many international firms including Tiffany & Co., Givenchy, Mercedes, Coach, Versace, Marriott, and Blizzard have opted to play by Beijing rules. One prominent exception are South Park creators Trey Parker and Matt Stone who, after recent episode got the show censored in China, issued a fake apology mocking China's president Xi Jinping and the NBA.
In placating the authoritarian regime in the name of economic opportunity, these companies may eventually face customers back home and beyond who are increasingly knowledgeable about such corporate practices. Appeasing Beijing can come with financial and reputational costs.
And to be sure, personal freedoms are increasingly under threat in Hong Kong. Specifically, under attack are aspects of personal liberty associated with democracy and political rights, such as freedom of the press, as well as freedom of association and freedom of assembly.
For instance, in 2011 the Hong Kong government updated security rules that further restrict the ability of journalists to interact with lawmakers while reporting on the legislature. The extent to which reporters are hindered from doing their work is worrisome. Their safety is at stake too.
In late 2015, five staff members of Causeway Bay Books from Hong Kong, that sold material banned in the Chinese mainland, disappeared.
Earlier that year, masked assailants threw firebombs at the headquarters of Hong Kong-based media company Next Media, as well as at the home of its founder, Jimmy Lai; a known supporter of Hong Kong's pro-democracy movement. An identical incident on Lai's home occurred in September 2019.
In the Human Freedom Index, my coauthor Ian Vásquez and I use a composite scoring system to measure personal freedom. Hong Kong has plunged from 17th to 32nd place among 162 countries and territories since 2008. By comparison, mainland China ranks 141st and the United States 28th.
Free societies should lead with free speech values and speak out in defense of freedom. Their public officials should acknowledge China's use of its economic power to silence critics abroad, be it through self-censorship or contractual obligations, and not allow their citizens to be bullied by an authoritarian government.
---
The article was originally published on The Fraser Institute Blog