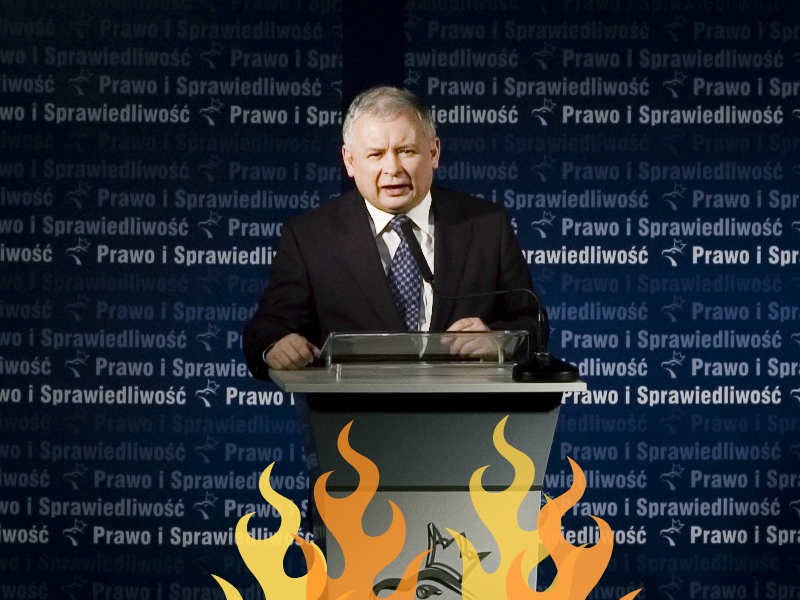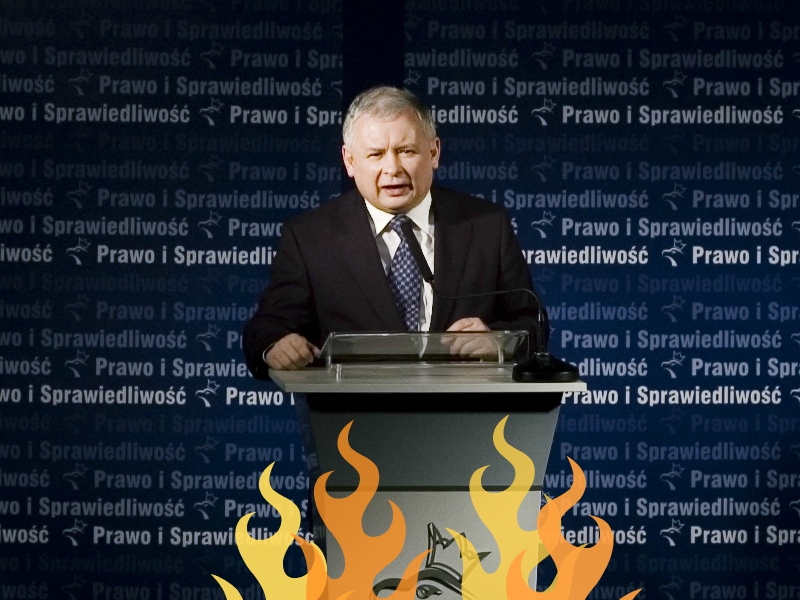 Kolanin via Wikimedia Commons
Here comes Jarosław Kaczyński. You can already hear his footsteps; "independent journalists" can already see the emerging job opportunities in Polish Television (TVP) and Polish Radio, mohair pshychofans in mohair berets are already phrasing verses of thanksgiving songs, while producers of handcuffs are already counting future dividends. This time, however, the victory of Mr Kaczyński, the leader of Law and Justice (PiS), the biggest political party in Poland, might have a different dimension compared to their electoral triumph in 2005. 
If the results of the newest Centre for Public Opinion Research (TNS OBOP) are to be placed in the formula of currently binding electoral law, we will have the following outcome: Law and Justice (PiS) gets 255 electoral mandates, Civic Platform (PO) – 137, and Ruch Kukiza – 68. The rest of smaller parties fail to reach an electoral threshold, and, what follows, these votes are the lost votes. Hence the scenario: Polish government consists of PiS members only, and such legislative power will guarantee the passage of any bill the party offers; and in any case it is rather obvious that President Duda will sign the legislation off without blinking an eye.
Welcome to Poland, where special higher taxes are imposed on the rich, where the welfare money is sloshed around, where convenient privileges are granted to anyone supporting PiS, where only national and Catholic media rule, where uniformed services are given special treatment, and where the spirit of People's Republic of Poland (PRL) is resuscitated in the areas of healthcare, education, and public pension system!
It goes yet further. The article 235 of the Constitution states that in order to change its content there is a requirement of an overwhelming majority of votes at the rate of 2/3, precisely 307 votes. And here the coalition of PiS and Ruch Kukiza holds as many as 323 electoral mandates, and therefore this alliance can tamper with the constitution as they please. We should rather give up the hope that Kukiz's common sense will prevail, besides, the circles he decided to join used to oscillate around PiS anyway, and most likely there is no one else but him left to believe that these groups will remain loyal and refrain from joining PiS again in exchange for some lucrative concessions.
But then we would have witnessed not only the change of a political situation; it would have been a change to the whole political system. The draft of the new Constitution presented by PiS a few years before can serve as a foretaste of such a reorganisation. Nevertheless, that draft was presented in completely different political circumstances, when PiS did not hold such political power as it does now, and when it could have felt slightly uncomfortable at times while trying to put forward some of its rather intrepid proposals. A set of conditions to restructure the whole political system of the country happens only once every so often, therefore PiS will do whatever it takes to seize that opportunity.
If PiS succeeds, what changes can we expect? Mr Kaczyński never liked judicial system, because it was often hard to predict what kind of verdict it might reach. The Constitutional Tribunal is also only confirming that it is in its power to take wind out of any of the best and the simplest ideas, just as if it was its stubborn proceeding to implement the rules of 'legal impossibillism'. Most likely our political leader will want to remove such an inconvenience in the first place; after all, it will not be his intention, after his long-awaited electoral victory, to let the judicial system intervene in his way of wielding authority. The issue of separation of powers and organisation of elections will most likely be transformed in a similar manner, and most certainly the legal provision regarding any changes applicable to this new, 'better' Constitution will be revised to such a degree that it will be impossible to introduce any future amendments to this Constitution whatsoever. Then "the day of our success will come and we will have Budapest in Warsaw".
Therefore the situation before the elections is very serious and the stakes in this battle are extremely high, as we are not fighting just for a few electoral mandates for this or that little political party. Faced with such threat we should forget about any particular interests and focus on common good. Electoral regulations that are binding in Poland are structured in such a way that it is the strong that become ever stronger and the weak that become even weaker. If democratic and free-market communities fail to form a strong frontline to defend these basic values, Mr Kaczyński will succeed in maintaining the results of the abovementioned survey until elections, and then, within one year he will disassemble everything that we tried to put together for the last 26 years of freedom. In order to form such a strong frontline it is essential that we understand the gravity of the situation; only then can we find strength to overcome our own ambitions and fears, and break the habit of 'knowledgeable' hair splitting.
The article was originally published in Polish.
Translated by: Małgorzata Wiśniewska