"Freedom and Free Market Economy"
Seminar and a book launch organised by the Academy of Liberalism with the support of Friedrich Naumann Foundation for Freedom and Estonian Reform Party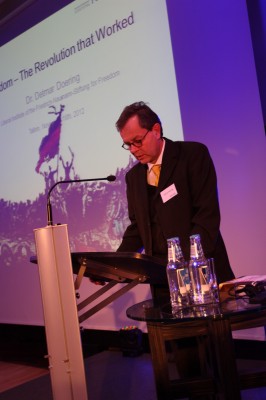 On November 16, the Academy of Liberalism celebrated the annual Day of Liberalism with an open discussion on freedom. On the same day, Estonian translation of the book "Die Idee der Freiheit. Eine Bibliothek von 111 Werken der liberalen Geistesgeschichte" was presented. The event took place in Swissotel, Tallinn.
The Academy gave the "Liberal of the Year 2012" title and award to Mr Kalev Kukk, Translator, Adviser to the Prime Minister of Estonia. The award was handed out by Mr Paul-Eerik Rummo, Member of Parliament, former Minister of Culture and Education of Estonia.
"Mr Kalev Kukk deserves not only this year's but rather the liberal of all time title. Mr Kukk has a wide humanistic mentality combined with the competence of an economist and a sharp eye for noticing left-hand populism. As an adviser to the Prime Minister, these qualities help him to make sure that all decisions are realistic and knowledge-based," said Mr Paul-Eerik Rummo, Board Member of the Academy of Liberalism.
After the opening words by Mr Rain Rosimannus, the President of the Academy of Liberalism, our guest speaker – Mr Detmar Doering – member of The Mont Pelerin Society and Head of the Liberal Institute of the Friedrich Naumann Foundation for Freedom gave a speech on the topic "Freedom – The Revolution that Worked" followed by questions from the audience.
In the second session, Mr Mikael Laidre, ancient historian gave a speech "The Crisis of Social Democracy" and Mr Peeter Koppel, SEB Bank analyst, shared his ideas on the topic "How Liberal Economic Policy Helps to Increase the Income of Estonian People to the Average Level of European Union?".