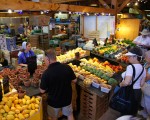 While EU and US sanctions against Russia over its aggression in Ukraine, and Russia's counter-sanctions, are much discussed due to their evident political significance, less attention has been given to Russia's punitive sanctions against the three Eastern European states–Ukraine, Moldova and Georgia – that have signed with the EU Association Agreements (AA), which include Deep and Comprehensive Free Trade Area (DCFTA) provisions.
This paper therefore documents these trade policy restrictions and embargoes imposed by Russia, and provides some first indications of their impact. The immediate impact on trade flows, especially for agri-food products, has been substantial, albeit with some leakage through Belarus.
The main instrument for the Russian measures has been allegations of non-conformity with Russian technical standards, although the correlation of these allegations with movements in Russia's geopolitical postures makes it obvious that the Russian technical agencies are following political guidelines dressed up as scientific evidence. These measures also push the three states into diversifying their trade marketing efforts in favour of the EU and other world markets, with Georgia already having taken significant steps in this direction, since in its case the Russian sanctions date back to 2006.
In the case of Ukraine, Russia's threat to cancel CIS free trade preferences infiltrated trilateral talks between the EU, Ukraine and Russia, leading on 12 September to their proposed postponement until the end of 2015 of the 'provisional' implementation of a large part of the AA/DCFTA.
This was immediately followed on 16 September by ratification of the AA/DCFTA by both the Rada in Kyiv and the European Parliament, which will lead to its full and definitive entry into force when the 28 EU member states have also ratified it.
However Putin followed the day after with a letter to Poroshenko making an abusive interpretation of the 12 September understanding.
See the full article at CEPS.