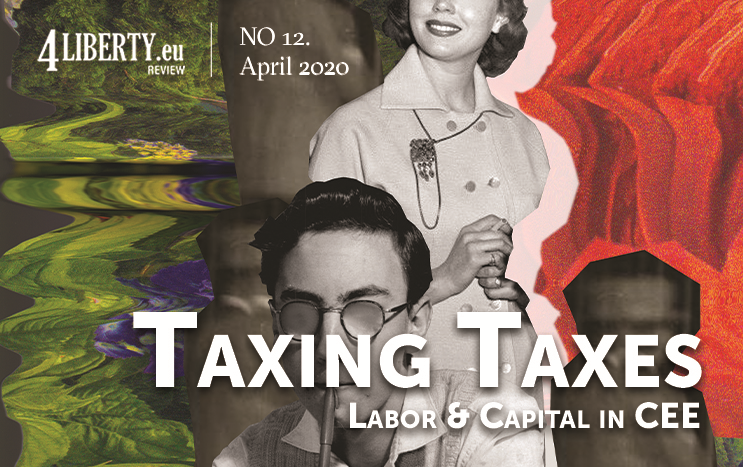 We are pleased to present the twelfth issue of 4liberty.eu Review, titled "Taxing Taxation: Labor and Capital in CEE". This time our primary focus is the taxation of labor and capital – from the cases of Poland and the Czech Republic, to Ukraine, Bulgaria, and Bosnia and Herzegovina. We do, however, tackle also related phenomena – by showcasing, for example, the Slovakian take on carbon taxes.
All this has been done in a bid to familiarize the Reader with an overview of various existing approaches, and propose recommendations on how to make all tax systems better.
Because, to paraphrase Adam Smith's words, "easy taxes" are one of the pre-requisites for a successful state. And who would not want our countries to be just that?
Below, you may download the full issue, as well as read the journal online via Issuu. We also encourage you to download and share individual articles.
---
DOWNLOAD FULL ISSUE (PDF):
---
READ ONLINE VIA ISSUU:
---
DOWNLOAD INDIVIDUAL ARTICLES (PDF):
EDITORIAL-Taxing Taxes How to Tax Capital and Labor in CEE_Olga Łabendowicz
TOMASZ KASPROWICZ THE MEANING OF TAXATION EFFECTS OF VARIOUS TAXES
RADOVAN ĎURANA SLOVAKIA VERSUS CARBON TAXES A SERIOUS SUBSTITUTE FOR EXISTING
MICHAEL FANTA SECTORAL BANKING TAX RISKS, IMPACTS, AND POSSIBLE CONSEQUENCES
ŠÁRKA PRÁT TAXATION ON CONSUMPTION IN THE CZECH REPUBLIC ALCOHOL
LATCHEZAR BOGDANOV AGAINST THE FLOW CAN BULGARIA SURVIVE PROGRESSIVE COUNTERREVOLUTION
ADMIR ČAVALIĆ TAX LABOR AND LABOR WILL LEAVE THE BOSNIAN EXAMPLE
ALEKSANDER ŁASZEK TAXATION OF LABOR AND CAPITAL IN POLAND RECENT TRENDS
ALEKSY PRZYBYLSKI TURNOVER TAX IN POLAND SEDUCTION BY SIMPLE SOLUTIONS
OKSANA KUZIAKIV SIMPLIFIED TAX SYSTEM IN UKRAINE TO BE OR NOT TO BE
AFTERWORD-WHAT DO GOOD TAXES LOOK LIKE (IN CEE) ALEKSANDER ŁASZEK