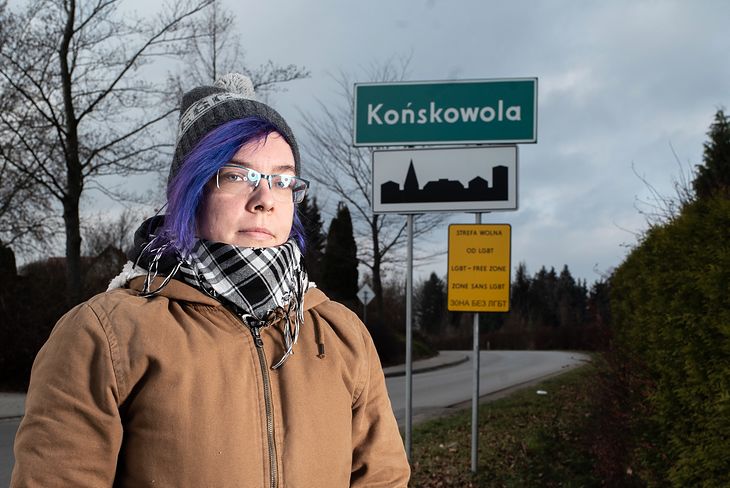 © Bart Staszewski // Facebook
Most European countries have made significant developments in LGBT+ rights: legalizing same-sex marriage and adoption, easing access to gender reassignment surgery, strengthening anti-discriminatory measures at work, schools and public institutions. Poland, however, has fallen drastically behind.
The country ranks among the most restrictive European countries for LGBT+ rights, notably worsening since the conservative Law and Justice party came into power in 2015, with 80% of LGBT+ community members saying they feel uncomfortable coming out as gay.
As of January 2020, 80 different declarations of "LGBT-free zones" were passed by various Polish cities and provinces in central and south-east parts of the country, including four voivedoships, the highest level of administrative subdivision in Poland.
The declarations gained public attention after Bart Starzewski, a gay rights activist, posted pictures of gay people posing in front of their towns that had declared themselves "LGBT-free zones".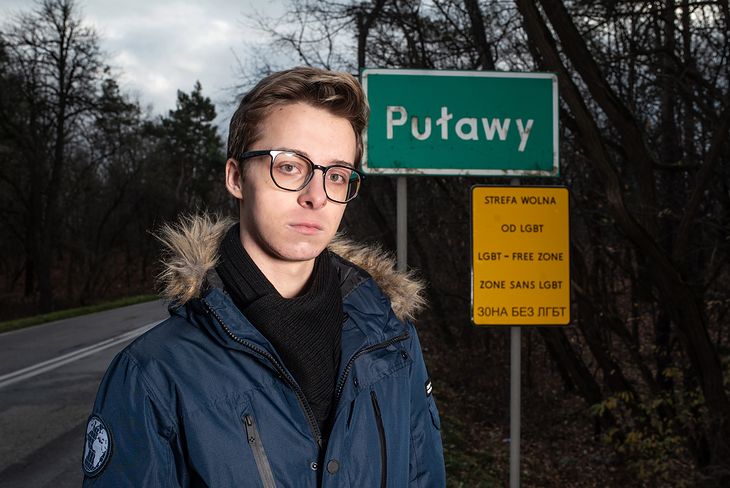 Regional Law and Justice politicians have defended the declarations, claiming they are a reaction to what they perceive to be LGBT+ activists enforcing their views on heterosexual people.
Pawel Jablonski, an adviser to Prime Minister Mateusz Morawiecki, noted that these declarations are meant to be symbolic and have "no actual meaning in terms of regulations", making no changes to the rights of LGBT+ people living in those regions.
The Law and Justice party has continually voiced its disdain towards what it refers to as Western "LGBT-ideology", with Jaroslaw Kaczynski, the leader of Law and Justice, calling it a "threat to Polish identity, to our nation, to its existence and thus to the Polish state".
Not an Ideology
The emphasis is put on ideology, both by the Law and Justice party, and the powerful Catholic Church, in an attempt to amplify a sense of fear in society, painting a picture of Polish culture under threat.
Of course, the phrase "LGBT-ideology" is nonsense. LGBT+ is not, nor does it have, an ideology.
It is not a greater vision of society's economic and political reality, creeping from the West, that seeps through Polish society like Soviet socialism once did from the East. 
However, it is precisely through ascription of ideology to a people that it becomes easier to demonize them.
It was the attribution of mysterious powers and abilities of the Jewish people that had sown the seeds of what would become the state-sponsored mass extermination of 6 million people, the vast of them majority Jews.
So we should be particularly alarmed when we witness the weaponization of awkward phrase "LGBT-ideology".
LGBT+ is a community of people that are a marginalized minority group in Poland. A minority wishing to enjoy the same rights and freedoms as their fellow heterosexual citizens. One that finds itself for the first time, at the center of Poland's political debate, historically having played no major role in social consciousness.
And so, the "LGBT-free zones" are a systemic method to exclude the gay and transgender people from social and public life, sending a clear message of rejection to all the LGBT+ individuals living in those regions.
To accept this would mean to overlook the danger of what should be viewed as government-endorsed stigmatization of the LGBT+ community.
Learning from Holocaust
Last week's commemorations of the 75th anniversary of the liberation of Auschwitz, the Nazi concentration and extermination camp, brought with it a chilling and urgent reminder of the dire consequences that normalizing prejudice and scapegoating of minority groups can have.
The Holocaust did not "fall from the sky", but took hold slowly, creeping in with ever-growing acceptance of small acts of discrimination, removing Jewish people from public life, leading to ghettos and extermination camps, said Marian Turski, a Holocaust survivor and a keynote speaker at last week's commemorations of the liberation of Auschwitz.
Now in his nineties, he spoke with a sense of urgency, almost desperation. Presumably motivated by his acute awareness that this was likely to be his last chance to speak and that soon there will be no first-hand accounts left of the atrocious crimes that took place.
Turski's message was clear. "The 11th commandment is: Thou shall not be indifferent".
"Do not be indifferent when a minority is discriminated against because democracy's essence is that majority governs, but democracy hinges on the rights of minorities being protected".
Exclusion zones in south-eastern Poland weigh particularly heavily where, during the Second World War, three of the six Nazi extermination camps had operated. Killing Jews and other minorities – including gay people – in what is today an "LGBT-free zone". In the same region where the killing did not stop at the end of the war but where dozens of Jews were murdered in a pogrom in Kielce on 9 July 1946.
As so, we shall not be indifferent to the continuous and systematic marginalization and stigmatization of gay people In Poland. We shall not be indifferent to the "LGBT-ideology free-zones" designed to stigmatize and remove LGBT+ people from public life.
We shall not be indifferent to the Law and Justice party's attempts to scapegoat minority groups as threats to national security. When in fact, it is their government's dismantling of judicial independence that is the biggest threat to national security Poland has seen in peacetime.
Now, when we have our democratic tools, which are always a privilege and never a given. When we have been cautioned by the handful of remaining survivors who can account for the depths to which humanity can sink, we must not be indifferent or we will risk another Auschwitz "falling from the sky".
No to Indifference
We shall not be indifferent, not only because of the threat of one day becoming marginalized ourselves, when the majority decides it us it deems an ideological threat to society.
But we should not be indifferent in order to preserve the qualities that hold what it really means to be human. Mankind's greatest power comes from the success of the inclusion of the other, division of skills and sharing of ideas and curiosity, not fear, of the unknown.
One of these qualities is tenderness, notes Olga Tokarczuk in her Nobel Lecture:
"Tenderness is spontaneous and disinterested; it goes far beyond empathetic fellow feeling. Instead it is the conscious, though perhaps slightly melancholy, common sharing of fate.

Tenderness is deep emotional concern about another being, its fragility, its unique nature, and its lack of immunity to suffering and the effects of time.

Tenderness perceives the bonds that connect us, the similarities and sameness between us. It is a way of looking that shows the world as being alive, living, interconnected, cooperating with, and codependent on itself."
---
Continue exploring:
LGBT+ Via Baltica: Travelling through Warsaw-Bialystok-Riga-Tallinn