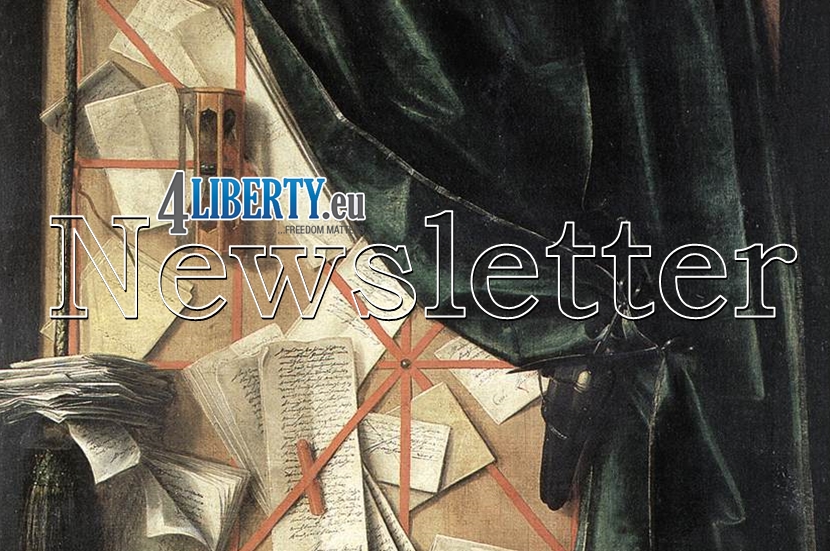 Cornelis Norbertus Gysbrechts: Trompe-l'oeil: Letter Rack with an Hourglass, a Razor and Scissors (ca. 1664) // Public domain
The January issue of the 4liberty.eu Newsletter provides an overview of the articles published on the 4liberty.eu website, serving as a starting point for further exploration.
In the universe designed by conspiracy theories, nothing is obvious and everything is possible. What is visible, observable, nameable, what is officially presented as true, in the media, schools, universities – is only a thin surface layer, under which a game is played by forces that create this layer in order to hide their existence and their real rank from us.
Martin Vlachynsky (INESS):
Given that generations of Slovaks have lived in an environment of 'free' healthcare, that the subject is a political taboo, that the patient has a universal entitlement to everything and no responsibility of his own, the results of the survey are surprising. Roughly half of the population is willing to seek priorities in healthcare and is considering financial participation. This makes it possible to open up a discussion about entitlement, above-standard, or a system of nominal insurance.
Liberte! & ELF:
EU Recovery Funds and Rule of Law in Poland [PODCAST]
In this episode of the Liberal Europe Podcast, Leszek Jażdżewski (Fundacja Liberté!) welcomes Piotr Buras, the head of ECFR's Warsaw office and a senior policy fellow at the European Council on Foreign Relations. They talk about the EU funds and the issues related to the rule of law in Poland, the prospects for implementing the necessary reforms that would bring the judicial independence back on track, and the impact of the current situation on the forthcoming parliamentary election in Poland.
Latchezar Bogdanov & Ivan Bergov (IME):
Let us all join the effort of making Bulgaria a better place to live. Let this country be the place where those born in it also stay and thrive there. And given the desperate need for people in its economy, may Bulgaria also be the place where everyone is welcome to find success through their hard work.
Karolina Derynska (Projekt: Polska):
Long Story Short – Onshore Wind Farms in Poland
A legislative solution (act) on the introduction of a principle the 10H was adopted in 2016. The 10H rule assumed a minimum offset distance between settlements and wind turbines of 10 times the height of the turbine. In practice 99.72 per cent of the country is excluded from building new onshore wind turbines.
Admir Cavalic & Haris Delic (Visio Institut):
State Institutions as Playground for Populism: Case Study of Western Balkans
The Western Balkans region has problems with populism. The feature of these populisms is their combination with clientelism and corruption (Sotiropoulos, 2017). Based on the above, the populists in power in the Western Balkans can remain in power, creating a strong resource base that serves them to manage the entire society.