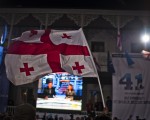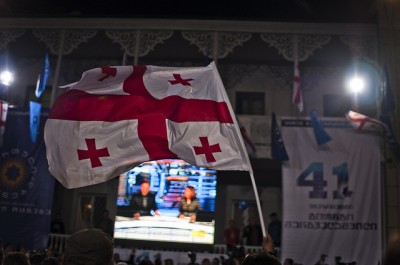 The EU's new economic Agreements with Georgia, Moldova and Ukraine could have a major geopolitical impact on Europe's relationship with Russia.
"The EU stands by your side, today more than ever before"
Herman Van Rompuy, European Council President
On 27 June 2014 the EU signed Association Agreements with Georgia and Moldova and completed the signature process with Ukraine. On 4 July the European Union and three of Russia's neighbours signed trade and political agreements.
This is a new stage in the relationship between the EU and those countries, one which will significantly deepen political and economic ties between the signatories. The Agreement aims to integrate these countries in the EU's internal market. The EU and each country will cooperate to strengthen the rule of law, fight corruption and ensure strengthening democratic institutions. It is important to mention that the association agreement is not a guarantee of future membership of the EU, but rather than opportunity to enjoy having closer political and economic ties. The EU will work with the three partner countries' governments and businesses to bring about reforms and upgrade goods and industries to the necessary standards. This will obviously benefit an extraordinarily diverse array of sectors.
Ukraine
Preventing Ukraine, Georgia and Moldova from signing the Agreement had become an integral part of foreign policy strategy for Russia. After political pressure from Moscow, former president of Ukraine Yanukovich decided not to sign the agreement at the EU's summit in Vilnius last November. This was the precondition of the demonstrations that began in Kiev.
The decision would definitely affect the relationship between Russia and those countries. Russian President Vladimir Putin claimed that the Agreement would bring further political and civil tensions within the country and would split it in two. At the same time Mr Poroshenko said that signing the Agreement is Ukraine's most historic day since independence in 1991, describing it as a "symbol of faith and unbreakable will". Mr Poroshenko also added that he thinks signing the deal is a start of preparations for joining the bloc.
On Friday the European Council issued a policy statement on Ukraine, setting out key steps it expected to happen by Monday, including the return of three key checkpoints to Ukrainian forces and the "launch of substantial negotiations on the implementation of President Poroshenko's peace plan". Mr Poroshenko set out a 15-point peace plan on 20 June. Mainly it involves decentralizing power and holding early local and parliamentary elections, also aims to create 10km buffer zone on the Ukrainian-Russian border and a safe corridor for pro-Russian separatists to leave the conflict areas.
Regarding the Agreement, it is a momentous occasion for Ukrainians, making out just a major step towards European integration, but also a culmination of the country's recent political upheavals.
Kremlin fears include the prospect that Russian officials may raise tariffs on Ukrainian imports and hereby restrict business between the two countries. The threat has serious implications since Russia is Ukraine's single-largest export market. Further, many observers conclude that there could be deeper, more biting economic measures against Ukraine as Sergey Glazyev, one of Putin's top advisers, said that signing the Agreement would be "economic suicide" for Ukraine.
Georgia
Along with Ukraine and Moldova, Georgia has also signed a deep and comprehensive free trade agreement. The event was celebrated in Tbilisi and the pro-Western government sees as a "first step toward the EU". There have been concerns in Georgia, regarding Russian reactions. Some fear a reversal of the progress made on economic ties, while others are threatened by an invasion of Georgian proper.
Regarding Georgia, a BBC article on the agreement explains that "Georgia is strategically important for the EU because the bloc plans to increase its energy imports from Georgia's Caucasus neighbour Azerbaijan and Central Asian republics further east. A key pipeline already crosses Georgia. EU leaders worry that Russia – a key energy exporter- may no longer be a reliable partner".
As Tamara Kovziridze, a former lead Georgian negotiator with the EU says, in the short term the benefits of this agreement are more likely to be political than economic. Critics say that there has been little analysis of the impact this agreement will have on the Georgian economy. "Only one study has been undertaken by Europe but that's not something Georgia should be counting on" says Eric Livby, director of the International School of Economics at Tbilisi State University.
As some articles suggest, the Agreement forces on Georgia the same standards that would apply in Europe and consequently, prices will increase, while production and exports will not necessarily increase. At this moment, Georgia has much more to gain economically from ties with Russia and Eurasian countries. As statistics show Georgia's exports to Russia have tripled since Moscow lifted a ban on Georgian wine and mineral water in 2013.
Moldova
Moldova, often called Europe's poorest country, relies on remittances from relatives working in the EU. The Association Agreement with the EU may open up wider European markets for Moldova as more than half of Moldova's total trade is with the EU. Culturally and historically it is very close to Romania, but the Agreement with the EU may bring new opportunities to the economy.
Local authorities see EU standards subverting the regional powers they enjoy. Resistance to this erosion of their power is fuelling another battle in the EU-Russia information war, as minorities of all origins deploy increasingly radical pro-Russian rhetoric.
Fear of Romanian annexation is one of the reasons the Russian-speaking groups might oppose the EU Agreement. The document was officially signed in Romanian and not Moldovan, which typifies a national conundrum: how can you negotiate with minorities when the majority is unsure of its own identity? Truly, the identity issue can be seen as a strong factor distancing the country from Europe. Whilst history books present the history of the Romanians, not the Moldovans, a popular joke runs: "Mum's Russian, Dad's Romanian, but little Ivan is Moldovan".
Concerns for Russia
For Russia there is a general concern and anger that Moscow has failed to convince countries like Georgia, Ukraine and Moldova not to sign the deal with the EU. The deal brought also economic concerns for Russia; it is expected that the Russian market will be flooded by cheap goods from the EU that could replace Russian products.
Furthermore, geopolitical concerns should be taken into careful consideration. Russia's desire to keep former Soviet states under its own influence is threatened by the recent political developments – countries that Moscow views as being within its sphere of influence are drifting towards Europe and possibly they will become part of the EU. Russia had been hoping that the states of the former USSR and especially Ukraine would join a Moscow-led Eurasian Economic Union.
What next?
As some articles argue, possible consequences from Russian side could include further use of energy embargoes against Europe, increasing the integration of South Ossetia and Abkhazia as Russian protectorates and increasing support for separatism in Eastern Ukraine. None of these conditions would harm the Association Agreement and affect on those countries' decision to join the Eurasian Economic Union, but they would remain as by-products of the Agreement.
This Agreement is seen as a turning point in the history of these countries, which can establish a new status quo. But, as the New York Times argues, the new status quo would have various thorns in its side. One of them is the illegal annexation of Crimea, the ongoing separatist tensions in Eastern Ukraine and Russian fears that trade pacts with the EU will lead to NATO expansion. In a nutshell, this new status quo may be calmer than the last seven months, but it may not be particularly stable.
Author: Teona Surmava
The original article was published here: http://www.democraticunion.eu/2014/07/association-agreements-new-status-quo-europe/