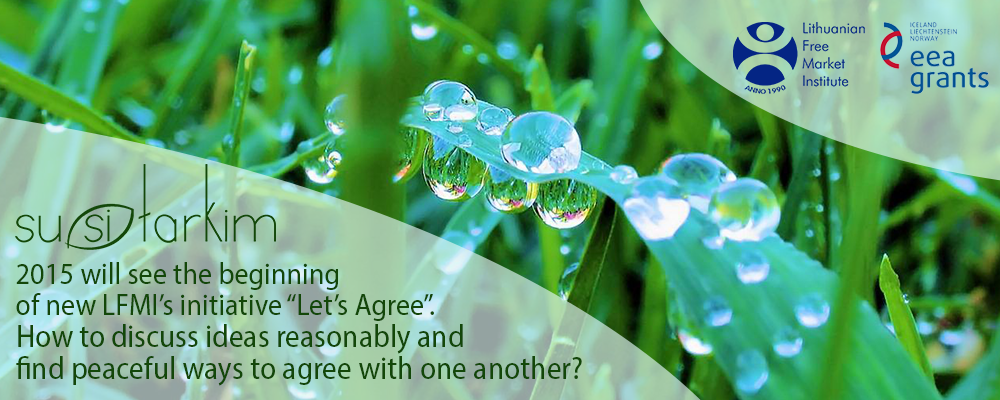 LFMI
This year the Lithuanian Free Market Institute (LFMI) has launched a new initiative "Let's Agree" which is aimed at promoting a better-informed, constructive dialogue and peaceful agreement within local communities on issues relating to investment promotion and environment protection in Lithuania.
Local communities, as a rule, play an important role when it comes to investment and environment protection projects in the areas they represent. In many cases, however, they lack the knowledge and skills it takes to analyse and form a sound opinion about such projects, to effectively engage in local policy-making processes and to promote a balanced discussion with other community stakeholders. Moreover, merely 3 percent of Lithuanians are actively involved in addressing environment protection issues, as compared with an average of 12.8 percent of the population in Western European and Scandinavian countries and 5 percent in other Central and Eastern European countries. This is seen as one of the biggest barriers to open dialogue and agreement between local communities, investors and public authorities when it comes to deciding on business development and environment protection projects in Lithuania.
To tackle this problem, LFMI will embark on a training programme for local communities and NGOs in 15 Lithuanian municipalities that will be designed to equip local community activists with the knowledge and skills necessary to engage in well-informed and well-balanced discussions and reach peaceful agreements with other community members. A total of 250 local community members from across Lithuania will enhance their skills to evaluate local policy decisions, to formulate sound arguments, and to effectively communicate their position to other stakeholders in their communities. To that end, LFMI will use fifteen in-house case studies on different investment projects implemented country-wide that will analyse environmental, socio-economic and legal arguments behind them and help highlight the need for embracing different angles when it comes to promoting a constructive dialogue with other community members and identifying the best solutions for community development. LFMI will also prepare handbooks on policy analysis, advocacy and communication that will be specifically designed for local community needs.
LFMI commenced the project with a conference Let's Agree About the Environment that was held on February 19, 2015.
The initiative has been inspired by the results of LFMI's work on the Templeton Freedom award-winning project Municipal Performance Index.
For more information see: http://en.llri.lt/initiatives/lets-agree