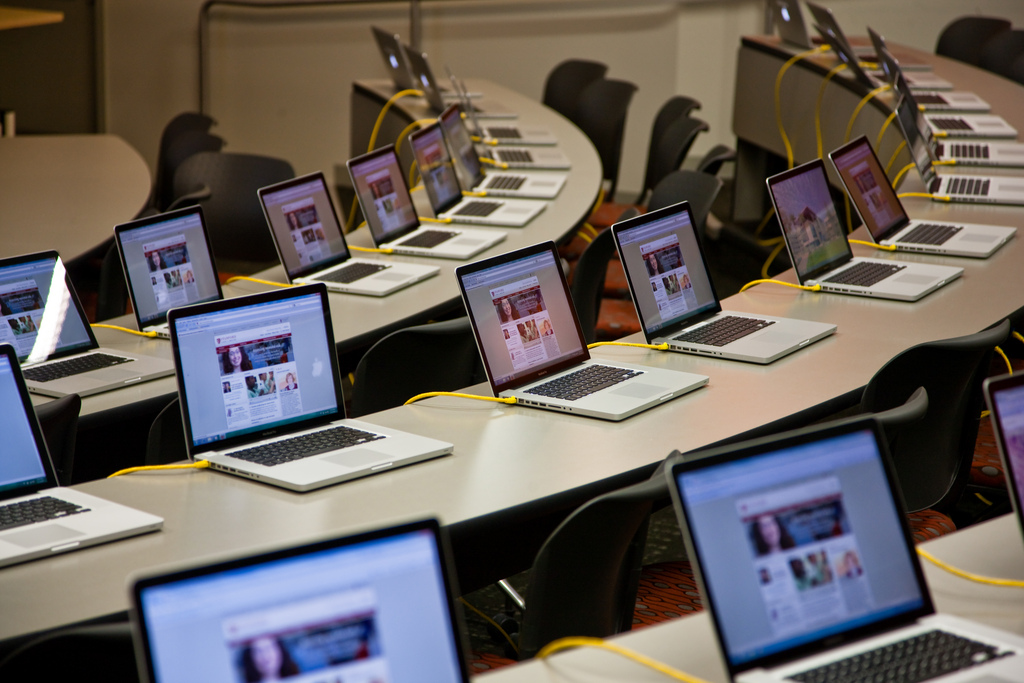 Information technology is growing in importance in Estonia and elsewhere in Europe at an ever-increasing pace. Reliable access to the Internet, the explosive spread of digital equipment and prices that are becoming more and more affordable have provided people with access to a large amount of information and opportunities.
Estonia has set itself the goal of making better use of digital opportunities in teaching and developing students' digital competence. In this context, 'competence' means the ability to use digital technology in order to better cope with studying and working, communicating within communities and simply as citizens in a rapidly changing information society.
A digital revolution in schools means, in essence, the informed and intelligent integration of digital opportunities into the teaching process. The use of digital solutions enriches teaching work, taking the needs of today's students into greater consideration, and preps students according to the needs of the current labour market demands.
With the recommendation of the European Parliament and Council of 2006 regarding key competences, the European Union recognised digital competence as one of eight key competences for lifelong learning. In Estonia, the national curriculum sets out the different skills via which the digital competence of students is defined. For example, digital competence helps in finding and retaining information through digital means and in assessing its relevance and trustworthiness. The teacher's task is to guide students first to recognise the need for information and then to select an appropriate method with which to search for it. What is important is that students are able to navigate the Internet and search for information from other digital information media.
Most students create digital content on a daily basis, for instance writing texts online, taking photos and making videos, but also programming. All of these skills need to be consciously developed in order to support digital competence. Not every student needs to become a programmer, but all of them should know what programming involves and the areas in which it is used. This knowledge could later be of help to the students in making better choices on the labour market.
As digitalisation has opened up ways of creating content and using existing content for students, the need to focus attention on copyright has increased. Digital competence helps us handle other people's work correctly and also helps us protect our own work. Moreover, like mathematical competence, digital competence fosters problem-solving skills, since the use of suitable applications helps us solve problems that arise in everyday life and work.
According to the international PIAAC survey, the skills of Estonian adults in coping in technology-rich environments are rather modest. Although younger people cope better than older people, it is important that more and more attention be turned to digital problem-solving skills. Learning to make conscious use of digital opportunities in turn leads to new technological discoveries.
It should be borne in mind that the existence of technology alone – e.g. computers for teachers and students – does not contribute to improving academic results. There are not many problems in Estonian schools in terms of IT resources or Internet coverage. As such, the focus in the country is primarily on ensuring that we have enough digitally competent teachers and high-quality teaching resources. It is important that we create a sufficient quantity of good learning input that is able to compete with static paper-based textbooks. Digital teaching resources make it possible for teachers, without expending a great deal of effort, to implement a level of teaching and use materials that are appropriate to the capabilities of each individual student.
The needs and approaches of educational institutions and the options available to them in terms of the teaching materials and methods they use are different, which is why it is crucial to establish the digital competence of both teachers and students as a key competence and to support its development in a targeted manner. We have set ourselves the goal of every teacher and lecturer being able to use digital teaching resource solutions in their classes as intended. The use of ICT must be a natural part of teaching and learning which makes both aspects more personal and effective. Schools, local authorities and the state work closely together in order for teachers and lecturers to attain a level of education technology competence that allows them to integrate digital opportunities into their work.
It is up to school headmasters and headmistresses to decide whether they hire teachers who are already digitally competent, whether they shape the teachers' digital competence through in-service training or hire an information technology adviser to assist teachers. An education technologist – by nature a teacher who is more digitally competent than average – tends to be a respected and sought-after expert at a school. Nevertheless, Estonia uses a variety of training methods to contribute to every teacher becoming sufficiently digitally competent themselves.
Summarizing, digital competence is the assured, critical and creative use of information technology for the achievement of objectives related to participation in learning, work and private and social life. It also supports the development of other general competences, such as communication, mathematical, learning and civic competence. By making use of digital equipment and applications, students can learn with the support of the digital teaching resource that best suits them and at an appropriate pace, while at the same time teachers have modern means with which they can manage the learning process more effectively.