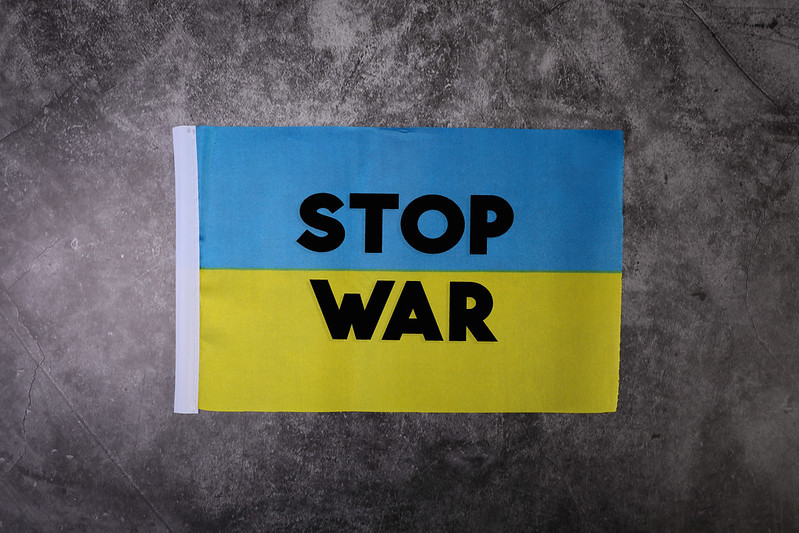 Lithuania
27/02 19:59 (CET). Lithuanian leaders have strongly condemned Russia's invasion of Ukraine and called for strict sanctions against the aggressor. Together with his counterparts in the Baltic States, our foreign minister Gabrielius Landsbergis stated that Russia's actions are unacceptable and are a flagrant violation of international law and norms, as well as a crime against the Ukrainian people. As well as the president Gitanas Nausėda and the prime minister Ingrida Šimonytė he demanded that Russia was cut off from the SWIFT international interbank settlement system.
Ukraine would be provided with weapons, ammunition, and other military assistance, as well as economic and humanitarian aid. The president also said that Ukraine should be considered as a candidate member to join European Union. Recently, we have closed our airspace to Russian aircraft.
Lithuanian people are very active as well. There is an initiative "Strong Together" that encourages people to register their homes for Ukrainian people leaving their country. A lot of people are volunteering with their cars to go to at the Ukrainian-Polish border to take Ukrainian people that are entering Poland and drive them to Lithuania.
In a couple of days, people have donated more than EUR 5 mln for different NGOs working with people in Ukraine. Demonstration near the Russian embassy are basically never-ending. (Written by Kotryna Tamkutė, Lithuanian Free Market Institute)
Slovakia
25/02 13:32 (CET).  All the highest representatives of the Slovak Republic have strongly condemned the military invasion of Ukraine by the Russian army. Almost all the representatives of the political parties condemned it in the same unanimous manner.
The Slovak government discusses the expulsion of Russian diplomats from Slovakia.
The government is discussing amendments to asylum legislation to simplify the process of refugees from Ukraine applying for temporary shelter and the possibility of declaring a state of emergency in the event of a refugee crisis.
The government is expanding asylum facilities.
Five hotspots are being created on the border with Ukraine to help channel the thousands of people who will be arriving in Slovakia.
People from Ukraine can cross Slovak border regardless their passport validity.
Slovaks are offering their houses, flats or cottages to people from Ukraine, the initiative 'Who will help Ukraine' has published a form, where people can offer their houses and also organizes donation campaign.
Many charitable and activist organization launched their own donation campaigns, and the Ukrainian long lasting campaign for funding the Ukrainian Army https://savelife.in.ua/en/donate/ has been widely promoted.
We are also helping citizens of other countries to come to Slovakia so that they are safe and can get home from here – India, for example, has asked for such help.
Slovakia will provide one million euros in humanitarian aid to Ukraine. EUR 400,000 should go to the Red Cross and the Office of the UN High Commissioner for Refugees. The rest will be sent through grants to Slovak organizations capable of immediate humanitarian intervention in Ukraine. The proposal was presented by Foreign Minister Ivan Korčok on Friday.
The Slovak government has approved 13 million euros for measures in case of a large influx of people from Ukraine.
Slovak Minister of Economy Richard Sulík announced an investment of EUR 85 million and negotiations with investors to create the Valaliky Industrial Park in eastern Slovakia, close to the Ukrainian border (Valaliky, Košice region), which would create 5,000 new jobs.
Health Minister urges people to go and donate blood on Friday.
Slovakia should also help the Ukrainian army by supplying fuel for ground equipment. (Written by Ina Sečíková, INESS)
---
24/02 23:59 (CET). 1,500 armed forces of the Slovak Republic are on their way to the eastern border of Slovakia with Ukraine.
A mission of NATO's enhanced forward presence is planned to be posted to Slovakia similarly to the Baltic countries. It is expected to include hundreds of soldiers from countries geographically close to Slovakia. Slovak Defense Minister Jaroslav Naď said on Thursday,
On Thursday, like in many other cities around the world, also in several towns in Slovakia there were organized meetings and marches to express solidarity with Ukraine, demanding an end to the Russian military invasion. (Written by Ina Sečíková, INESS)
---
25/02 08:53 (CET). Slovak officials unanimously condemn the Russian aggression on Ukraine.
Zuzana Čaputová, President of the Slovak Republic, declared: "A few hours ago, the Russian Federation invaded Ukraine and launched a military invasion. Russia's armed forces have also hit the rest of Eastern Ukraine. The hope of those who thought that Russia would be satisfied with the military occupation of parts of the Donetsk and Luhansk regions proved to be an illusion.

I strongly condemn the Russian Federation's illegal aggression against Ukraine. I express my full support and solidarity with the Ukrainian people, as well as with the country's leadership and President Zelenský."

Prime Minister Eduard Heger wrote: "The world will be different from today.

Russia today started the war in Ukraine. It attacked the weaker, whose only fault is that he wanted to live peacefully according to his ideas than other sovereign nations. It is an unjustifiable barbaric act on the part of Russia, a gross violation of international law. Russian imperialism in its aggressive, militant form came to life again.

The government of the Slovak Republic strongly condemns the actions of Russian President Vladimir Putin and his government. All the sacrifices that this war will bring will be its victims and will be held accountable in front of the world public. The Slovak Republic stands by the suffering Ukrainian people.

The government of the Slovak Republic, in cooperation with allies in NATO and the European Union, will assist in Ukraine's self-defense against the Russian aggressor and advocate for an end to the fighting. Making peace is an absolute priority.

Today, however, we know that it can only be achieved if democracies have military superiority over dictatorships and despots and their retaliatory action for aggression has a strong deterrence effects.

The government assures the citizens of Slovakia that, together with its allies in the North Atlantic Alliance, it will take all necessary steps to avert the war that has hit our neighbor."

Ivan Korčok, Minister of Foreign Affairs, stated: "I strongly condemn the direct military attack of the Russian Federation on our neighbor Ukraine. Russia grossly violates international law and the principles of the UN Charter. This action is a threat to European security.

At today's extraordinary NATO meeting, we will ask the Alliance for Article 4 consultation. The current situation calls for this. I am in constant contact with our embassy in Kiev.

All are currently safe and their continued existence is coordinated with other EU countries." (Compiled by Martin Reguli, F.A. Hayek Foundation)
Hungary
27/02 10:24 (CET). Péter Szijjártó, the Minister of Foreign Affairs and Trade, has offered Budapest as a venue for Russia-Ukraine peace talks. The minister has called both governments to talk about his offer. Right now, President Zelenskyy is open for a discussion and he thinks that Budapest would be a good venue (as well as Wasaw, Bratislava, Baku, or Istanbul); however, he cannot agree on the venue with Russia. (Written by Zsolt Nagy, Republikon Institute)
---
24/02 19:09 (CET).
"We are worried about Ukraine, but war is not the solution. Hungary is a neighbor of Ukraine, and it is particularly important for us that our country remains out of the conflict". The government of Hungary posted this statement on social media after the beginning of the Russian invasion of Ukraine.

In a later post, the government informs: "We join our EU and NATO allies in condemning Russian military action in Ukraine." They also state that "we will hold an emergency meeting in Brussels".
According to the Minister of Foreign Affairs and Trade Péter Szijjártó, Hungary's position is clear. Hungary supports Ukraine's sovereignty and territorial integrity, and will not break the unity that has been established in the European Union on the sanctions measures.
The Minister also posted on social media that "war is the worst-case scenario".  Mr Szijjártó added that the government's task now, as always, is to protect the security of the Hungarian people. The Ambassador of the Russian Federation in Budapest was summoned to the Ministry of Foreign Affairs and Trade, where he was briefed on the Hungarian position.
Shortly before the war, the Hungarian government stated that Hungary must stay out of the Russian-Ukrainian conflict because Hungary's security is the priority. There is no question of sending Hungarian soldiers to Ukraine. (Written by Péter Láng, Republikon Institute)
Georgia
25/02 13:14 (CET). Yesterday, thousands of Georgians along with outher residents of the country took to the streets in Tbilisi to support Ukraine.
Today, the parliament majority decided not to attend a special session. The majority members accuse the opposition of pushing Georgia into another war.
The prime minister of Georgia says we do not need to do anything, as we are safe. At the same time, he attended a meeting commemorating the Soviet occupation on Feb 25, 1921. All the flags on the official buildings were lowered. (Written by Gia Jandieri, NESG)
---
24/02 15:10 (CET). Georgia has been the first victim of Russia, but the world did not learn from the lesson of the 2008 war.
The current Georgian government has been very careful in issuing any statements since 2012, possibly mostly because of the lack of any clear reassurance from the West and due to facing everyday provocations from Russian occupants.
Today, President Salome Zurabishvili issued a statement supportive of Ukraine. Georgians are expecting a special session of the parliament to be held soon. President Zurabishvili together with former President Mikheil Saakashvili (who is in prison) also asked all political sides to unite.
The feeling in the society that we can be next is strong. Today, the so-called president of south Ossetia made a very similar statement to what Donbas separatists  were making. It is possible that an invasion in this region is also being prepared. (Written by Gia Jandieri, NESG)