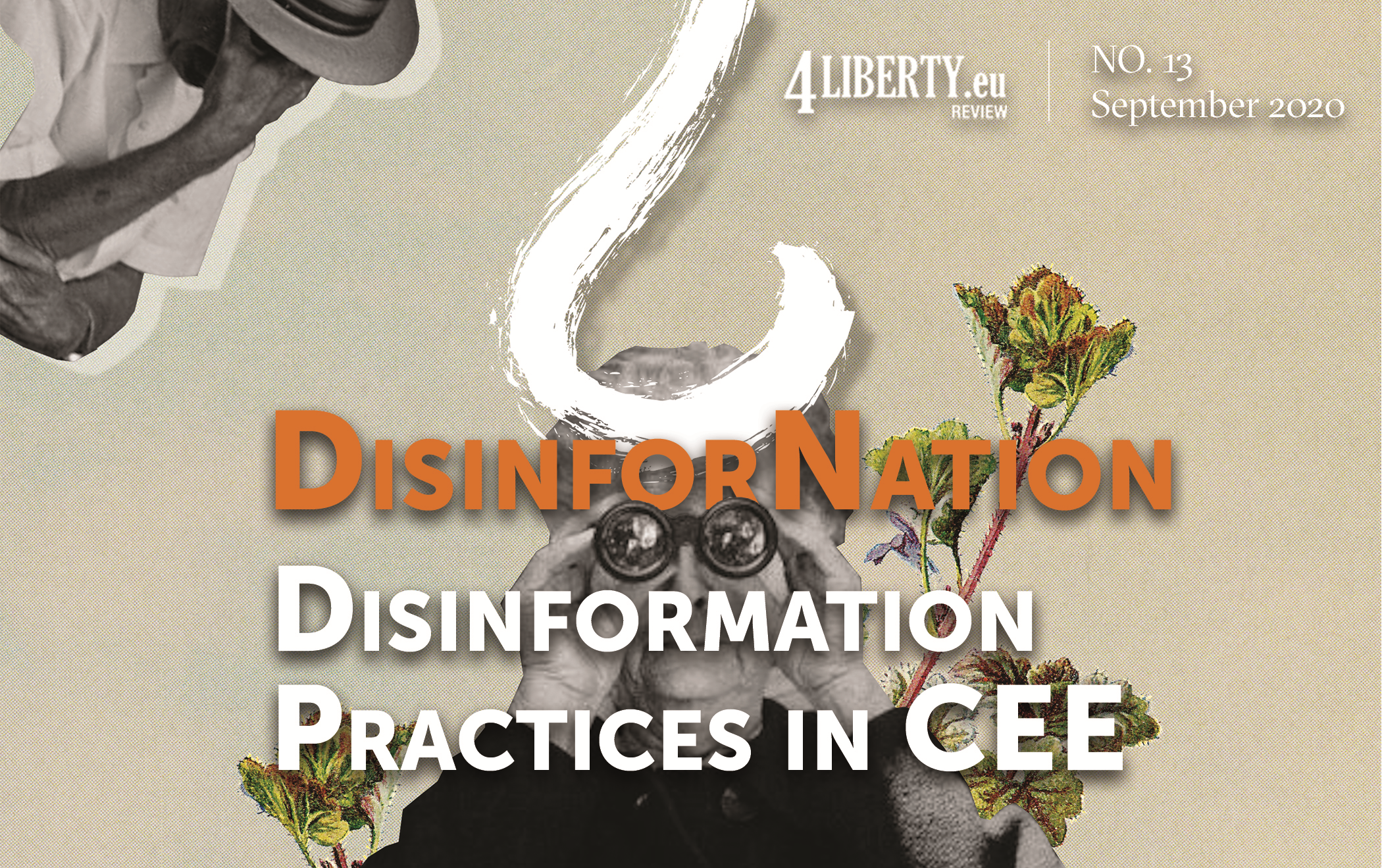 Olga Łabendowicz for 4liberty.eu
We are pleased to present the thirteenth issue of 4liberty.eu Review, titled "DisinforNation: Disinformation Practices in CEE". This time, our primary focus is the techniques employed by various agents in the region aimed at seeding and spreading false or manufactured information.
By analyzing the cases from the Czech Republic, Poland, Ukraine, Croatia, among others, we attempt to shed some light the most recent and troubling phenomena in order to recommend most suitable solutions to combatting disinformation.
Below, you may download the full issue, as well as read the journal online via Issuu. We also encourage you to download and share individual articles.
DOWNLOAD FULL ISSUE (PDF):
---
READ ONLINE VIA ISSUU:
---
DOWNLOAD INDIVIDUAL ARTICLES (PDF):
EDITORIAL_DisinforNation Getting Disinformed in CEE_Olga Łabendowicz
MÁRTON SCHLANGER_UNDERSTANDING THE EU'S ROLE IN THE FIGHT
ALEKSY PRZYBYLSKI_NO ONE IS SAFE THE INFORMATION BATTLEFIELD
TANJA PORČNIK_ACCESS TO INFORMATION IN TIMES OF CRISIS
PATRIK SZICHERLE, DORKA TAKÁCSY, DOMINIK ISTRATE_HOW PRO-KREMLIN DISINFORMATION
ROMAN MÁCA_RUSSIAN BID FOR CZECH HEARTS AND MINDS
MICHAL HEJL_WAS THE GROWTH OF DISINFORMATION MEDIA ALSO CAUSED BY TRADITIONAL
PIOTR BENIUSZYS_AUTHORITARIAN CHANGE, PUBLIC BROADCASTERS, AND "FAKE NEWS"
MIŁOSZ HODUN_P IS FOR PROPAGANDA DISINFORMATION AND MANIPULATION OF THE STATE
MARCIN CHMIELOWSKI_THE IMAGE OF "LIBERAL" AND "LIBERALISM" ON SELECTED WEBSITES
DANIEL HINŠT_POPULIST CONSPIRACY NARRATIVES AND OTHER FORMS OF DISINFORMATION
AFTERWORD_DANIELA OBERSTEIN, MÁTÉ HAJBA_UNDERSTANDING THE WEAPONIZATION