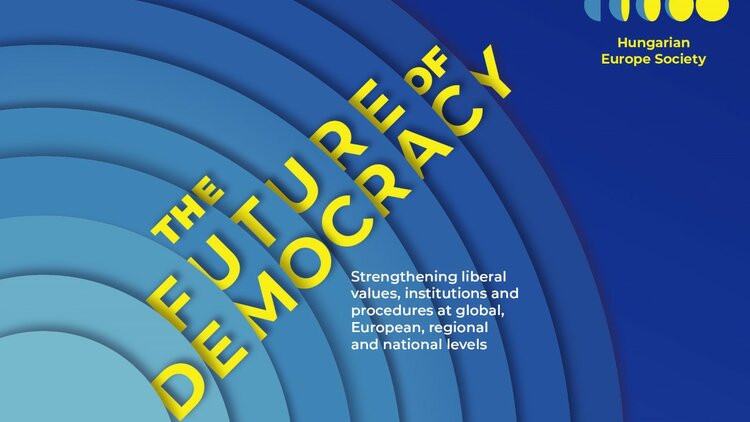 The world we live in is permanently changing, whether it is due to the recent pandemic, Russian war in Ukraine, climate change, or changing political environment regarding rule of law in various countries.
A recent publication by the Hungarian Europe Society entitled "The Future of Democracy: Strengthening Liberal Values, Institutions and Procedures at Global, European, Regional and National Levels" examines the dynamic future of Europe, which is shaped by these processes. It analyses the consequences of the war, illiberal and other tendencies in the European democracy and much more.
---
DOWNLOAD FULL PUBLICATION:
---
Editors István Hegedűs and Erik Uszkiewicz prepared the publication with the most intriguing papers by international authors. The publication was supported by the Friedrich Naumann Foundation for Freedom.
Content
Erik Uszkiewicz – introduction
THE EUROPEAN UNION: FAST FORWARD OR A NEW SCLEROSIS?
Jacques Rupnik – The East-West Divide Revisited in Wartime
Wojciech Przybylski – Instead of Divided Europe, a Broken V4
Conference on Multiple Futures
Does Central Europe Offer Alternative Ideas on the EU's Future?
Central Europe North-South Fracture
Corina Stratulat – The Conference on the Future of Europe: Lessons and Best Practices for the Future
A Major Pan-European Exercise
A Steep Learning Curve
A Stepping Stone to EU Governance Reform
Richard Youngs – EU Democracy after the Conference on the Future of Europe
Citizens' Chance
Step-Change Still Needed
Bolder Innovation
Conclusion
A NEW ERA FOR THE GLOBAL CO-OPERATION OF DEMOCRACIES?
Jamie Shea – Alliance Security after February 24: Where Do We Need to Go Now?
Bolstering NATO
Supporting Ukraine
Isolating and Weakening the Putin Regime
Enhancing Western Strategic Autonomy
Conclusion
Imants LieģIs – Dealing With Assaults on Democracy within the Dynamics of Relations Between the EU, USA, Russia and China
Transatlantic Dynamics (EU + USA)
EU-US Dynamics with China
Russia – China Dynamic
Dealing with These Assaults on Democracy
Maria Domańska – Handling the Unthinkable. Lessons to Learn from Ukraine Invasion
The Fallacy of 'Divisible Security'
Russia's Strategic Goals
Russia's Strategic Culture: Why the West Got It So Wrong
If You Want Peace, Prepare for War
Conclusion
Nadiia Koval – Geopolitical Consequences of the Russo-Ukrainian War for the Liberal World Order
RETHINKING THE PAST, PRESENT AND FUTURE OF POPULIST ILLIBERALISM
Helena Rosenblatt – The History of "Illiberalism" of the Right and Left
Auksė Balčytienė – Culture, Moral Burdens, and Other Barriers to Conversation in Europe
Introduction
Dire Outcomes Brought by the Long Swings of Globalization
The Enduring Misfortunes of East Central Europe
Synthesis
Anna Visvizi – Artificial Intelligence (AI) and Its Dimensions: Politics, Economics, Global Affairs
Introduction
AI and the Technology Underpinning It
AI and Politics
AI and the Military
AI and the Economy: Prospects and Caveats
By Means of Conclusion: AI and Global Affairs
István Hegedűs – What Is the Situation in Hungary a Few Days before the Elections and What Can Be Expected?
Hungary and the War in Ukraine
Orbán and the World
The Chances of the Opposition