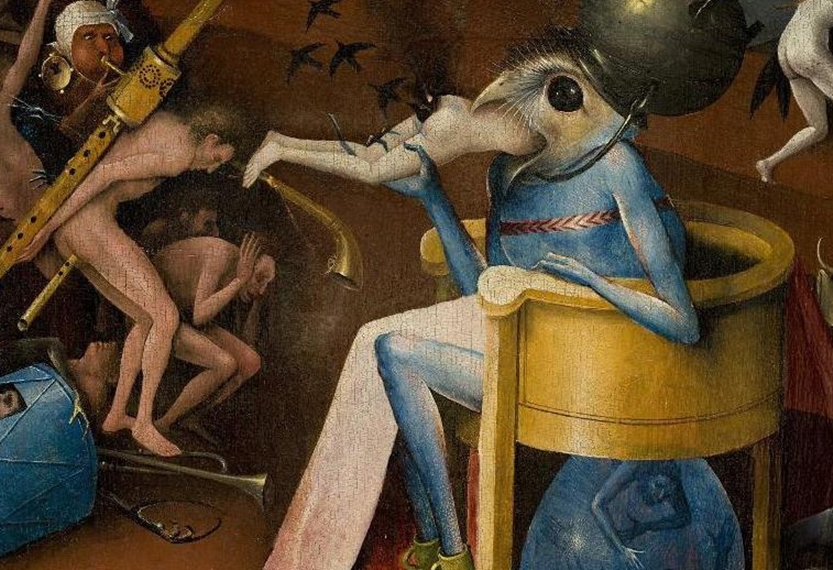 Hieronymus Bosch - The Garden of Earthly Delights - Hell Detail (1480-1505) // Public domain
I am writing this post from Kyiv, while there is still Internet. I should have already finished writing it, but I fell asleep. Not having slept for the third day in a row becomes difficult. We are fighting. Some of us with weapons, some with a prayer. Russian saboteurs are in Kyiv.
Putin, the madman, did not expect resistance. Volunteers from Kyiv went to the territorial self-defense. The city is resisting. Ukrainians are not slaves – freedom and liberty are in the blood of our people.
The public opinion strongly supports the resistance and the Ukrainian government. Even those who tried to keep their cool about the situation, today, they were reaching out to their friends and relatives in Russia, asking how they could have done this, how did it come to happen, and demanded stopping the dictator.
Most Russians do not know the truth – they believe what they see on the biased reports on the Russian television. However, the situation is evolving so fast that every hour more people start thinking for themselves.
I wanted to end by saying that Ukraine expects more from its friends in the West. What we need is closed airspace, disconnection of the aggressor from SWIFT, incoming supplies of weapons, protection, and economic assistance. But the situation changes like a kaleidoscope.
Now, we must thank you for the steps you have taken. The West is waking up, albeit slowly. Now it is 4:11 a.m., on the street where I live, the silence is ringing. Darkness. The darkest night before the new day. Because there will be a new day.
Ukraine is now a battlefield between good and evil. The new over the old. But everything will be fine. The Ukrainian people and our army can work miracles. In the meantime, the world cannot stay silent. A new day is coming. Let us stand together when it comes.
---
The content of this article does not reflect the views or opinions of the 4liberty.eu network. Responsibility for the information and views expressed therein lies entirely with the author(s).
---
Continue exploring:
CEE Governments on Russian Invasion in Ukraine
We Stand with Ukraine: Call to Polish Government and International Community