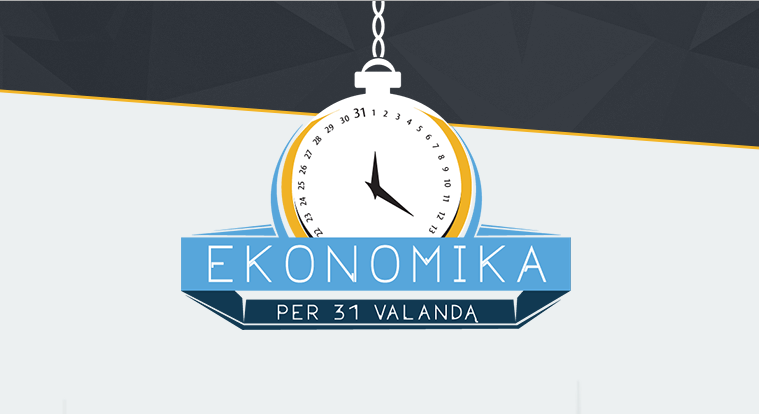 The Lithuanian Free Market Institute has launched a unique interactive teaching platform for teachers of economics at www.ekonomikosvadovelis.lt. This one-of-a-kind platform in Lithuania that encompasses a variety of features including video lessons, interactive tasks, a dictionary of economic terminology and other practical material is a part of LFMI's brand new textbook on economics – Economics in 31 Hours – which will be hitting bookstores and schools across Lithuania and reach over 7,000 pupils and 200 teachers this autumn.
According to LFMI's survey, 70% of teachers indicate the need of contemporary and innovative teaching aid that would enhance the quality and attractiveness of economic courses. Given this, three years ago LFMI embarked upon its most ambitious educational project with the aim to develop a textbook on economics that would help to lay the groundwork for shaping critical thought of young people when it comes to the evaluation of economic phenomena and the world, as well as equip teachers with up-to-date, engaging and interactive teaching aids.
After a pilot project with 30 teachers and over 1,300 pupils, the textbook and the teacher's platform received a significant number of positive reviews from the most prominent Lithuanian educationalists and have been enlisted among recommended textbooks for secondary schools by the Ministry of Education and Science of Lithuania. One of the reviewers, Dr Austėja Landsbergienė noted that "the textbook is especially needed in Lithuania due to the values promoted and contemporary teaching methods provided". This great success did not remain unnoticed and over 4,000 textbooks have already been ordered by Lithuanian schools and enterprises.
According to Marija Vyšniauskaitė, co-author and Head of LFMI's Education Centre, the textbook and the teacher's platform are the very first steps towards higher quality economic education across Lithuania. LFMI is committed to maintain permanent contact with teachers as well as provide regular updates to the teaching material by adding new video lessons, illustrations, statistical data and information on the most recent economic realities and issues, because relevance and topicality are what make this textbook unique and classes of economics engaging.