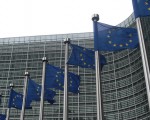 The Lithuania Tribune writes that on March 29 president Dalia Grybauskaitė met with Johaness Hahn, EU Commissioner for Regional Policy. The main topics of the meeting included EU financial framework for the period 2014-2020 and the EU Cohesion Policy.
Dalia Grybauskaitė expressed Lithuanian dissatisfaction with the proposal concerning rules of EU aid's distribution. Lithuania puts emphasis on the importance of the interests and member states' level of development.
More information here.