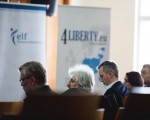 On April 16, 2014 in the House of Literature in Warsaw, European Liberal Forum, Republikon Institute and Fundacja Industrial ("Liberté!", 4liberty.eu) held a conference organized within the cycle of meetings dedicated to the memory of Bronislaw Geremek organised by "Liberté!".
The focus of the conference concerned the increasing euroscepticism and whether or not shall it significantly influence geopolitical situation in Europe. The panelists tried to answer many questions related to this issue. Among them: will believing in the common Europe, the readiness for solidarity and assistance to nations which remain under threat of either economic or geopolitical crisis help to pass the test of Russian aggression as well as long-lasting economic crisis? How in such context shall we view the policy of Victor Orban in Hungary? How may European Union react? How much power will anti-European parties gain and whether or not will they be able to put European integration in danger? Which areas shall be deemed vital for establishing European security? Why does this eurosceptic atmosphere still persists in Europe and may a situation in Ukraine reverse it?
Speakers: Felicita Medved, president, European Liberal Forum; Reka Csaba, project manager, Republikon Foundation; Błażej Lenkowski, president of the board, Fundacja Industrial ("Liberte!"); Jacek Żakowski, "Polityka"; Małgorzata Bonikowska, president of the board, Center for International Relations; Leszek Jażdżewski, editor in chief, "Liberté!"; Radosław Markowski, University of Social Sciences and Humanities (Warsaw), Polish Academy of Sciences; Łukasz Jurczyszyn, Pultusk Academy of Humanities, Institute of Sociology University of Warsaw; Wojciech Przybylski, editor in chief, Res Publica Nowa; Jan Cieński, Warsaw Bureau Chief,"Financial Times"; Ekke B. Overbeek, Het Financieele Dagblad; Alex Sidorenko, director, Teplitsa of Social Technologies
.