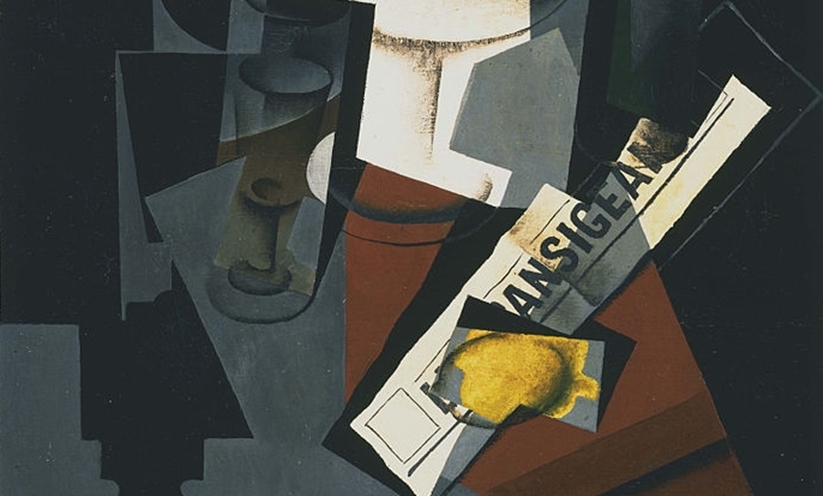 Juan Gris: Still Life with Newspaper (1916) // Public domain
The War in Ukraine
This is a monthly digest of the most important facts and events – from the Polish perspective – on the Russia's invasion on Ukraine:
US president Joe Biden announced that the United States will create a new permanent army headquarters in Poland and increase its long-term military presence. He added that his administration will permanently station the U.S. Army V Corps forward command in Poland. Polish president Andrzej Duda commented: "This is news that we have been waiting for a long time". "It is a fact that strengthens our safety a lot… in the difficult situation which we are in," he concluded.
Since February 24, 4,57 million people have crossed the Polish-Ukrainian border into Poland, and 2,64 million people had left Poland for Ukraine.
Mateusz Morawiecki said that Poland will be reimbursed by the EU for the military equipment it has handed over to Ukraine. "The European Commission will refund Poland's spending on military equipment as well as our armaments handed over to Ukraine either to a large extent or, at least, in a considerable part," prime minister said. According to the authorities, Poland equipment worth at least USD 1,7 billion was sent to Ukraine, incl. over 200 tanks, 18 self-propelled tracked gun-howitzers, and portable surface-to-air missiles. Poland is the second biggest donor of weapons and military equipment for Ukraine after the USA, and third military aid donor after the USA and UK.
Poland has signed a defense contract with Ukraine worth PLN 2,7 billion (ca. EUR 585 million) for the sale of Krab self-propelled howitzers to Ukraine. Ukraine receives funds for the purchase of these weapons partly from the EU and partly from its own budget.
Poland and Ukraine will connect their power systems by the end of this year, allowing cross-border trade. The power line will connect Rzeszów with and have a voltage of 400 kV. The cost of the project on the Polish side is estimated at around PLN 30 million (ca. 6,45 million).
President Joe Biden said that the US will build temporary silos on Poland's border with Ukraine to facilitate the export of grain out of Ukraine after Russian blockade in the Black Sea has upended global trade routes. This announcement was most probably not consulted with Polish authorities as the agriculture minister in Warsaw was very surprised and had nothing to comment.
Russian Ministry of Culture has removed a Polish flag from a memorial in the Katyń Forest marking the area where the mass killings of Polish officers by Soviet forces took place in 1940. "I will express my general opinion: There can be no Polish flags on Russian memorials! And after the frank anti-Russian statements of Polish politicians, even more so," the mayor of Smolensk posted on social media. Polish Ministry of Foreign Affairs has lodged a protest against the removal.
Politics
Legal Abortion without Compromises
The civic legislative initiative "Legal abortion without compromises" was rejected by the Sejm. The draft law assumed legalization of abortion in Poland up to the 12th week of pregnancy. After this period, termination of pregnancy would be possible in the case of a threat to the life and health of the mother. What is more, abortion was to be available to all persons over 13 years of age.
Only 175 MPs voted in favor and 265 voted against the project. In the latter group, there were not only parliamentarians from PiS and far-right Confederation but also the agrarian PSL.
Polish government has been also criticized for implementing a new provision that requires doctors to record each pregnancy in the country. Doctors must now note information including any past or current illnesses, medical visits, treatments and blood type. PiS claims that the new public health data regulations followed EU recommendations and will allow better medical assistance for women both in Poland and abroad.
The new provision has been labeled by the human rights activists and opposition parties a "pregnancy register". The new tool could be used against women who want to terminate pregnancy abroad.
Kaczyński Left the Government
Prime minister Mateusz Morawiecki has created a new ministry for social integration whose role will focus in particular on dealing with issues relating to refugees from Ukraine.
The new minister will be Agnieszka Ścigaj. She started her political career in the populist Kukiz'15 movement; in 2019, she was reelected from the PSL list (PSL formed common lists with Kukiz'15). Currently she belongs to a very small Polish Affairs parliamentary group. Polish Affairs have been part of the opposition since the caucus was created but Ścigaj's nomination will bring their three MPs to the coalition (one has left not willing to support PiS).
Politicians from other opposition parties express their deep disappointment, reminding Ścigaj's harsh comments about PiS and say that she was bought by Kaczyński. Ścigaj responds that Kaczyński does not need her votes in Sejm as PiS has majority, and she believes she was invited to solve real social problems. But the fact is that Kaczyński needs now every single vote for his slim majority that could be lost as a result of one of many internal conflicts between coalition partners that are about to come in this pre-election year.
Kaczyński himself has left the government. He is not any longer the deputy prime minister responsible for security. He "anointed" his successor, defense minister Mariusz Błaszczak, the most loyal of Kaczyński's coworkers. Later, in an interview, Kaczyński said that Błaszczak could replace him in all kinds of positions giving a clear signal to prime minister Morawiecki that his future are not clear, both in the party and the government.
Two further new ministers were appointed, Zbigniew Hoffmann and Włodzimierz Tomaszewski. The latter one took position of Michal Cieślak, the minister in charge of developing local governments. Cieślak was dismissed after he had forced postal authorities to fire a postmaster Agnieszka Głazek in a small town of Pacanów. Głazek "dared" to comment high prices of food when the minister visited her post office. Her dismissal became famous and discussed by all media and all politicians. It became another symbol of PiS's hubris. Jarosław Kaczyński publically criticized Cieślak, causing his departure from the government. Agnieszka Głazek got her job back.
Court Annulled 'LGBT-free Zones'
Polish Highest Administrative Court (NSA) dismissed the appeal of four municipalities over the controversial anti-LGBTQI resolutions. The NSA ruled that lower courts rightly annulled the resolutions. In the first such legally binding rulings, the court found that the resolutions "violate the dignity" of LGBT people.
The verdicts concerning the towns of Istebna, Klwów, Osiek, and Serniki finally eliminated discriminating pieces of local legislation from the legal system. The latter town was the first ever to adopt such declaration. It pledged to fight "homopropaganda" and the "sexualisation of children".
Since 2019, numerous local and regional authorities in Poland passed resolutions declaring themselves free of "LGBT ideology". Introduction of the so called "LGBT-free zones" provoked another conflict between Warsaw and European institutions over the rule of law and human rights. Former Ombudsman Adam Bodnar challenged a number of the resolutions in court, arguing that they violate Polish and European law. On the other side, the prosecutor's office and ultra-traditionalist think tank Ordo Iuris supported the municipalities.
Campaign Against Homophobia wrote on Facebook: "Today's decision is a great victory for democracy, human rights and respect for people".
The Wall
Poland completed construction of the wall on the border with Belarus. It is 5,5-meter high, 186 km long and aimed at halting the illegal crossing of migrants.
The construction started last year when the regime of Alexander Lukashenko provoked a crisis on the Polish-Belarusian border facilitating migration of thousands of people from the Middle East, Africa and Asia to the EU. Back then, human rights activists accused Polish authorities of breaking international law, in particular of illegal push backs. At least 20 people are known to have died on the border in freezing winter conditions in the last year.
Now PiS government claims that the wall is a part of defense against Russia, close ally of Lukashenko.
"The first sign of the war in Ukraine was Alexander Lukashenko's attack on the Polish border with Belarus. However, it was thanks to our political foresight and the anticipation of what may happen that we may focus now on helping Ukraine, which is fighting to protect its sovereignty," prime minister Mateusz Morawiecki said.
Besides, Polish government announced that it decided to lift the state of emergency introduced along the border with Belarus. Finally, tourists can visit popular border area where top attractions like the Białowieża Forest or wooden mosques are located.
The wall is supposed to stop people, but it will block migration routes for many animal species, such as the largest remaining population of European bison, but also wolves, lynx, red deer, brown bears. The fragile ecosystem of the Białowieża Forest is put in danger.
Culture
House of Sisterhood
Dominika Kulczyk, President of the Kulczyk Foundation and one of the richest Poles, bought a house of Maria Skłodowska-Curie, near Paris. The house is 120 square meters and was built around 1890. The building is accompanied by a garden with an area of ​​approximately 900 square meters with a historic dovecote. Marie Skłodowska–Curie, Pierre Curie and their children Irène and Ève used the house for weekend breaks and holidays in 1904-06.
In the house of Skłodowska-Curie, the House of Sisterhood will be established – a meeting and work place for exceptional women from all over Europe. It will become a place where awards will be given to outstanding women who have followed the footsteps of the Polish scientist. It will be an extension of the Polish-Ukrainian Sisterhood, a project uniting women from Poland and Ukraine
"We want to honor the legacy of Maria Skłodowska-Curie. The house of the Polish Nobel Prize winner is the property of all mankind and a natural meeting place for women who cross all barriers known to us by their activities. I would like this place to be vibrant with life again, serving European science and culture," Kulczyk said.
Dominika and her brother Sebastian inherited a fortune from their father Jan Kulczyk, who died in 2015 from complications of heart surgery. She inherited most of the cash and took over the stake in renewable energy outfit Polenergia and now chairs its supervisory board. She started the Kulczyk Foundation in 2013, which fights discrimination and inequality that affects women around the world.
Economy
Wood-Collectors
Polish government announced that people can collect firewood from forests to keep warm amid record high inflation (15,6% year to year) and soaring energy costs…
Those who want to collect wood must first go through training and acquire authorization from the nearest forestry authority. Individuals can only pick branches that are already on the ground and cannot tear down trees. Collectors will be charged between PLN 7 and 30 (ca. EUR 1,7-6,5) every cubic meter of firewood.
According to State Forests, by late June forest districts had sold 377.000 cubic meters of firewood, a 30% increase to 2021.
Coalition in favor of the Diesel
On June 8, the European Parliament decided that all new cars sold in the EU should be zero-emissions vehicles from 2035 in a bid to clean up road transport.  It is a part of Fit for 55.
Spokesperson of the Polish government Piotr Müller reported that
"Poland is against banning the production of internal combustion cars from 2035 because, in our view, currently there isn't sufficient infrastructure for electric cars in the European Union and in Poland." "Besides, the current range of electric cars isn't big enough to warrant the abandoning of the production of internal combustion cars," he added.
According to Müller, a coalition against the combustion cars ban has been built for some time already by prime minister Mateusz Morawiecki and environment minister Anna Moskwa. Moskwa added that neither the auto market nor citizens were sufficiently prepared for the change, adding that the mass introduction of electric vehicles would also require adequate infrastructure and acceptable vehicle prices.
In 2016, the Polish government announced plans to have one million electric vehicles on Polish roads by 2025; in 2019 it lowered its target to 600.000. So far, less than 50.000 such cars have been registered in the country.
Merger of Orlen and Lots Closer than Ever
The European Commission has approved Polish state-owned oil giant PKN Orlen's proposal to takeover another Polish oil company Lotos. This merger is a pillar of Polish government's plan to create 'national champions' in Polish economy. Orlen is seen by PiS decisionmakers as a key player in the energy sector in Central Europe.  The next step is to merge it with the national gas giant PGNiG.
To meet EU antitrust regulations, Orlen agreed to sell some of Lotos' assets to Hungary's MOL, and Saudi Aramco (read more in the January issue).
The Polish state treasury, which currently holds a 53,19% interest in Lotos and a 27,51% stake in Orlen, is expected to own approximately 35% of the new entity.
European Affairs
Duda's Proposal Is Not Enough
On June 1, the European Commission approved Poland's national recovery plan worth ca. EUR 35 billion. Ursula von der Leyen, has warned that money will be transferred only if Poland doesn't fail to reach all "milestones" in granting judicial independence: abolishing the Disciplinary Chamber of the Supreme Court, rewriting its rules and allowing judges sanctioned or suspended by the chamber to have their cases reviewed.
President Andrzej Duda signed into law a bill that scraps the Disciplinary. The legislation was drafted by Duda himself and envisages setting up a new body at the Supreme Court called the Chamber of Professional Responsibility, whose 11 judges would be appointed by the president. Polish government claims that Poland has met the EU's demands for changes to the regulations on the judiciary. Jarosław Kaczyński said, "I hope the reaction will be proper and in line with the Treaties". But the opposition stresses that the newest judicial reform is superficial and it does not lift the political control over judges.
European Commission has faced strong criticism from Renew Europe MEPs for conditionally accepting Poland's national recovery plan. Senior members of the Renew Group said that they would draw up a motion after the Commission gave the green light to Poland's recovery plan. The motion of no-confidence in von der Leyen was signed by the Group's vice-president Luis Garciano, former Belgian Prime Minister Guy Verhofstadt and Dutch MEP Sophie in't Veld. "The Commission is fully aware that the remedies announced by the Polish authorities are purely cosmetic," Verhofstadt wrote.
EC Vice-President Vera Jourova also stated that the Polish legislation that strikes down the Disciplinary Chamber failed to meet the "milestones". Prime minister Morawiecki responded that "if somebody was looking for problems they would always find something that may not fit". He also appealed: "We need to de-dramatize the situation, we need unity and solidarity".
On the last day of June EC spokesperson Christian Wigand confirmed that the changes introduced by Polish political majority fail to rescind changes to the Polish judicial system that have been questioned by the Commission. He highlighted the failure of the reform to remove clauses forbidding judges from questioning the independence and legal appointment of other judges.
Society
Hell in Nuns' Home
Web portal wp.pl reported about the mistreatment of children with disabilities at a care home in Jordanów near Krakow. The facility is run by catholic nuns. According to the journalists, children staying there were beaten, humiliated and intimidated by the personnel. The latter one, both clerical and civil, was accused for, among others, using punishments like binding to beds, locking in a cage, beating with a mop. Terrifying stories were confirmed by former employees of the center.
The church refused any comments, but after an inspection by county authorities, the nuns departed from the care home. Two of them have been charged by prosecutors. According to wp.pl, the investigation had already been underway for some weeks, but following the media report, the investigators accelerated their actions.
Sister Alberta has been charged with abusing at least one girl and violating the bodily integrity of another child, and the director of the center sister Bronisława, has also been charged with obstructing the investigation. Certain preventive measures have temporarily been introduced against them. Both nuns are not allowed to contact the wronged parties, other caregivers and employees of the facility. They are also prohibited from entering the care home or coming within 50m of it.
Politicians from all political parties from left to right are calling for helping the victims, but right wing leaders fail to see any mistakes from the church's side. It is a big problem in Poland that church institutions are not properly supervised by neither church nor state authorities.
Warsaw & Kyiv Pride
This year's Equality Parade in Warsaw was special for at least two reasons. It was not only the biggest in Polish history, even 80.000 people could have been present there, but also the first one organized together with LGBTQI organizations from Ukraine. The official name of the event was the Warsaw & Kyiv Pride.
The parade was opened by the mayor of Warsaw Rafał Trzaskowski. Members of left-wing and liberal parties were visible in the crowd.
Lenny Emson, director of the Kyiv Pride, thanked the Warsaw Equality Parade and Polish community for including Ukraine's LGBTQI activists in their celebration. He added that the Ukrainian LGBTQI community wanted its rights to survive but for this to happen, war in Ukraine needed to stop. Kyiv Pride called on people to realize that the border between democratic Ukraine on one side and autocratic Russia and Belarus on the other "is not just a separation line between the states, but also a boundary between the territory of freedom and a zone of oppression".
In Poland, according to the newest poll by OKO.press, 64% favors the LGBTQI's right for civil partnership, incl. 28% supports marriage equality (7pp more than in October 2021); 33% believes that the current restrictive law should not be changed.
Joint but Empty
14 of 20 members of the Joint Commission of the Government and National and Ethnic Minorities left in protest against the decision to cut funds for teaching German language for the German community by two thirds (read more in the February issue). The decision of the ultra-conservative education minister Przemysław Czarnek effected only this one minority (almost 150.000 children).
The decision was made in February and German representatives left the Joint Commission already two months ago. Others followed in June calling it "an act of desperation aimed at drawing attention to the scale of the problem of legal discrimination against minorities".
In Germany, the Christian-Democratic fraction in the parliament also protested against the cuts implemented by Polish government and asked the federal government to assess the situation of the German minority in Poland in context of the terms of the Good Neighborship treaty signed in 1991.
Poland & Germany
Goodbye, Mr. Ambassador
In an interview with daily Rzeczpospolita, outgoing Germany's ambassador to Poland Arndt Freytag von Loringhoven said that he is not sure if Warsaw wants Germany to be an 'ally' or a 'scapegoat for its internal affairs', adding that he cannot understand the logic behind PiS's behaviour.
He also said that the relations between Warsaw and Berlin became even more difficult after the Russian invasion on Ukraine, and "this is especially disturbing as Russia tries to take advantage of every divide in the West"."In the face of Russian bloody aggression, we shall focus on what is most important now – building a strong, cohesive West, a strong Europe. A strong West isn't possible without close cooperation between Poland and Germany," he concluded.
"PiS no longer talks about reconciliation, only the issues of guilt and reparations," the ambassador stressed reminding Polish right wing's strategy of playing the topic of compensations after the WWII. "The attacks on Germany are asymmetrical," he added. "Here it is necessary to separate the legal aspect, reparations – where, from the point of view of Germany, the matter is closed – from the moral dimension, where the balance of tragic history and the burden of German sins will always remain present," he concluded.
Loringhoven also sees that relations between citizens of Poland and Germany are good and getting better. He also stressed good dialogue between presidents Duda and Steinmeier.
The interview was criticised by some PiS politicians. Witold Waszczykowski MEP, former minister of foreign affairs, said that Arndt Freytag von Loringhoven should be summoned by Polish minister Zbigniew Rau and that he hopes that the outgoing ambassador won't receive any prizes for his criticisms of Polish authorities.
Environment
Historic Visit on the Coast
An Arctic walrus was seen on Poland's Baltic coast. It was the first such sighting in the history.
The 2-metre-long female walrus was spotted on the beach in Łazy, close to the popular summer resort in Mielno. Scientists speculate that the animal is the same one seen a week earlier on a beach on the island of Rügen in Germany.
The species is normally found around the North Pole in the Arctic Ocean and subarctic seas. Zoologists warn that the Baltic Sea is not a naturally hospitable place for these giant mammals, and that she might have trouble finding food.
Polls & Trends
Party Support
United Surveys for wp.pl
PiS                               34,2%
Civic Coalition             25,5%
Left                              9,2%
Poland 2050                7%
Confederation             5,3%
PSL                               5,2%
Two Leaders
In the newest university ranking by the monthly Perspektywy, the Warsaw University (UW) has retaken the leader's table from the Jagiellonian University in Kraków (UJ), which had held first place for the last two years.
According to Perspektywy the current table looks as follows:
Warsaw University
Jagiellonian University in Kraków
Warsaw Technical University
Adam Mickiewicz University in Poznań
AGH University of Science and Technology in Kraków
Gdańsk Technical University
Gdańsk Medical University
Wrocław Technical University
Łódź Medical University
Wrocław Technical University & Łódź Technical University.
Poland's top universities have risen to their highest ever positions in the prestigious QS ranking, and now are both in the world top 300. The UW took 284th place, up from 308th in 2021 and the UJ ended up in 293rd, up from 309th last year.
---
The article was originally published at: https://www.freiheit.org/central-europe-and-baltic-states/poland-love-june-3
---
Continue exploring: