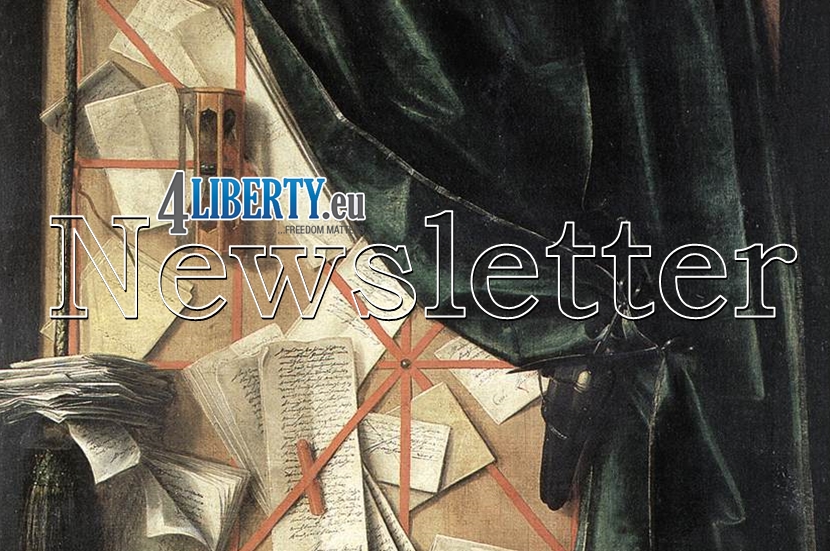 The March issue of the 4liberty.eu Newsletter provides an overview of the articles published on the 4liberty.eu website, serving as a starting point for further exploration.
Patryk Wachowiec (FOR):
7 Years of Rule of Law Crisis: How CJEU and ECHR Defended Rule of Law in Poland in 2022?
The past year was full of events related to the ongoing crisis of the rule of law in Poland. The last few months have been dominated mainly with the issue of the "milestones" attached to the National Reconstruction Plan and the disagreement within the ruling coalition as to how to achieve them.

LFMI:
What Does Word Inflation Really Mean?
In light of record-high price rises, inflation is a term that comes up a lot. For a long period of time, it had a slightly different meaning. Inflation was primarily used to describe a rapid increase in the quantity of money. It is not difficult to understand the link between money and prices.

Mate Hajba (Free Market Foundation):
Where Do We Stand?
We used to navigate in society through shibboleths. What words and phrases you use, how you behave, what topics you talk about, how good your manners are. These were almost like secret handshakes. An old fogey was recognized by the anachronistic old fashioned attire. A left wing liberal by the hippie look they were sporting. All of these were stereotypes, of course, but your guess aided by these were better than mere luck.

Akos Szabo (Republikon Institute):
Update on LGBT+ Rights in Hungary in Light of the 2022 Referendum
Hungary's right-wing government, since Fidesz's first landslide victory in 2010 and their subsequent successes in 2014, 2018, and 2022, has been increasingly willing to put cultural issues, particularly gender and LGBT+, at the forefront of its campaigns.

Dariusz Filar (FOR):
High Inflation in Poland Is Caused by Monetary Policy Council
A slight decrease in inflation measured by the CPI (Consumer Price Index) at the end of 2022 should be treated with great caution because it is accompanied by an increase in core inflation, which is calculated by excluding food and energy prices from the market basket.

Gia Jandieri (NESG):
Foreign Agent Draft Law Triggered Anger among Georgian Youths
On March 9, the Georgian parliament revoked a draft of a bill on Foreign Influence Agents supported by its majority. The purpose of the bill was to oblige any media or civil society organization to register as a foreign agent if they use foreign money from any source for its activities. 

Liberte! & ELF:
The Age of Unpeace [PODCAST]
In this episode of the Liberal Europe Podcast, Leszek Jażdżewski (Fundacja Liberté!) welcomes Mark Leonard, Co-Founder and Director of the European Council on Foreign Relations (ECFR), the first pan-European think tank. They talk about whether ties between countries foster conflicts, how Europe should behave in relation to the aggressive policies of China and Russia, and whether it is possible to cooperate and create rules limiting the negative effects of interdependence.