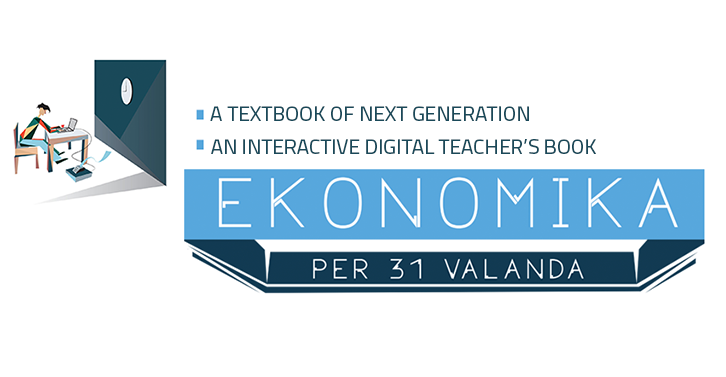 LFMI
Published in 2015 by the Lithuanian Free Market Institute, the economics textbook Economics in 31 Hours has transformed the way of teaching and learning economics in Lithuania. Already in its fifth edition, the textbook has reached over 53 thousand students in 463 secondary schools and nearly 500 teachers, who rely on its online teacher's manual for day-to-day lesson planning and delivery.
The potential and impact of the textbook has been highly recognized both in Lithuania and overseas with the textbook winning the Templeton Freedom Award in 2016 and the Educational Excellence Award of the London Book Fair in 2017. Notably, the textbook did not only bring quality economics education to Lithuanian schools, but helped to strengthen LFMI's position as the centre of expertise on economics education.
This overwhelming success has inspired and encouraged both LFMI and partner think tanks to replicate the textbook to improve the quality of economics education across the region. Therefore, starting from the next year LFMI will join forces with partner think tanks to raise the profile of economics instruction and improve economics education in countries where it is largely fragmented and marginalized, resulting in low student engagement and minor learning outcomes.
The project will involve four think tanks, – the Bendukidze Free Market Center in Ukraine, the New Economic School in Georgia, the Center for Institutional Analysis and Development in Romania, and Association Multi in Bosnia and Herzegovina. LFMI will build their knowledge and skills necessary for an effective communication and implementation of educational projects, provide them with a package of educational material, and assist in adapting the content to national educational standards and general curriculum requirements.
On their part, think tanks will adapt the educational material, publish textbooks, and deliver them to over 500 schools in Ukraine, Georgia, Romania, and Bosnia and Herzegovina with an estimated outreach to 20,000 students in the first year. They will organize teacher training workshops for 200 teachers of economics on the delivery of contemporary education, innovative ICT-based methods, student engagement, lesson planning and delivery, etc. Moreover, think tanks will approach opinions leaders and policy makers, hold meetings with relevant authorities and school administration, and engage in communication campaigns to raise public awareness and build pressure for increasing the profile and quality of economics education.
The project is expected to lay the groundwork for creating a comprehensive resource base for economics education in secondary schools and develop into major local initiatives that will lay the foundation for a qualitative transformation of economics instruction in Ukraine, Georgia, Romania, and Bosnia and Herzegovina, leading to high quality economics education, better student outcomes, and higher economic literacy.