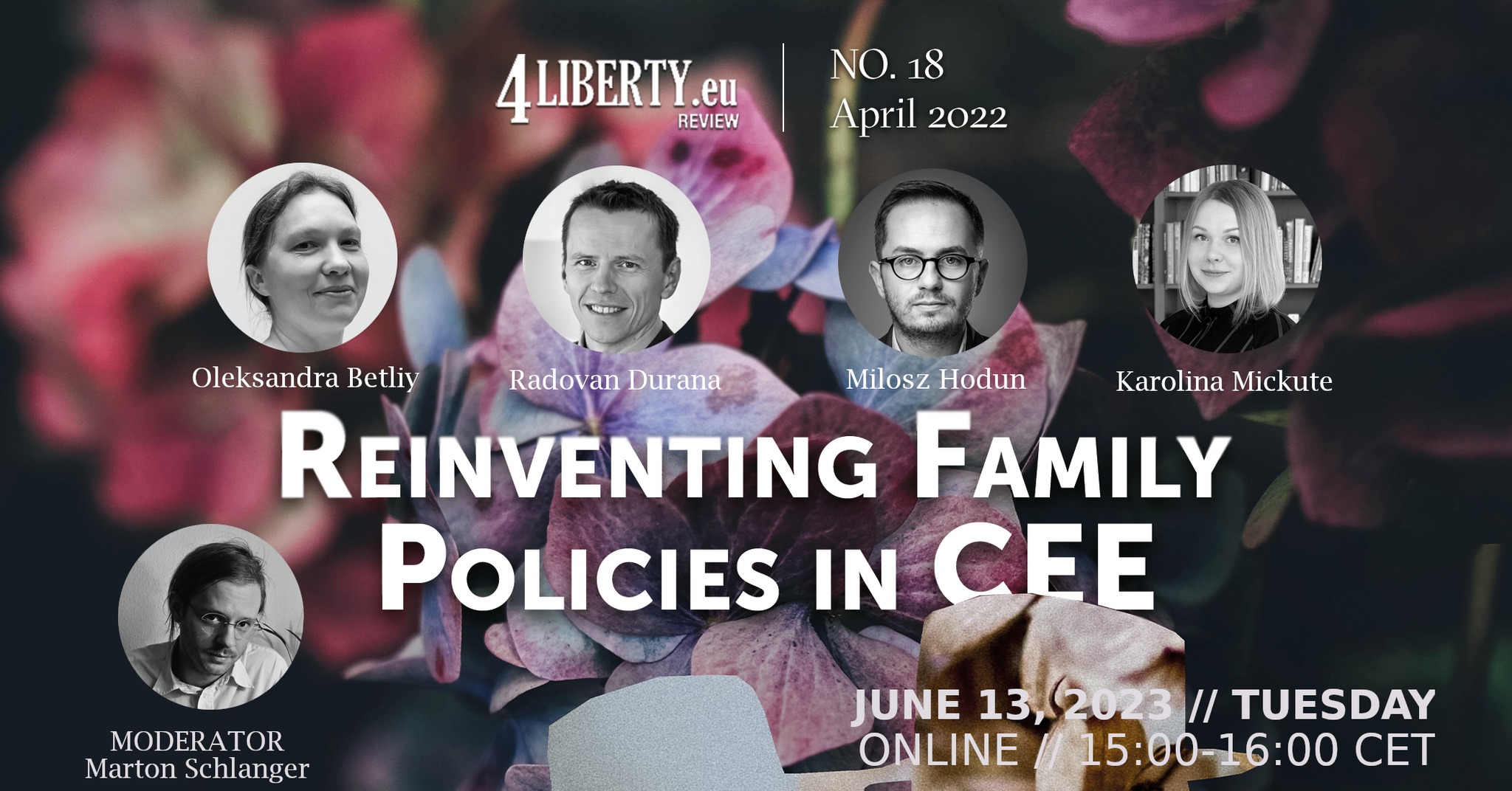 For states and state economies to function properly in face of ageing European societies, it is crucial to develop a social system and an economic structure that can keep pace with – or even positively influence – demographic trends. Emigration, brain drain, depopulation, labor shortages, or ageing are all effects to which the countries of Central and Eastern Europe (CEE) must find appropriate responses.
Family policy aims to counteract these negative trends, but the concept of 'family' in CEE is often discriminative (not only in a political, but also in a legal sense), which leads to further social exclusion for already marginalized societal groups. Effective and equitable social and family policies are key to the stability of European democracies, so it is crucial to examine and evaluate them.
Join us for an online debate with the authors of articles about the topic published in the latest issue of the "4liberty.eu Review" (No. 18).
SPEAKERS:
Oleksandra Beltiy – Leading Research Fellow at the Institute for Economic Research and Policy Consulting (Kyiv, Ukraine) with research topics including macroeconomic forecast, assessment of fiscal, social, health, and labor market policies as well as elaboration of policies in these spheres,
Radovan Durana – A founding member of the INESS. He specializes in public finance and economic policy,
Milosz Hodun – PhD. President of the Projekt: Polska Foundation. Board member of the Europfaean Liberal Forum. Part-time teacher at Reykjavik University School of Law. He focuses on comparative constitutional law and federalism. Formerly, he worked as an expert at the Chancellery of the President of the Republic of Poland,
Karolina Mickute – She holds an MA degree in law and is a PhD candidate in social sciences and fellow at Vilnius University and Vrije Universiteit Brussels. Senior Expert at the Lithuanian Free Market Institute.
Moderated by Marton Schlanger – the Content Editor of the issue, Researcher at the Republikon Institute.
Register now to receive a link to the ZOOM meeting: https://forms.gle/47zrn7Yk94DQ3uEfA
---
Continue exploring:
Migrants as Object of Political Action
Elections in Poland 2023: It Is Time for Business Community Voice