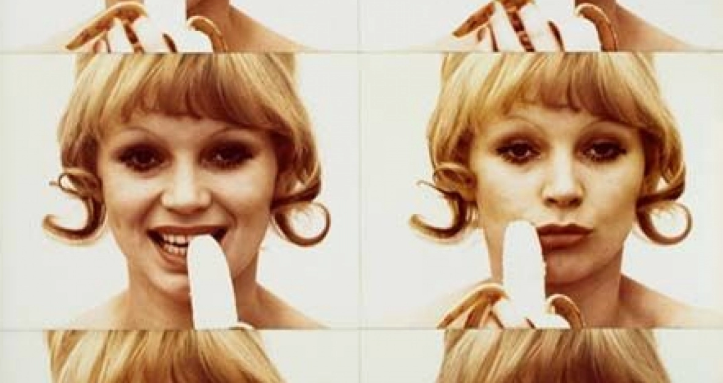 Natalia LL "Consumer Art" (1973)
Jerzy Miziolek, the new director of the National Museum of Warsaw, announced in April that he intends to remove the 1973 video "Consumer Art" by artist Natalia LL, which depicts a naked woman eating a banana in a suggestive manner. Miziolek said he was "opposed to showing works that could irritate sensitive young people." These words raised concerns that the museum was censoring its content.
Miziolek was appointed by the Law and Justice government only last November. He quickly denied the claims that the decision had been influenced by Minister of Culture Piotr Gliński or that he had been summoned to the Ministry of Culture and National Heritage.
The ministry backed the director's stance, writing in a statement: "The director of the National Museum in Warsaw was not called to the ministry regarding the reorganization of the Gallery of the 20th and the 21st century art, which he himself admits today in a statement".
Artists, journalists, and politicians protested. Social media profiles turned yellow with the pictures of Poles eating bananas. Almost one thousand people attended banana-eating demonstration outside the National Museum.
In a statement, the board members of the foundation that manages Natalia LL's archive said they were "outraged by the open censorship" and that the museum "should not be afraid of exhibiting thought-provoking works of an existential nature". They also added,
"Through her art, Natalia LL was never afraid of asking difficult questions, and we certainly should not be afraid to answer them. We would like to express our opposition and indignation towards the policy of the National Museum in Warsaw and the Ministry of Culture".
The art critics noted that Natalia LL's work is not only a comment on feminism but is also a symbol of freedom, given that bananas were scarce in the 1970s in Poland under the communist rule.
The Art Newspaper quoted Marisa Bellani, the founder and director of Roman Road, which represents the artist in London:
"The work is more about the lack of consumption as opposed to the consumerist world. It is about the lack of supplies in a repressed country and the impossibility for people to consume the food that should be essential. It is an analogy of the impossibility for women to consume their own desire and have full access to their sexuality."
Natalia LL is a visual artist working with photography, experimental videos, and installations. In the years 1957-1963, Natalia LL – born Natalia Lach-Lachowicz in 1937 in Żywiec – studied at the PWSSP (currently the Academy of Fine Arts) in Wroclaw. 
In 2017, The Guardian described her as "a neglected early-1970s Polish-born pioneer of feminist avant garde image making".
After the protests the controversial images were re-introduced to the Musuem.
---
See Natalia LL's work: https://vimeo.com/118258337
---
The article was originally published in the "From Poland with Love" newsletter, available here.