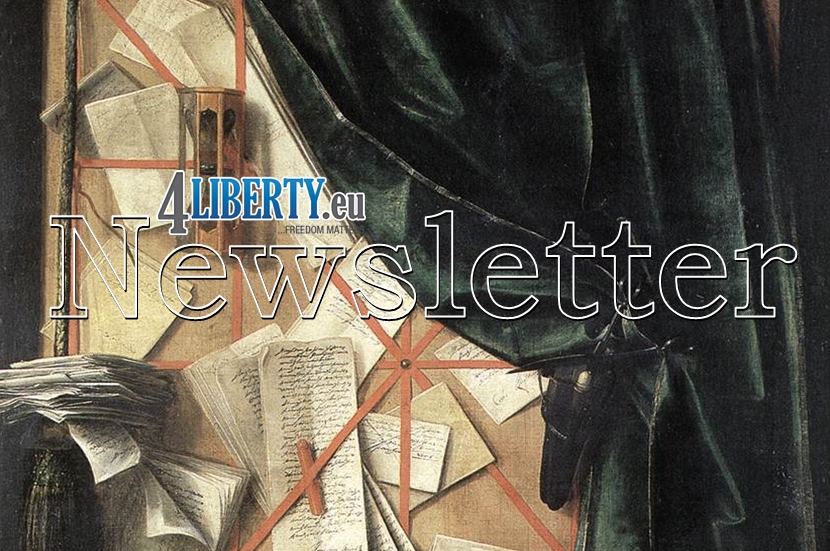 Cornelis Norbertus Gysbrechts: Trompe-l'oeil: Letter Rack with an Hourglass, a Razor and Scissors (ca. 1664) // Public domain
The December issue of the 4liberty.eu Newsletter provides an overview of the articles published on the 4liberty.eu website, serving as a starting point for further exploration.
Millions of people and thousands of businesses in Ukraine remain without electricity every day due to damage to infrastructure damage caused by Russian shelling. For two months in a row (starting from October 10, 2022), the Russian Federation has been launching rocket attacks on the civilian infrastructure of Ukraine every week.
Blazej Lenkowski (Liberte!):
We pay too little global attention to what is happening in China. The Communist Party persistently continues the policy of a restrictive lockdown in response to COVID for over 2.5 years. Funnily enough, this policy is probably an ideal dream for many opinion leaders in Poland, given their position just a few months ago. But seriously, in the Chinese authoritarian system, this sanitary regime is more violent than anywhere else in the democratic world. The result is an economic slowdown but also the beginning to be, for Chinese conditions, an unprecedented social revolt.
Liberte! & ELF:
Untold Stories: Story of War in Ukraine [PODCAST]
In this episode of the Liberal Europe Podcast, Leszek Jażdżewski (Fundacja Liberté!) welcomes Denys Karlovskyi, a former News Editor at Ukrayinska Pravda, an online media organization in Ukraine and an Oxford-Weidenfeld-Hoffman Scholar at the Blavatnik School of Government, the University of Oxford. They talk about experiencing the first days of the Russian invasion in Ukraine as a journalist, changing social moods, resilience of the Ukrainian fighters, possible scenarios for the end of the war, and about why it is crucial for the West to support the Ukrainian cause.
LFMI:
Economic freedom in the world has declined to a record low, shows the Economic Freedom Index published by the Fraser Institute. Lithuania scored 7.82 out of 10 in the 2022 World Economic Freedom Index. This knocks Lithuania out of the top ten countries with the strongest defense of economic freedom and places Lithuania in the 12th position.
Martin Vlachynsky (INESS):
Employee Price Updated in Three Countries
A lot of confusion has been created by the introduction of gross wage with arbitrary distinction between "employee paid" and "employer paid" taxes and contributions. However, this is countered by introduction of total wage cost in international statistics.